Linda Scheller's Fierce Light has recently received accolades from outside our area, earning prizes in the National League of American Pen Women's 2020 Catherine Cushman Leach Poetry Award competition. "The Ballad of Dr. James Barry" received 2nd place, and "Hill Top" earned 3rd place. The awards will be given in Washington, D.C. in April.
Stanislaus County is home to an exceptionally vibrant and prolific poetry community, nurturing, a rich diversity of voices and styles from spoken word performances to multiple readings at various venues every month. Whether by coincidence or not, many of the most accomplished and well-respected poets in the area are teachers or former teachers—people with a deep commitment to learning and an equally strong passion for social justice and interconnectedness.
A Valley resident for more than forty years, and an elementary school teacher for Ceres Unified School District for thirty-six of those years, Linda Scheller is one of those extraordinarily talented poets who have come from the ranks of the teaching profession.  Ms. Scheller is the author of one of the most eloquent and illuminating collections of poetry in recent years, 2017's Fierce Light. (FutureCycle Press, Amazon).
Sacramento Poet Laureate Emeritus Indigo Moor has written of the book:
"Unflinching in its singular desire to resurrect the myriad voices drowned in history's wake, Linda Scheller's Fierce Light is an exquisite, often painful harvest of women forgotten, overlooked, and buried by cultures unwilling or unable to accept their brilliance. More than a collection of poems, Fierce Light is a dazzling episodic song, a series of battle cries, wails, and whispering beauty."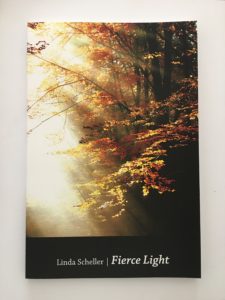 "I came to the Central Valley in '78 or '79," Ms. Scheller recently recounted. After earning her multiple-subject teaching credential and CLAD certificate at Stan State, she began teaching in 1981.
"I loved teaching, and I really loved the children. And I very much admired their families, who were often in very difficult circumstances. Many of the families were poor, many of them had immigrated, and a lot of the parents did not speak English at all. But they knew how important education was to their children's future and they were completely supportive and worked beautifully with the schools and with the teachers to provide the best opportunities possible for their children. What was beautiful was that there was often such diversity in my classroom—say a student from Vietnam, or another one from the Ukraine, or a Hmong student.  It was really lovely to learn about different cultures and to work with the children and their families."
As it turned out, teaching led Ms. Scheller into a deeper connection with poetry.
"I became far more serious about writing poetry after I became a teacher and experienced those moments when you really get a glimpse into the lives of your students, or when something tragic would occur that would affect the whole class, the whole school. Poetry was the best means of expressing my grief privately, so that I could grapple with these emotions, some painful, some very joyful. I'm really glad I was a teacher. It really unlocked not only my creativity, but my emotional side."

"I came to write Fierce Light as a challenge from my students when they argued with me that a woman couldn't be elected president – actually they said that 'a girl' can't be president. Most of the students were arguing that girls need to be at home, take care of children, cook meals. I was frustrated by that, and I had also seen our Social Studies text book become smaller and more patriarchal, and that led me to want to address a much larger audience where I could educate readers about the marvelous accomplishments of at least some of the women in world culture."
To prepare for the daunting task of accurately depicting the thoughts and emotions of the 36 remarkable women who are portrayed in Fierce Light, Ms. Sheller researched deeply, reading their autobiographies, if they existed, watching films, hunting down highly-regarded biographies for each of the women, immersing herself in their written works, photographs, and paintings.
"I wanted to read their words, their perspectives, especially since I was writing persona poems – what were the words they were apt to use, what were the sentence structures. I wanted to grasp their voice as much as possible."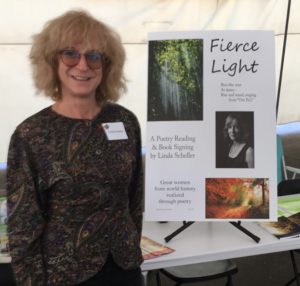 A founding board member of the Modesto-Stanislaus Poetry Center and a dedicated adult literacy tutor, Ms. Scheller has long been active with local theatre companies as well as the Modesto Symphony Orchestra Chorus.  But retirement from her career in education brought her opportunities in a new field.
"When I retired in 2017, I wanted to do something to give back to the community, because that is an important part of my identity. As a teacher, I had been trying as hard as possible to help make a better world. When I retired I thought, oh gosh, I can't just sit in my house and read. So I was very happy to see an email come into my inbox from Jim Costello at the Peace & Life Center saying they needed volunteers for the community radio station.

"Now, as a programmer with community radio, I'm able to shed a light on what we have here, and who lives here and all the marvelous projects they're involved with. I've interviewed poets, photographers, painters, dancers and dance troupes, a tattoo artist, non-fiction writers. There is so much going on in this area. It's extraordinary. I want to do as much as possible to promote good will and kindness and interconnectedness. You hear so much about the crime and the poverty, and heaven knows we certainly have a lot of problems, but the human spirit is so strong and so resilient, and the best thing we can do is to support and be there for each other."
"I'm grateful to live in this area where there is so much diversity, "Ms. Scheller concluded. "One of the very best things about moving to the Central Valley is how much I have learned. I know there's a lot we need to do here, to help each other, to help the environment, to combat poverty and hatred, and I feel lucky to be able to do my part. It's good to be here."
Linda Scheller can be heard on KCBP Radio several times a week:  Arts of the San Joaquin Valley (co-hosted by Sandy Graham) airs Monday and Wednesday at 8:00pm. Women of the Valley (co-hosted by Leah Hassett) airs Tuesday and Thursday at 8:00 pm.