Among the more amusing campaign tactics in the San Joaquin Valley, few are as enduring as the "outsider" trope, which reached its height of absurdity in 2018, when incumbent Congressman Jeff Denham tried to label Turlock-born Josh Harder with outsider status because he had graduated from Stanford and Harvard and done business in the Bay Area. No matter that Denham was from southern California, his own business was located in Salinas and his partner in that business lived in San Francisco. Heavily favored as a popular incumbent, Denham took a well-earned beating from Harder in the General Election.
The latest iteration of the tactic that won't die comes from Chad Condit, candidate for State Assembly District 22. Condit has labeled his Democratic opponent, Jessica Self, an outsider who, "Graduated from Simi Valley High." Condit himself graduated from Ceres High School. Condit claims Self, who has been a Valley resident since 2013, will bring "southern California values" to the Valley.
Condit knows that nativism — no matter how absurdly contrived — has a central role in today's politics of distraction, and he's confident no one will go as far as to compare statewide rankings of his and Self's high schools. Just for the record, Simi Valley is ranked at number 478 of California's 1898 high schools. Ceres? Ceres sits comfortably at number 818, some 340 places behind Self's alma mater. As for college prep scores, Simi Valley ranks at 281, while Ceres lags behind at 621 of the 1406 schools rated. Self is a proud graduate of UC Santa Barbara.
We don't know how Self's Simi Valley Pioneers would fare against Condit's Ceres Bulldogs in a football game, but Condit's desperation for issues couldn't be better expressed than with his attempts to turn a race for California State Assembly into a high school cheerleading contest. That's what happens when you fall short on the issues that matter — you try to change the subject.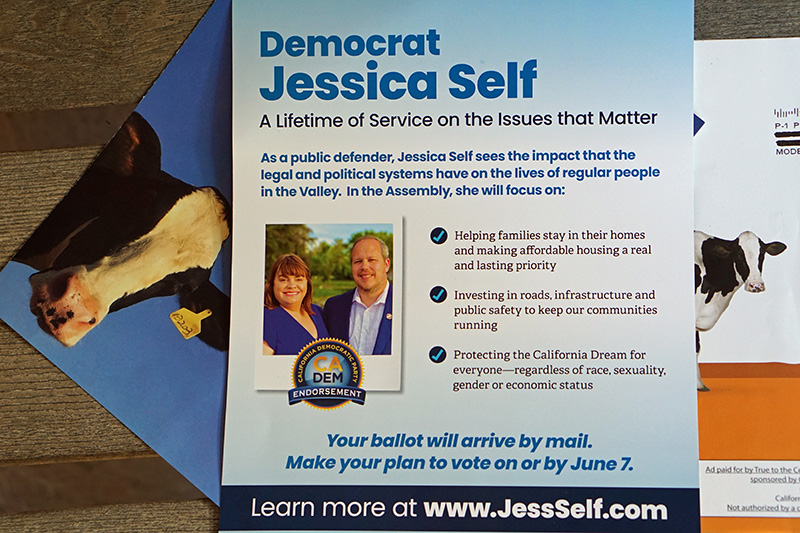 And while everyone knows that facts rarely find their way into campaign flyers, Condit's charge that Self "supports early release of violent criminals" is an attempted smear that should embarrass even a veteran political insider like Condit, who has spent most of his life working inside the system he's now proposing to fix. Self's actual position on California's controversial Proposition 57 couldn't be more clear:
"If we can't get it right, we shouldn't be doing it in a half measure," she said, during the Modesto Bee's candidates forum on May 13.
Self's well-informed answers on issues ranging from homelessness through water and crime are probably what prompted Condit's high school cred desperation, not to mention the likelihood that a lifetime Sacramento insider would offer Valley voters anything but continuing service to the status quo.
The plain reality is that we need change in Sacramento, and it's not going to occur without new faces, informed points of view, and the courage of people with a lifetime of working for the underdog. Anyone doubting Jessica Self is the person voters in Assembly District 22 need now should compare her positions on the issues with those of Mr. Condit and Joel Campos, her two opponents. She's clearly superior.
We did appreciate the cow that showed up on Condit's flyers. Gotta have a cow. Just ask Devin Nunes.