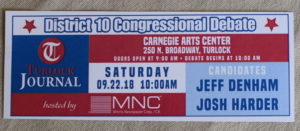 Jeff Denham came into the room shouting and left the room shouting and no one knows why. A big man, maybe Denham thought he could intimidate Turlock native Josh Harder, his opponent in the race to represent California's 10th Congressional District in Washington DC.
But Harder was on his home turf and seemed to grow more and more comfortable as the debate between the two went on at Turlock's Carnegie Arts Center Saturday morning. From the very beginning, the only reaction Denham could get from Harder was a wry smile that lifted one corner of the younger man's mouth.
Last Thursday, during their debate at the Modesto Bee, the two candidates had seemed much more evenly matched. Saturday, it was simply no contest.*
Jeff Denham apparently thought he could bluff his way through the entire session by shouting and calling out Harder on his poor voting record. But Harder had an answer for everything Denham brought to the arena.
"You're right, I was complacent," Harder said of his voting record. But after 2016 Harder said he saw, "We were being misrepresented on every issue I've ever cared about by someone who votes with his party 98% of the time. Now, the  complacency is gone, and it's all thanks to you. Thanks to your efforts, we're seeing people coming out of the woodwork. Thank you for that."
Denham repeatedly accused Harder of voting against "the water plan I supported," but he seemed confused about the California Water Fix and Delta Tunnels. Denham voted to prohibit litigation against both the Water Fix and the Tunnels, but said Saturday that he's always been against the tunnels.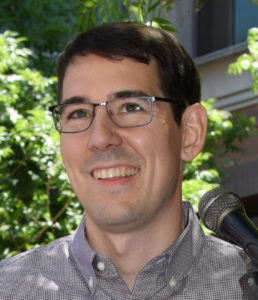 He also said that sending water south, "Doesn't affect us that much because we're south of the Delta." Statements like that might make people wonder whether Jeff Denham understands that the Oakdale Irrigation District sends Stanislaus River water south through the San Joaquin Delta when and however it can, even if it means abandoning its own water rights.
Denham repeated claims that Harder takes money from Nancy Pelosi and Bay Area donors, and said he was proud to have donations from firefighters, realtors and the Farm Bureau. But he seemed nonplussed when Harder said that Denham had received $130,000 from pharmaceutical companies and then voted against allowing negotiations on drug prices.
On health care in general, Harder reminded Denham repeatedly that he had stood in front of a thousand constituents and promised them he would vote against the repeal of the Affordable Care Act and then voted for it once back in Washington DC. Denham replied that, "It's been difficult to explain…it's been a challenge to explain."
Harder replied, "I can solve the mystery of why it's difficult to explain. It's difficult to explain because people can see your votes."
In response to a question on whether the candidates believe in human-caused climate change, Denham veered off into a series of complaints about Bay Area pollution. After he finally admitted he believes in climate change, Harder pressed him by asking, "Human caused?" Denham then looked like someone waiting for advice from higher up.
Harder's most consistent theme was that, "Jeff Denham votes with his party  98% of the time." Denham replied that he wasn't afraid to stand against his party and had done so on immigration. But Harder pointed out that Denham's proposals on immigration had never gone anywhere and that his stand against his party happened only 2% of the time.
Denham referred repeatedly to a video he claims shows Harder favors abortion into the ninth month of pregnancy. Harder replied that he had simply misunderstood a question and that he has always made his pro-choice position clear.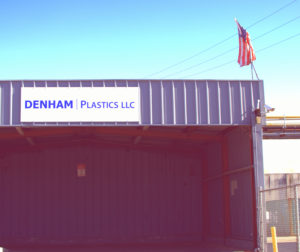 "I don't believe government should get between a woman and her doctor," he said. "I also don't believe in late-term abortion. What we should be doing is making adoption easier and less expensive. We should not make it hard for kids to find a good home." Harder added that we should also be working to reduce abortion as a woman's primary option.
While there were plenty of differences on the issues, as the debate went on it became more and more apparent that Harder was far more composed and prepared than the incumbent. That in itself was as puzzling as Denham's prolonged shouting spree.
By the end of the debate, Jeff Denham seemed as tired and bedraggled as the flag that flies above his Turlock warehouse, a building most observers believe is empty. It was a surprising and unexpected position for an incumbent with virtually unlimited campaign funding and many years' experience in politics.
*Watch the debate here