"Almost all emergency shelters of today are over their heads," said Major Harold Laubach at Modesto's Salvation Army Shelter on November 19. "But for people with mental health issues, we are probably the best alternative. Forty percent of our residents deal with mental health challenges and another 40 percent deal with substance abuse challenges."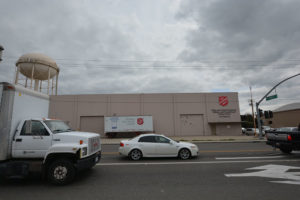 Laubach was responding to a growing litany of complaints from residents of Stanislaus County's low barrier shelter that rules are arbitrary, staff members too often look down on residents, and promises of housing have been made in bad faith. The low barrier shelter shares a building with a more traditional Salvation Army Shelter on 9th Street, near downtown Modesto.
A great many of the shelter's problems arise from its growing role as the only alternative for mentally ill, physically disabled, and recently discharged hospital patients. Moreover, many who seek shelter have perilous health conditions when they enter.
"The fire truck and an ambulance come here almost every day," said Laubach. Laubach also said some of today's laws contribute to the growing burden shelters carry as the last resort for people with nowhere to go.
"By law, hospitals are required to seek beds for those experiencing homelessness before they're discharged. Many are brought here when they still need some level of medical attention. We've just been approved to hire Licensed Vocational Nurses and we have already added Certified Nursing Assistants, but there are shortages of qualified people. We currently have 37 residents in wheelchairs."
Problems also arise when residents enter the shelter drugged or drunk. Because it's a low barrier facility, the policies are based on a client's behavior, not their level of impairment.
"We don't have drug or alcohol tests," said Laubach, "but we do have metal detectors so that people can't enter with weapons or drug paraphernalia. We otherwise have no rules about drug use, except we don't allow it on the premises. Even so, people are sometimes able to smuggle drugs in."
Laubach said there are very creative ways to smuggle drugs into the shelter.
"We found drugs in those household safes disguised as canned goods. We've had people smuggle drugs in using soda cans to conceal the drugs. And when you are working with people with addictions, we sometimes find them unconscious in the bathrooms."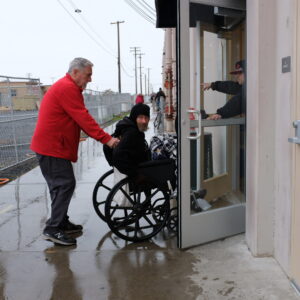 Complaints about the bathrooms are among the most common from shelter residents, despite the new ADA compliant bathrooms. When asked why he repeatedly left the shelter, the late Alan Davis said it was because he couldn't use the bathrooms. Davis was in a wheelchair, and the bathrooms are handicapped-accessible, so few people took Davis seriously. However, there could be other issues with bathroom services, including lack of capacity for the number of residents.
"They shouldn't have women cleaning the men's room," said Tyrone Thomas, a long-term resident. "I had to go and wasn't allowed in because a woman was cleaning. It was late at night and I couldn't wait."
Another long-term resident, Daniel Shockley, was evicted from the shelter after another dispute involving the restrooms.
"The bathrooms were full on our (low barrier) side, so I went to the other side," said Shockley.
"Someone knocked on the door and I said, 'I'm almost done.' They thought I said, 'I'm loading a gun,' and they kicked me out."
Shockley's term of eviction was shortened after consideration of his long term and good record.
"I've been here two years and I've only been written up three times," said Shockley, still upset about the eviction.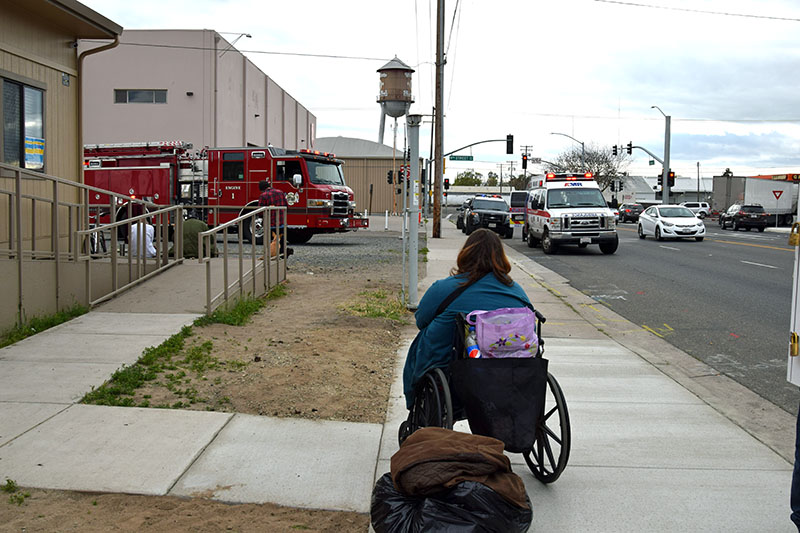 Laubach said that in many cases, residents receive up to five warnings before further action. Given the high proportion of mentally ill residents, it's not unusual for staff members to have to deal with petty disputes that can escalate into potentially dangerous conflicts. While there is 24/7 security on site, at times they have to take on the roles of psychologists and psychiatrists, roles for which they aren't trained.
It's also not unusual for staff to have to deal with disputes between spouses.
Marcus Lopez said he was evicted for arguing with his wife.
"They have cameras. They could check and see I never touched her," said Lopez, bitter about having been ordered to leave the shelter.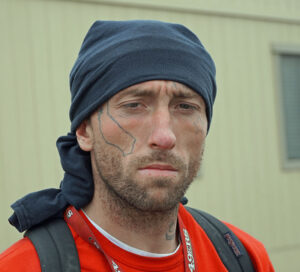 Even with a robust security system with cameras, the shelter's managers often have to rely on verbal reports from the parties involved in an argument. Such cases can easily turn into competitions where seeking the truth is less valued than seeking to avoid responsibility or blame. These kinds of controversies, if they can be resolved at all, require the kind of professional counseling or arbitration required of social workers. What are staff members supposed to do when tasked with problems even qualified experts struggle to resolve?
Given the nature of congregate living, it's no wonder shelters everywhere are staggering under the load of responsibilities they were not designed to handle. Emergency shelters were originally conceived and constructed to deal with short-term emergencies, especially for temporarily unemployed men.
Today's shelters have become the default alternative for the mental institutions we shut down long ago. They've become improvised board and care facilities and understaffed convalescent homes. They've even taken on the burden of caring for people priced out of the housing market due to statewide shortages of affordable housing.
For most of us, the word "emergency" suggests an urgent issue in need of quick resolution. Today's emergency shelters often have the same residents for months at a time because there's nowhere else to go.
The exigencies of extreme poverty, overcrowded hospitals, and broken systems of care have proven to be enduring and they're getting even more dire. In the case of Stanislaus County's low barrier shelter, some residents went in when it opened in November of 2019 and are still there. Given the inherent difficulties imposed by congregate living, it's a wonder the shelters haven't had more problems.
Even with the multitude of almost impossible challenges he faces every day, Major Harold Laubach remains firm in his opinion that shelters are today's best option for people in distress.
"We're still far better than the only other alternative," he said, "which is sleeping in the street."
Like many of today's contemporary saints toiling in the fields of charity and compassion for compensation that amounts to a vow of poverty, Harold Laubach soldiers on, knowing full well a tsunami of need has breached the dike and risen over his head. As today's last resort for people with nowhere to go, he will continue doing all he can to keep at least one door open.