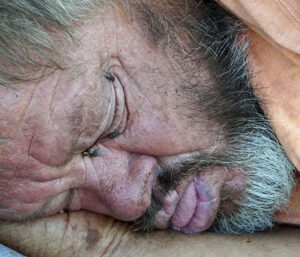 When he's sitting on the sidewalk, which is whenever he's not sleeping on the sidewalk, Jimmy Young's flesh hangs on him like the collapsed folds of a hot air balloon. It's said that at one time Jimmy was impressively large. Since then, he's been caving into himself.
Jimmy eats whatever people bring him. If he's lying down, he stuffs the food into his mouth until his cheeks bulge. Then he chews.
His wife checks on him periodically. She brings him food and clean clothes, and sometimes a little money. She says he really needs to go to the hospital. She says he's got a bad heart and bad lungs. He's got a bad cough that gets worse whenever he smokes.
If Jimmy hears the word "hospital," he balls his hands into fists and pounds his thighs, yelling over and over, "I'm not going to the hospital; I'm not going to the hospital."
Jimmy is developmentally disabled. He is too hard for his wife to care for, so he's in the care of a local service provider — except his case manager says she can't help him because he's uncooperative. The law says homelessness isn't a crime and Jimmy doesn't want help.
Unless he's just had a change of clothes, Jimmy spends most of the time in his own waste in full view of passersby on a public sidewalk in Modesto. Flies buzz around him constantly. They're especially attracted to his eyes and tear ducts.
Sometimes Jimmy uses methamphetamine. It helps ease his hunger pangs.
Some say Jimmy should be at home with his family. But Jimmy's difficult. His disabilities make it extra hard to handle him, especially when he has tantrums. Even in his diminished state, he's large, unwieldy, and intractable.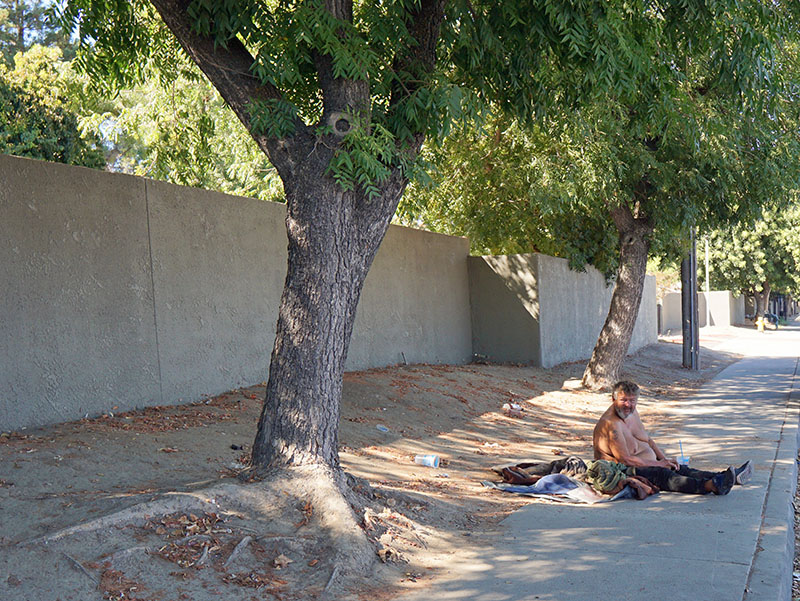 Sometimes people like Jimmy throw and break things. They can't be left at home alone.  Jimmy needs a caretaker, but people who are struggling to pay rent can't afford caretakers.
In the late 19th and early 20th centuries, Jimmy would have gone to the poorhouse or a work farm. Most closed after the passage of the Social Security Act in 1935. They were said to be cruel and inhumane. Many were replaced by mental institutions.
Most mental institutions shut down in the late 1980s, when modern drugs led experts to believe we no longer needed to house the mentally ill and disabled.  It was said and people believed that families, churches and charities would do a better job of caring for the ill and disabled than professionals.
Today, instead of poorhouses, work farms or mental institutions, we have homeless shelters. Sometimes people like Jimmy can be persuaded to go to the shelters, especially if the weather is bad. But shelters have lots of rules and Jimmy is resistant to rules. He's resistant to most everything except the food and clothing people bring him. And the meth and cigarettes.
Today, there's really nowhere for Jimmy to go. Today, we kick people like Jimmy to the curb and onto the sidewalk.