In his introductory remarks for the October 4 Stanislaus Alliance Homeless Workshop at the Salida Public Library, Stanislaus County CEO Jody Hayes lamented that we live in a time when people can see a body lying in the street and pass by without even considering helping out.
Like Hayes, many people today wonder how society has become crueler, cruder, and less caring for others, especially with regard to homeless people in dire need. While there are multiple reasons, some are easier to identify than others.
Fear and Loathing
The spectacle of a body lying on a public sidewalk elicits different reactions from different people, especially if the body is easily identified as a homeless person. Well-dressed people are far more likely to receive immediate help than people in shabby or dirty clothing. Homeless people prompt conflicting reactions ranging from compassion to revulsion.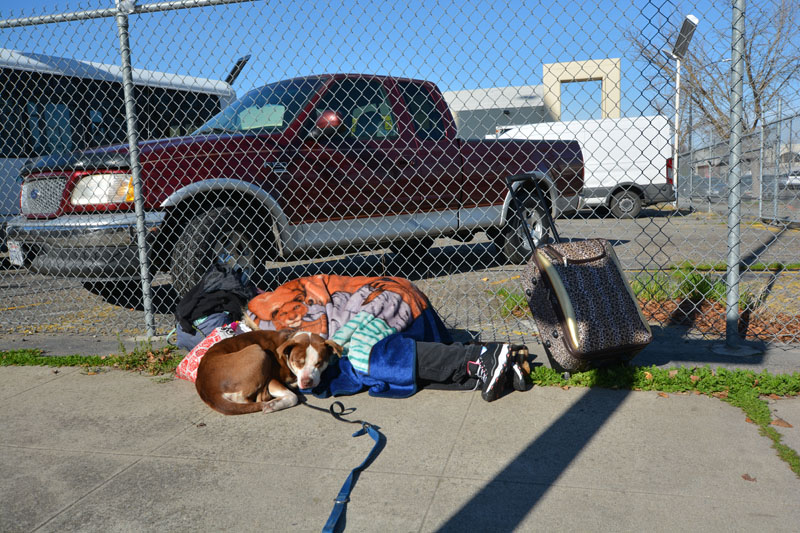 For many, homeless people are disgusting because they're dirty, malodorous, and sometimes on drugs. It's easy to associate homeless people with needles, crime and violence, all of which stimulate fear and loathing.
Research into brain functions has shown that we often experience conflicting emotions about people in need, ranging from empathy to disgust. Add the fear factor, and it's not hard to understand why the same people who would help a well-dressed business person might also avoid a homeless person in the same dire straits.
Time Pressure
Even upper middle class people today find themselves hard-pressed to keep up with the demands of work and family, let alone membership in church and charitable organizations. People who might otherwise stop and help a person in distress are often too busy.
Judgment
It's widely believed that homeless people deserve their fate, either because they've made bad decisions, engaged in immoral behavior, or committed crimes. Even disabled people in wheelchairs are often scorned and ignored as unworthy of sympathy or help.
Alan Davis, an amputee who sat in a wheelchair in the same soiled clothing for over a year near downtown Modesto, often received small change and food from passersby, but never got true assistance until homeless coordinator Frank Ploof arranged to have him admitted to Modesto's Outdoor Emergency Shelter (MOES).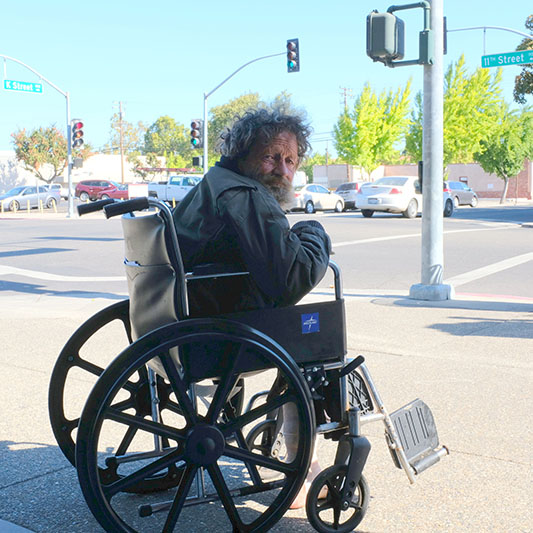 Davis's case is not unusual. Kenneth "Pops" Yarber, also wheelchair-bound, spent almost twenty years on the streets of Modesto, mostly around 7th and I Streets. He finally got into MOES after Modesto Police Sargent Mike Hammond found a place for him and ordered him off the streets. Both Davis and Yarber were likely judged as unworthy of help.
Loss of Community
In a nation featuring bitter political divisions, it's not surprising that many communities have become divided and dysfunctional. Wealth inequality is an especially divisive factor.
Robert Sapolsky, winner of a MacArthur "genius" award and a specialist in the biology and neurology of the brain, has argued persuasively that wealth inequality makes people "less kind." As people separate into isolated social and economic enclaves, it becomes harder and harder to share experiences and points of view. The result is that on issues like homelessness and poverty, it's much easier to assign blame than it is to think rationally about how to solve the problems.
Julia Orlando, the featured speaker at the Homeless Workshop, emphasized repeatedly how difficult it is to end homelessness. She also stressed that ending homelessness is a matter of "political will."
Ultimately, despite recent illusions that political will is a top down dynamic, political will must be generated from the people—one more reason to come together and find the common ground that provides the foundation for communities and the greater good.