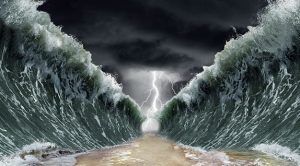 They're still planting trees. Look anywhere around the northern San Joaquin Valley and you'll see saplings—mostly almonds—being hurled into the ground like spears. This during the worst drought in memory.
Most of the new orchards will have few or no surface water rights. They will be strictly groundwater-dependent.
And that's just one reason opposition to the state's proposals for increased flows along Valley rivers rings so false.
"If you increase flows, we'll have to pump more groundwater," say Valley farmers.
Pump more? Too many Valley farmers are already pumping groundwater far beyond a sustainable rate. They're pumping so much that government has imposed groundwater regulation throughout the state.
But regulation isn't going to stop the wanton abuse of water resources, at least not in the short term. It's been very clear from the beginning that the state's goal for sustainable groundwater use was set too far into the future. By the time real standards kick in, especially considering the certainty of litigation, Valley groundwater levels will be for the most part beyond recovery.
Meanwhile, the once-mighty San Joaquin continues to trickle, awaiting more water only after decades of litigation. The majestic Tuolumne River is increasingly clogged with the non-native water hyacinths that thrive in the warm, slow-moving water that has resulted from diverting over eighty percent of natural flows. And holders of water rights along the Stanislaus River keep finding increasingly devious ways to sell what they say is "surplus water" outside the region.
Given the necessity of flows to farming, recreation, fish, and ecosystems in the San Joaquin Delta and San Francisco Bay, how can Valley farmers justify their outcries against increased flows?
As always, the answer is, "For economic reasons." And there's no question that agriculture drives the Valley economy. But even during the greatest boom in a booming history, agriculture has left too many Valley citizens out in the cold.
Variously know as, "The Valley of the Poor," and "The Appalachia of the West," the San Joaquin Valley is one of the poorest regions in the United States. Most informed observers have long agreed the Valley economy needs to diversify before it can provide better jobs, but a diverse economy could be a long way off.
Meanwhile, opponents to what they call a "water grab" have tried to frame their arguments against increased flows as a "fish versus people" conflict, as though delta farmers, fishermen, boaters, nature lovers, resort owners and residents are not people.
There was a time when farmers could proudly defend themselves as providers for the nation's "bread basket." Slogans like, "No farms, no food," and, "We farm, you eat," easily justified agriculture's demand for water.
The almond boom changed everything. It revealed what should have been apparent all along: Farmers are businessmen. When they can make more money from an export crop than from other crops, they'll produce the export crop.
And while there are plenty of good reasons why business should be encouraged, there are fewer good reasons to give one business more favorable access to public resources than another.
Too many local farmers have been reluctant to pay even the cost of operation and maintenance for their water. They've been too eager to pump groundwater at unsustainable rates, and too reluctant to regulate themselves when regulation is called for.
Most of all, too many farmers have been perfectly willing to monetize a public resource and monopolize the profits. Expecting the state, which must act in the public interest, to ignore these facts is like expecting a miracle. It's not going to happen.