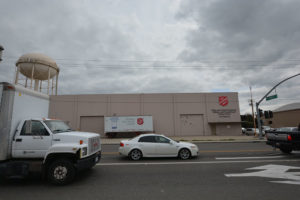 The stark reality of the Coronavirus Pandemic has brought new hardships to one of our community's most vulnerable populations—our fellow residents who are homeless.
But while the pandemic presents a fresh set of terrifying challenges to those living on the street, the staff at Modesto's Salvation Army Berberian Shelter, on the corner of 9th and D streets, is vigorously responding to the health crisis in this time of "all hands on deck."
"We have signs posted showing everyone to frequently wash their hands," recently noted Captain Samuel  Snyder, who took his post as the assistant Corps officer of the Salvation Army's Berberian Shelter some nine months ago.
"And we've informed our staff to make sure the sanitizer stations are filled, bathroom areas are double scrubbed, and that tables are continually wiped down. And, of course, we constantly check to make sure dishes are cleaned and sanitized. We also have medical offices here too – today we are providing shots. A few days ago, a team came in to do dental work. We have an examination room and an x-ray room."
Captain Snyder knows what it's like to be out on the streets cold and hungry, and without a home and without hope. The remarkable trajectory of his life is a testament to the resiliency of the human spirit.
"I struggled with substance abuse for about fifteen years," Captain Smith reflected.  "I ended up trying to run with the wrong crowd. I thought I could try anything once, but I couldn't handle it and I got hooked on crack cocaine. I was in and out of jail, and ended up being homeless and on skid row. I moved to Denver, Colorado, and wound up homeless there as well."
"Then I went into the Salvation Army Adult Rehabilitation Center and that's where it started to change. I was hired as a resident manager, operating a center for 125 men. I did that for a little over two years. They saw something in me that I didn't see in myself, and asked me if I wanted to go to officer school, so there you go! They sent me to Crestwood College, which is an accredited two-year college for Salvation Army officers.  I worked extremely hard and the next thing you know I was commissioned as a lieutenant in the Salvation Army. I look back at my life and say, 'Look what the Lord has done' – but it wasn't easy. It had never been that easy in my life, because of the color of my skin, and the way people would look at you if you had an addiction problem. So I had to work with some of those struggles and battles."
Suffice to say that Captain Snyder has a deep reservoir of empathy for the clients he serves. He also appreciates that the epidemic of homelessness in Stanislaus County can only be ended through a strong commitment to collaboration, particularly with the epidemic becoming graver over time. According to Stanislaus County, there were 1,923 homeless individuals at the time of the 2019 Point in Time survey, an increase of 66% in just five years. "Collaboration is the key," stresses Captain Snyder. "We cannot just be status quo."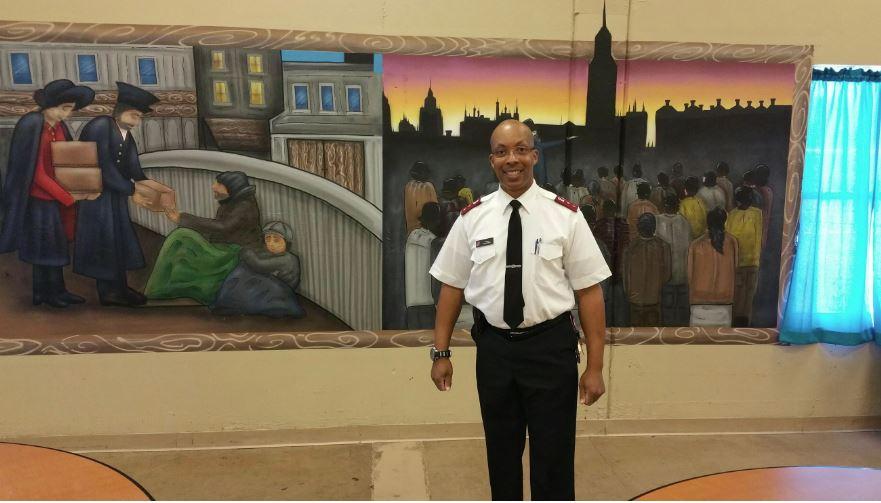 In early February, Stanislaus County opened the 182-bed low-barrier shelter on the same property where the Berberian Shelter is located. In addition to operating the 206-bed emergency shelter, as it has since 2007, the Salvation Army also operates the new shelter through a contract with the county.
"We have to stagger the dinners because we feed the county shelter first," explained Captain Snyder about the services.  "Dinner for the clients in this (Berberian) shelter is about 6pm. Books are available for reading, and TV. We had a Super Bowl Watch party, and it was fantastic! They all enjoyed themselves. We did intake early that day, as we do on other special occasions. We have church groups who come and provide meals.  We have a lot of volunteers, even on Saturdays to come and serve meals."
"Our intake starts at 4 pm. The clients are required to take a shower before going into the dorms. The shower shuttle comes every Thursday, but there are three community showers and two sets of private showers as well. We have these private showers for the transgendered."
"We trying to do something about the homeless population in Modesto, and that's getting them off the street," he continued. "But we don't want to be just a bed and breakfast, we want to transition them and move them up into employment and housing."
"We recently had a transitional client from the Salvation Army's Adult Rehabilitation – he came here, stayed five weeks, saved up his money, and is in an apartment today.  We're going to have a GED program here, which has long been a dream for many of the volunteers. We've been able to find most of the clients who are vets jobs. We're going to do forklift certification. There are a lot of forklift jobs available that don't take a lot of education.  We're also going to be doing food safety certifications, since we do so much cooking here. Counting both shelters, we provide well over 1,300 meals a day."
"And we have a chapel service here every Sunday morning at 8 o'clock. A lot of the clients attend, we have about 35 to 40 who come, sometimes as many as 50. And they tithe, sometimes as much as twenty dollars. Sometimes our offering is eighty or a hundred dollars. People ask me – do homeless people have money? Some of them do, some of them collect Social Security. But to see them tithing when they don't really have anything is an emotional feeling for all of us."
"Our clients are very grateful for the opportunity to have a roof over their heads, hot food to eat, and a place where they can shower and change clothes," concluded Captain Snyder.  "Many people have gotten their lives together through our program,"   "It gives people hope. I think we're doing our part, and the work is fantastic. You pour a lot of work into it, and you pour out a lot of yourself to help people. But it's so rewarding—to help people, and see them succeed in life."
(The Salvation Army's Berberian Shelter is located at 320 9th Street, in Modesto, 95351. Intake for clients begins at 4 pm each day.  Phone number: 209-525-3750)