Former Modesto City Councilmember Bruce Frohman earned a reputation as a zealous defender of taxpayer dollars when he was in office. He's still careful with his hard-earned dollars. Like many of us, he's incensed that oil companies are making huge profits while many of us struggle with rising gas prices. ed
As I write this, I am away on business in Colorado. During my trip, I am noticing gasoline prices at every service station I drive past.
Starting in Modesto, where prices are as high as $5.90 per gallon, I noticed that average prices gradually dropped as I drove eastward.
Auburn had the same prices as Modesto. Reno was about 20 cents a gallon less despite having an extra 40 cent per gallon tax in Washoe County.
I paid $4.59 per gallon in Winnemucca, Nevada. Utah prices were about the same. In Evanston, Wyoming, Chevron was $4.40 per gallon. In Laramie, Wyoming, the price of top tier fuel was at $4.00.
Here in Northern Colorado, prices range from $3.80 to $4 per gallon for top tier gasoline.
With the price of gasoline $2 per gallon less in Colorado than California, why does the California State Legislature allow its citizens to get ripped off by big oil companies?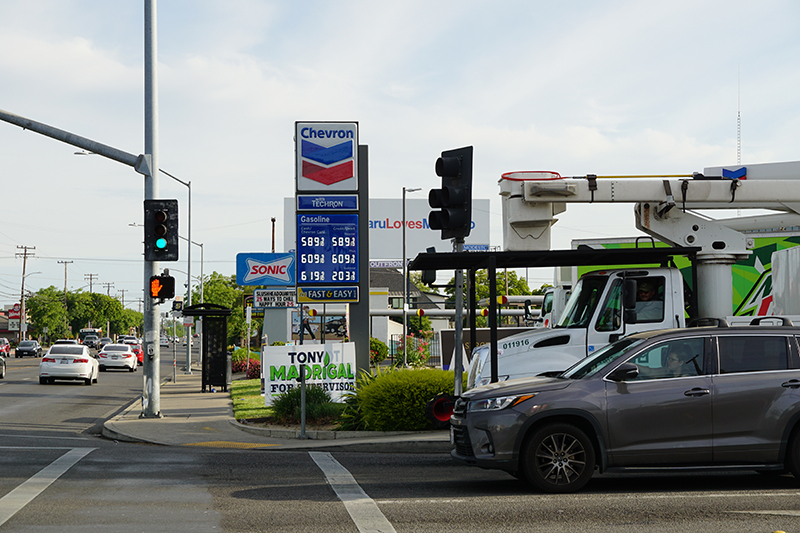 I exchanged emails with Michele Janosek, a "Consumer Connection Center Specialist" with Chevron, the local gas seller with the highest prices in the Modesto Area. Ms. Janosek attributed the high prices to California's special formulation designed to reduce air pollution.
Given the number of years that California refineries have been making the special formulation, the $2 per gallon price differential does not add up.
What is just as bad, my personal experience has found that the California formulation causes worse gas mileage by an average of three to five miles per gallon.  Poor mileage adds about another ten percent to the gasoline cost per mile to drive in the flat lands of the Central Valley.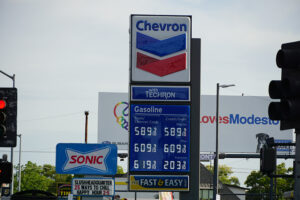 Chevron's Ms. Janosek concluded that she understands and sympathizes with my frustration. I concluded that the California legislature does not care about whether the citizens of this state are price gouged.  Given their lack of concern, we have another reason to vote in someone other than an incumbent next election.
The hope of using an electric vehicle (EV) to drive at a lower cost per mile than the gasoline powered car is eroding.  New electric car sellers like Tesla have raised prices to a level that more than offsets the high cost of gasoline.
Governor Newsom wants to keep Diablo Canyon Nuclear Power plant operating so the state does not run short of electricity. As the supply of electric power tightens, electric rates will go up, making the cost to charge EV batteries higher.
A significant increase in electric rates could make an EV as expensive to drive as a gasoline powered vehicle unless major investments are made in California's electric grid infrastructure to avoid future shortage.
Frustrated? Indeed!