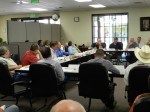 Probably the most prevalent myth about groundwater is that we don't know how much is being pumped. The seal of secrecy goes all the way to the state level with a long practice of concealing well records even from scientific inquiry.
But the mystification about how much water is being pumped is nothing more than a shell game. It's a distraction meant to confuse and silence the public.
Among farmers, it's widely known how much water is required to sustain a crop, whether it's alfalfa, grapes, corn, or walnuts. There's no mystery about how much water is needed for an almond orchard in eastern Stanislaus County or a tomato patch in Merced County. Farmers know within ten percent (often more precisely) how much water to apply to a given crop.
The second most prevalent myth about groundwater is that we don't know where it comes from. Nonsense. Groundwater comes from surface water. The notion that groundwater and surface water are somehow different is a mistake that's led to a world of woe for regions dependent on groundwater, especially California's San Joaquin Valley
While it's true that aquifers can be complex and involve differences in flow and composition, one thing is always true: They are easily ruined beyond recovery when overdrafted.
The U.S. Geological Survey refers to the use of groundwater in the San Joaquin Valley as "mining" groundwater, and the metaphor is apt. In too many cases, the water is extracted to the point that recharge is either impossible or many decades away.
Given what we know about groundwater, it's astounding that so few people are willing to point to the absurdities involved in concealing well records.
A case in point is Stanislaus Water Advisory Committee (SWAC). Appointed by Stanislaus County Supervisors, the committee has met regularly since February. Despite the meetings and the presence of people who know better, the committee has spent much of its time emphasizing the need for volunteer reports from well users, as though the information about pumping is a mystery.
The only question—and it doesn't achieve the level of mystery—is how long it will take to ruin the aquifer. Water from the foothills flows downhill to the valley floor. Historically, the downhill flow was a major factor in consumption and recharge. Now, more and more water is diverted and consumed before it flows downward.
Even the city of Modesto, which is one of the few in the San Joaquin Valley with a reliable source of surface water, has been forced to resort to groundwater use during the current drought. Nonetheless, City Councilman Bill Zoslocki, the one city official on SWAC, has remained silent on the need for a drilling moratorium, and has had few questions about the likelihood of overdrafting.
The public outcry that accompanied the proposed sale of Modesto Irrigation District water to San Francisco has been notably absent about mining groundwater on Stanislaus County's east side, and that's puzzling. At least San Francisco was willing to pay. In this case, it's Valley residents who are going to pay, and pay heavily. That's plenty of reason for protest, but thus far the only people complaining are those whose wells have run dry. That's the real mystery.