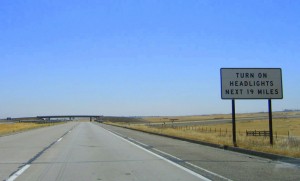 In the mid-1990's, I served on the Citizens' Transportation Advisory Committee for the Stanislaus Area Association of Governments, currently called the Stanislaus Council of Governments (StanCOG). After each meeting, I would corner Dana Cowell, the Caltrans representative appointed to attend our monthly meetings. I always had questions for Mr. Cowell. Very knowledgeable, he patiently answered each one.
After one meeting, we discussed Route 132, west of Modesto. I asked Mr. Cowell why a freeway had not been built. I said that I did not want to see a freeway built through the beautiful wildlife refuge at the San Joaquin River but that many people did. He replied that the traffic count could not justify construction as volume would need to at least double before a freeway should be built.
I told Mr. Cowell of an idea I had to reduce traffic volume: Change the signage on Freeways 99 and 580. He liked the idea and had it done. The sign on northbound freeway 99 was changed from, "132 San Francisco Downtown Modesto," to "132 Vernalis Downtown Modesto" and a second sign was added reading "San Francisco Use Route 120." On freeway 580 at the 205 junction, the sign was changed from "Modesto Use 132" to "Modesto Use I-205." This reduced traffic by encouraging motorists to use I-205 and Route 120.
The signage change also increased the volume of traffic on I-205, enabling the widening of that freeway to three lanes in each direction.
From the Mid 1990's to 2010, the volume of traffic on Route 132 remained fairly constant, with year-to-year changes varying with the economic conditions. For example, in 2008, when the recession hit, traffic volume plummeted.  (Note: Data on traffic counts is available from Caltrans.)
Around 2012, local developers initiated a joint effort with the Stanislaus County Board of Supervisors to convince Caltrans to build the 132 Freeway from Modesto to Interstate 5. I made the case that the roadway still did not have enough volume to justify construction. Because my statement was true, the best Caltrans could offer was construction of a freeway in four phases. The state was not willing to build the entire freeway because the cost could not justify the benefit.
The first phase would start in Modesto as a two lane expressway and connect with Maze Boulevard somewhere west of Modesto. Traffic would be encouraged to use Route 132 to San Francisco rather than Route 120 so that traffic volume would increase. To make it easier to obtain funding for a second phase, the road would be built so that congestion would be created at Franklin and Needham Avenues in Modesto and along Maze Boulevard to the west. The added congestion would trigger citizen complaints, adding impetus toward securing funds for phase 2 of freeway construction and subsequent phases.
The worst part of the plan is that 20 years would be needed for completion of the 19 miles of freeway. This means residents of Stanislaus County would be inconvenienced with unnecessary congestion, construction issues and aggravation for 20 full years! Whereas 200 miles of  I-5  was built in one phase in a five year period, Stanislaus County would need 20 years for only 19 miles!
Fly In the Ointment
My role in all of this was like a fly in the ointment, being a real pest in an effort to get the plan revised to a facility that would better serve the public.
When I heard about the toxic waste dump in the future freeway right of way, I screamed loud and long about the need to remove it. Caltrans has not removed it and probably never will because they want to put a cement cap over it that will crack and leak in the long run. We will all forget about the toxic dump and it will become a problem for future generations.
When I heard about the plan, I again screamed loud and long about its mediocrity and insisted that construction be delayed until enough funds could be secured to do the project the way it should be done from the outset.
Apparently, my protests had an effect because Caltrans decided to withdraw the project to submit a new plan later. All of the supervisory engineers who participated in the introduction of the four phase plan retired and have been replaced by new project managers.  In early 2017, Caltrans introduced an entirely new four phase plan that was almost exactly as the original, except slightly worse because it eliminated essential access and egress from the future Carpenter Road Interchange.
When invitations to write comments about the Environmental Impact Report came out, I wrote a 20 page treatise about how Caltrans had failed to do a wildlife impact assessment at the San Joaquin River refuge, about how air pollution would be created via added congestion during the four phases of construction, about adverse impacts to intersections, and about the toxic waste dump that still had not been removed.
As of this writing, I presume the EIR is being reworked so that Caltrans can claim that my comments had no merit.  Rather than try to get more money to mitigate or counter my complaints, if they can find a way to circumvent them, I expect that they will.
When I wrote the Modesto Bee article about the new Kasson/River Road-Route 132 signal, I saw that as an initial step in creating more traffic congestion. One would think that if they expect to build a full four lane freeway within 20 years, every road and intersection improvement would be designed to fit in with a completed freeway project. Instead, the way the intersection was done, when the freeway is built, the signal will have to be removed and the roadway will need to be realigned.
When the Manteca Bypass Freeway 120 was built, no roadway realignment was needed for the expansion from two lanes to four lanes. In that case, planning the freeway was driven by demand and clear thinking. Planning for Highway 132 has been much more haphazard.