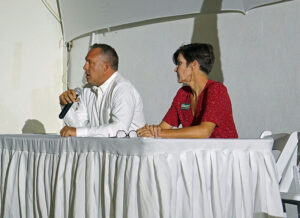 A small crowd showed up at Modesto's Red Center Thursday, September 22, for debates featuring candidates for two of the Valley's seats in the House of Representatives. John Duarte, running against Adam Gray in Congressional District 13, was represented by his wife Alexandra. Republican Tom McClintock, heavily favored in District 5 against Mike Barkley, didn't show up.
Newly redrawn to include parts of six counties, District 5 seems tailor made for a Republican, the chief reason McClintock is favored. Rated as a tossup by most polls, District 13 registration trends Democratic, but Republican Duarte made a strong showing in the Primary Election, which included Democrat Phil Arballo as well as Gray.
The debate between Gray and Ms. Duarte was tepid, almost certainly because Donald Trump's dark shadow still looms over the nation, and especially over Republican candidates who must calculate how much allegiance to the former president will be necessary to bring out the base voters crucial to success at the polls. John Duarte's campaign in a politically balanced district offers a special challenge.
Duarte's campaign website  includes his statement that, "'You can't lie to trees and you can't lie to your bank account.' John wants to take these values to Washington DC to teach politicians a thing or two about integrity, accountability, and work ethic."
Unfortunately, those few Republicans in Washington D.C. who tried to maintain "integrity" and "accountability" during the Trump era were run out of the party faster than Josh Hawley could sprint through the halls of Congress on January 6, 2021.
The problem for Republicans who try to maintain truth and integrity during the reign of  Trump is a simple numbers game: Without the MAGA base, they can't win and Trump controls the MAGA base. Having lost the majority vote seven out of the last eight presidential elections, Republicans running for national office find themselves dependent on voters like the QAnon Shaman and his friends who stormed the Capitol on January 6.
The Republican Party swallowed the Trump poison pill then learned too late there's no antidote. Trump mastered the dark arts of political and financial corruption during the McCarthy era while under the tutelage of Roy Cohn, a man who could easily make you believe reptiles can walk and talk.
Frank Rich detailed the sordid history of the Cohn/Trump partnership in a masterful report for New York Magazine in 2018.
According to Rich, Trump and Cohn were bosom buddies (Cohn became Trump's attorney after moving on from Joe McCarthy) until Cohn got too sick to help Donald lie, cheat, and steal, whereupon Trump dropped him and moved on.
"I can't believe he's doing this to me," said Cohn, dying of AIDS. "Donald pisses ice water."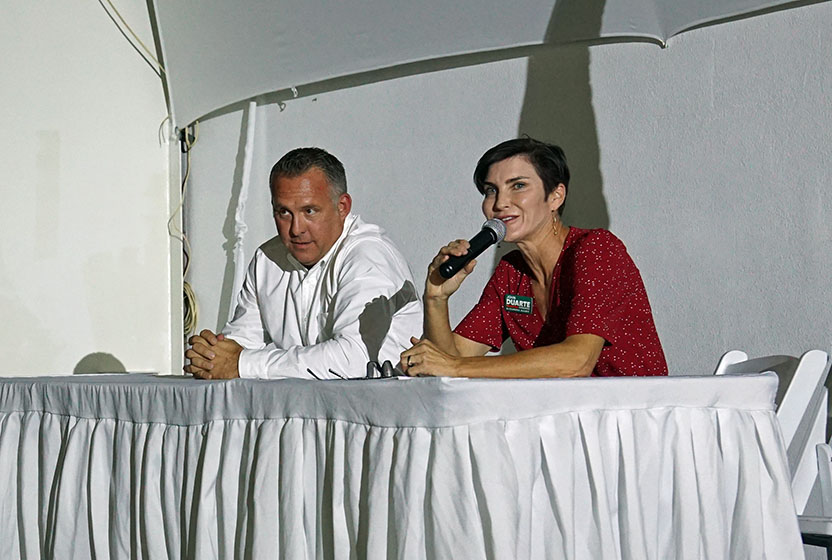 Today, many Republicans can't believe what Trump's done to their Party, but denial isn't making him go away. The best those who try to distance themselves from Trump's corruption and mendacity can do is recite the current politically correct disclaimer cum prayer, "I don't always agree with his methods, but I like his policies."
Like his policies? Yes, the Republican Party is all-in on abolishing women's rights, imposing tariffs, cozying up to war criminals like Vladimir Putin, discrediting American intelligence services in favor of Putin's lies, and, lately, thwarting the nation's law enforcement agencies, including the Capitol Police, the FBI, and the Department of Justice.
That's not a problem for candidates like Tom McClintock, whose new district is mostly bright red. The moment after it was drawn, the Democratic Party gave up on it. Only perennial Democratic candidate Mike Barkley dared make a run, and this time he's by far the best choice, if only because he actually believes in science, favors democracy, and champions the rule of law over the depredations of a sociopathic former president.
Adam Gray's District 13, on the other hand, is a nuanced mix of traditionally Republican and Democratic voters who prefer to judge candidates and issues based on local relevance. In that respect, Gray has been hugely successful during his tenure as a representative for California State Assembly District 21. That district has a voter demographic similar to newly configured Congressional District 13.
During a short and civil debate period, Gray pointed out endorsements from a broad spectrum of Democrats and Republicans that includes Stanislaus County Sheriff Jeff Dirkse, Merced Mayor Matt Serratto,  Modesto City Councilmember Chris Ricci, Stanislaus County Supervisor Vito Chiesa, former Merced County Supervisor Hub Walsh, and dozens of other Republicans and Democrats unlikely ever to appear again in support of the same candidate. The only way to amass that much support from so many different constituents is through an unusual gift for earning public trust through public service.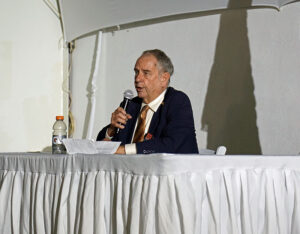 Gray's proven record of delivering for such a diverse group eclipses any probability Duarte might be able to disentangle himself from Republican marching orders, not that he would necessarily want to — Kevin McCarthy, whose fealty to Trump includes a willingness to lie and prostrate himself for Trump's favor, is Duarte's biggest Republican backer. Despite critical issues like women's rights, inflation, and the ominous prospect of protracted war in the Ukraine, this year's elections are ultimately about the future of "government of the people, by the people, and for the people."
Today's Republican Party has made clear its intention to replace our Democratic Republic with an authoritarian regime that would strip away women's rights and replace the ballot box with a cult of personality. Valley voters have never had a clearer or more important choice between moving forward toward "a more perfect union" or backward into the darkness of authoritarian rule.
Adam Gray and Mike Barkley are your choices for democracy.