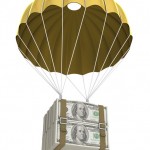 Did Modesto Irrigation District (MID) General Manager Allen Short resign so he could give himself a raise? According to a recent Modesto Bee report, Short could make more money by leaving the MID than he would have had he stayed—and a significant portion of his income will be provided by the MID.
Short was appointed General Manager of the San Joaquin Tributaries Authority (SJTA) on May 15. Since then, he led a failed effort to sell water to San Francisco, was found to have imposed a possibly illegal "Falling Water Charge" on MID ratepayers, and has been implicated in payouts to consultants who were apparently hired to lobby MID Board members to support the water sale.
Short is leaving the MID in financial straits and managerial disarray. Many blame the MID's problems on a dysfunctional Board of Directors, but the Board until recently served mainly as a rubber stamp for Short's grandiose schemes, including extending electrical service into Mountain House at the cost of millions of lost dollars.
By most accounts, Short and MID General Counsel Tim O'Laughlin had their way with the MID Board until the arrival of newly-elected Director Larry Byrd. Byrd refused to go along with the Board's unreserved support of Short and O'Laughlin. Not long after Byrd's arrival, Short and O'Lauglin met with series of setbacks culminating in their resignations.
Nonetheless, Short and O'Laughlin will continue to influence MID policy, and they'll be paid to do so, in part by the MID.
Even more troubling than Short's and O'Laughlin's new jobs, the primary purpose of the SJTA seems to be to lobby against increased flows along San Joaquin River tributaries. The increased flows have been recommended by federal and state biologists as necessary for restoration of native fish, especially salmon and steelhead trout.
Given the public mandate for restoration of native fish populations, there's no future in opposing increased flows along our rivers. Moreover, there's also evidence increased flows are needed for the survival of the San Joaquin Delta.
In choosing to sell water to San Francisco and oppose restoration of native fish populations, Allen Short and Tim O'Laughlin have chosen the past. Every day more California citizens are refusing to sell the public trust to corporate profiteers.
It's hard to see the San Joaquin Tributaries Authority as anything but an unnecessary level of bureaucracy. Once its mission is revealed, many MID ratepayers will likely protest paying to oppose living rivers. And despite the reputed brilliance of Allen Short and Tim O'Laughlin, the likelihood they will succeed in preventing restoration of native fish populations is virtually nil.
The MID Board of Directors needs to think very hard about the wisdom of funding a golden parachute into a failed past. They won't find the future by looking backward.