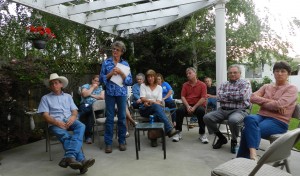 Just outside the city of Oakdale, houses along Orange Blossom and Horseshoe Roads represent most everyone's dream of country living come true. Nestled under canopies of cottonwoods and oaks and with close access to the Stanislaus River, many of the homes feature backyard pastures with grazing horses, frolicking dogs, and large country cats hunting mice and gophers.  
Lately, though, residents of the once idyllic neighborhood find themselves more and more often gazing at the hilltops above their homes, where an increasing horde of almond trees looms like an advancing army―the legions of Trinitas. Funded by realtors and investors from the Bay Area, the new agri-giant has become a focal point for criticism about the myriad ill effects brought on by the San Joaquin Valley almond boom. 
Last Wednesday evening, a group of concerned homeowners gathered at a home on Horseshoe Road to brainstorm about what they could do to prevent their once peaceful neighborhood from being ruined by what they see as a group of get-rich-quick outsiders. Worried that new wells a short distance away might draw down their own water levels and irate about fleets of large trucks that clog their narrow, two-lane roads like armored battalions, the homeowners are part of a growing coalition of citizens throughout the region who see their quality of life eroding almost daily. 
Spokesperson Gail Altieri summed up the feelings of many of those present with introductory remarks that captured the spirit of people who feel they've been ignored by local politicians and leaders. 
"Planting, planting, planting―during a drought―for almighty greed. I'm just livid," said Altieri. "I'm so tired of hearing this 'you know what' that everything is due to the drought. I moved here in 1979. Our well went down six feet in 29 years. Then, it dropped eight feet last year, rose a foot last fall, then by this April it had dropped five feet in six months." 
Falling water levels are the major worry for most residents near the ever-expanding groves of nut trees. "We were without water for six months," said Mike Tozzi, who lives in nearby Valley Home, just north of the Orange Blossom neighborhood. Tozzi's well went dry last year. 
While fears of dry wells dominate most peoples' concerns, dropping water levels aren't the only fallout from the almond boom. 
"They run the pumps all night. I can hear them all night long," said one homeowner. 

"These country roads aren't compatible with big trucks," said another. "They're breaking the sides of the roads." 

"My lungs feel the dust before my nose smells it," said one woman. "They're using pesticides." 

"The traffic should be addressed," said someone else. 
As the meeting went on, frustration mounted as people realized they need more information about pumping by the huge wells that serve the thousands of acres of trees surrounding their homes and neighborhoods. State law allows pumping records to remain confidential, a rule that more and more people feel creates too many opportunities for abuse of a public resource. 
While one group member thought people should band together and hire attorneys to press their case, Mike Tozzi cautioned that litigation would be expensive and could take decades. He recommended citizens form a political action committee and put pressure on local supervisors and members of congress.  
Kathy Smith, a member of the Stanislaus Water Coalition, told the group that she and five other people had spoken about their problems at Tuesday night's meeting of the Stanislaus County Board of Supervisors. "We told them that we're not going away. Next time, there should be more of us," she said. 
It might well take many more to bring about any change in what seems to be an unstoppable campaign to replace open rangeland with a uniform forest of row after row of identical nut trees.
Normally sympathetic to farms and farmers, the country people of Orange Blossom and Horseshoe Roads don't consider Trinitas to be representative of agriculture as they know it. 
"I don't think it's (almonds) an ag crop," said one woman. "It's a greed crop. They're a bunch of outsiders raping the environment."  
Like it or not, Big Ag may well prevail over any number of Valley citizens' concerns. "After all," said one person at the end of Wednesday's meeting, lamenting yet another law that places even more power in the hands of the already too powerful, "Corporations are people too."