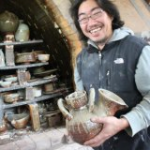 Modesto's burgeoning arts scene added another dimension on February 2, when the Chartreuse Muse kicked off its "Art of Tea" exhibit with a reception attended by over two-hundred local art lovers.
Sandy Veneman and Ellen Roehne are the driving forces behind the Chartreuse Muse, which has long featured outstanding work by such accomplished local artists as painter Jack Morris and potter Randy Crimmel. Veneman and Roehne are themselves fine artists with an enthusiastic following, and they've committed themselves to enriching the arts both through teaching and exhibiting almost every form of the fine arts.
"The Art of Tea" features local poets, painters, potters, and sculptors as well as a vibrant infusion of Japanese artists brought in by Muse art instructor Fumiko Amano-Caine (my wife). Local poets, including Modesto poet laureate Gillian Wegener, contributed Haiku to a beautifully produced booklet designed and produced by Sandy Veneman, which proved an ideal complement to the art produced by Kaduaki Kagawa, Kouma Horimoto, and Thomas Arakawa.
Two of the Japanese artists, Horimoto and Kagawa, produce art of stunning originality and impact. Horimoto takes Kanji characters, which began as pictographs and moved into abstraction, even further into abstract representation. The effect is to recapture to life and movement behind the meaning of the character. Kagawa's papier art reflects the obsessive attention to detail characteristic of Japanese culture. The final product, however, conveys the calm serenity of an isolated pond.
Thomas Arakawa specializes in anagama pottery, which is produced in wood-fired kilns. The art of anagama began on the Korean peninsula over two thousand years ago. It soon spread to China and Japan, where it was refined and developed. Wood-fired kilns must be stoked continually and can reach temperatures over 2500 degrees Fahrenheit. Firings can last from thirty hours to four days or longer.
Because there are so many variables in wood firing, including the kind of wood used for stoking, the weather, the kind of clay involved, and even the amount of moisture in the air and wood, the artist can't predict the exact effects of wood firing on the artifacts in the kiln. The objects are literally painted with fire and wood ash, and the effects can vary dramatically.
These unpredictable but often stunning effects are called, "the gift of the kiln." Even though the fire has a major role in production, the best potters' work bears the stamp of the artist. Like much Japanese art, Arakawa's work derives substantial feeling and form from nature. Much of it looks as though it grew organically from a stone formation on a rocky hillside.
Put Arakawa's work alongside Randy Crimmel's pulsating colors and you begin to understand the vast range of possibilities for clay and fire. Though the two artists have taken their craft in different directions, each has produced a range of objects containing aesthetic values that redefine both art and utility.
To their great credit, Sandy Veneman and Ellen Roehne managed to bring together for one spectacular evening both Arakawa and Crimmel, as well as Modesto poets Gillian Wegener and Mark Nicoll-Johnson. Several other local artists attended.
Never in the history of our region have so many of the arts been brought together under one roof. The show is ongoing and shouldn't be missed.