Among several pieces of encouraging news Peter Drekmeier brought the Stanislaus County Water Advisory Committee during his October 26 visit to Modesto was the scientific consensus that it's still going to rain in the northern San Joaquin  Valley. In fact, said Drekmeier, according to the best science we have, it's probably going to rain just as much as it always has. The catch is that the realities of climate change mean it's going to rain less often and, when it does rain, it's going to rain much harder.
Drekmeier, a Palo Alto resident, is Policy Director for the Tuolumne River Trust. He's sometimes found himself at odds with local farmers about the needs of salmon versus the needs of almond orchards, but he found a receptive audience when he spoke about the value of collaboration versus the costs of conflict.
San Francisco and Bay Area counties' claims on their Tuolumne River water rights have conflicted with the needs of Valley farmers and residents for decades. During a short Power Point presentation, Drekmeier argued that it would benefit all parties, whether Bay Area residents or local farmers, if we could better control the flood and drought events which have become more common as climate change accelerates. There is widespread agreement among meteorologists, hydrologists, and geologists that more storage is a prime necessity for sustainable water use in the near future.
Whereas dams and reservoirs have been the traditional options for water storage and flood control in the past, there's a growing consensus that groundwater recharge represents a far better choice for the onrushing needs brought about by climate change. Even if it weren't forced upon Valley residents by requirements stemming from the Sustainable Groundwater Management Act (SGMA) of 2014, groundwater recharge and storage make especially good sense in Stanislaus County, where the eastern foothills feature soils uniquely suited for banking groundwater.
The black sands of the Mehrten Formation, a geologic feature of the east side of the Sacramento and northern San Joaquin Valleys, are highly permeable. In Stanislaus County, those black sands once held the last truly viable aquifer in the San Joaquin Valley, at least until thousands of acres of new orchards began tapping the groundwater reserves. Today, the aquifer is declining rapidly.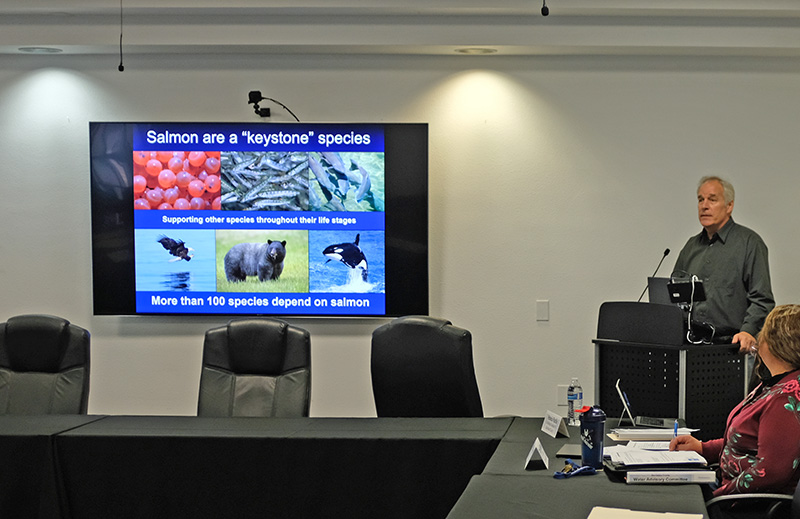 Citing statistics that show the City of San Francisco and other Bay Area Hetch Hetchy customers have reduced water usage from 293 million gallons per day thirty years ago to under 200 million gallons per day over the last eight years, Drekmeier suggested that the water gained from these conservation efforts could benefit both Bay Area and Stanislaus County residents. The benefits to both regions would come from recharging Stanislaus County groundwater reserves. The goal would be a sustainable water balance that would enable farming while providing an emergency "bank" of water for Bay Area residents during times of extreme drought.
Groundwater recharge and banking have already been explored on a small scale at various locations throughout the Valley. Given the proximity of the Stanislaus and Tuolumne Rivers to Stanislaus County's eastern foothills, the opportunity for banking water in the Merhten Formation's black sands during heavy rain events could offer tremendous benefits to fish, farmers, and urban and rural residents.
One major benefit would be greater control over the flows biologists say are necessary for sustainable salmon populations. Greater control in general would also benefit farmers, who would be able to count on more consistent water allocations from year to year.
Drekmeier suggested that collaboration between Stanislaus County and  Bay Area water users would offer both regions greater water security as climate change presents new and pressing threats from floods and drought.
"We're all in this together," he said, as nodding heads around the room suggested a growing consensus that shared plans for banking water could promise a sustainable future where there's enough for everyone, when and where it's needed.