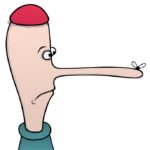 Anyone even remotely familiar with the Village I scandal had to be stunned upon receiving Brad Hawn's campaign mailers this week. Village I was scandalous for two reasons: One, although they promised a pedestrian-friendly planned community, developers reneged on the deal; two, Village I featured a fees shortfall approaching  forty million dollars.
Hawn's mailers accuse Garrad Marsh of being a Village I developer, implying he somehow illicitly profited from Village I. The facts say otherwise. In the late 1990's, long after Village I was a done deal, Marsh sold 18 of twenty-five acres that were within the Village I complex. Of the remaining acreage, he gave everything except the lot his house sits on to his children. Ironically, Marsh didn't even build his house; he moved it from Ceres after purchasing it in an auction. In fact, Marsh has never built on any of his property and sold it long after the scandalous aspects of Village I occurred.
What's even worse about Hawn's accusations is they're made by a man who has received public backing from one of Village I's major developers, Bill Zoslocki. In fact, whereas almost every local smart growth and farmland conservation advocate has backed Garrad Marsh, the development community has backed Hawn, including several mayors who've distinguished themselves for their failures to provide city plans that would protect farmland. The bottom line is that Hawn's claim is a vile canard.
Hawn has also said Marsh opposes pension reform for city employees, another falsehood. Marsh is on record as favoring pension reform and even has a specific plan for doing so. In fact, Hawn's and Marsh's voting record on city employee contracts and wages are identical. Their differences came about when Hawn decided to promote three expensive ballot measures. Marsh knew the measures were unnecessary because pension reform was already well under way. He also knew Hawn's ballot measures would cost the public and he thus wisely opposed them.
Brad Hawn's campaign mailers are nothing new. Any local candidate who has ever taken a stand in favor of smart growth and farmland preservation and had a chance of winning public office has had to deal with falsehood and innuendo. What's stunning about the mailers is the degree of contempt they show for Modesto voters. Only someone who's paid no attention whatsoever to local politics would be persuaded by Hawn's outrageous claims.
The entire Hawn campaign has now boiled down to bogus claims about a man who's quietly dedicated years of his life to making Modesto a better place to live and work. Valley citizens should immediately mount their own campaign against Hawn's sleazy tactics. Those who claim to "love Modesto" shouldn't stand mute when Modesto's image is tarnished by politicians who value ambition more than integrity.
Hawn's mailers were sent out to coincide with the city's mailed ballots. Clearly the mailers are intended to leave no time for refutation of Hawn's fabrications. Valley citizens should use all means available to set the record straight, including email, letters to the editor, radio, and word of mouth.