We're still waiting for a report from Caltrans on how much it costs to sweep the average homeless camp along one of California's freeways. We do know that last November, Caltrans estimated it would spend $36 million on homeless camp cleanups in this year alone.
Caltrans workers assigned to the sweeps, highway patrol officers who provide security during the sweeps, and neighboring businesses and residents all know that when homeless people are forced out of one place, they just move to another, often only a block or two away.
In those cases when there's no nearby open ground, they infiltrate city parks, downtown, vacant lots, canal margins, riverbanks, and any other spot where there's room for a shopping cart and human body. They stay at the new site until forced to move by city cops, county sheriffs, local business owners, or homeowners. Then the whole process starts again.
It's not Caltrans' fault it's spending millions of tax dollars only so that millions more can be spent on futile attempts to sweep homelessness under the rug. Caltrans' negative capability is just one more sign of government's failure when responding to human distress with exercises in cruelty.
The sweep isn't the only example of extravagant government waste in failing to reduce the harms of homelessness, but it may be the easiest to understand. Most everyone living in a west coast city of any size has seen the failures repeated many times over.
Imagine a wealthy state (the current California budget surplus is around $49 billion) where over 160,000 people lack consistent access to toilets, running water, and a place to keep their belongings. Further imagine many of these same people trying to form small communities for mutual aid and protection only to be forced again and again to disband and move along.
This is the natural state of homeless people in California today, where those 160,000 people live in a state of daily crisis, often even when in a traditional shelter, where their basic physical needs, and in many cases their illnesses — whether mental or physical — are disregarded or even disparaged as failures of character.
People who enter shelters today are not the same as in the past. According to Modesto's Salvation Army Shelter Director, approximately 40% of the residents in Stanislaus County's low barrier shelter are mentally ill; there is little to no likelihood they will become self-sufficient and there is no other place to put them than the shelter.
Another group is elderly, and/or physically or mentally disabled; they will not become self-sufficient, and even if they did, there isn't enough housing to hold them.
Caltrans Sweep, Modesto, July 2022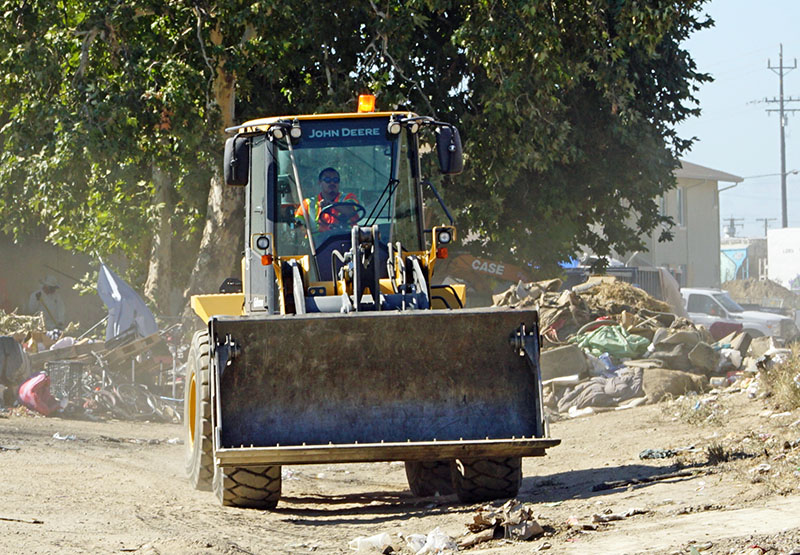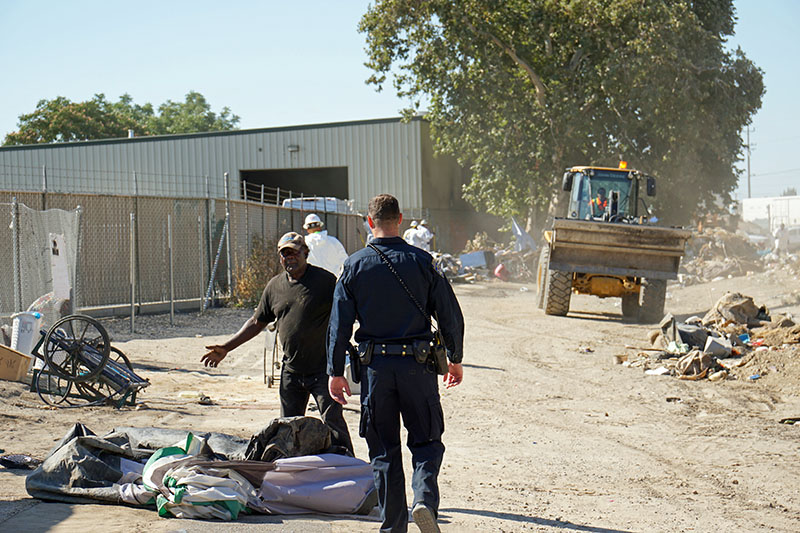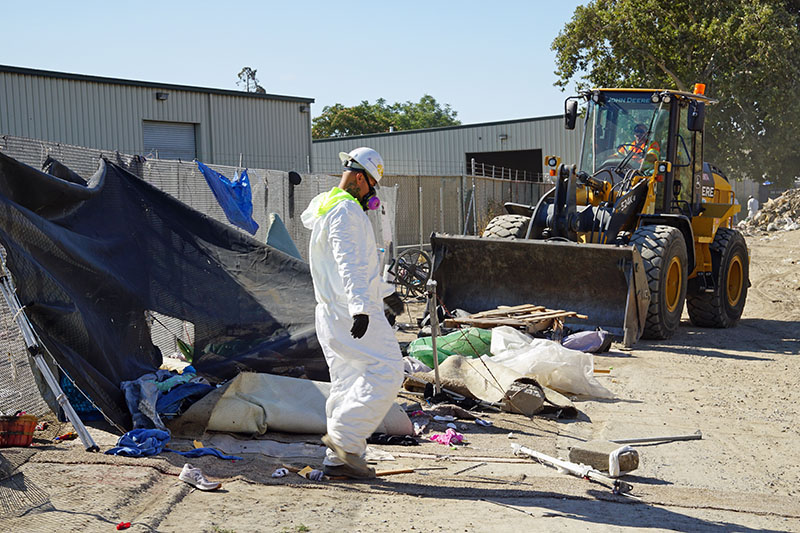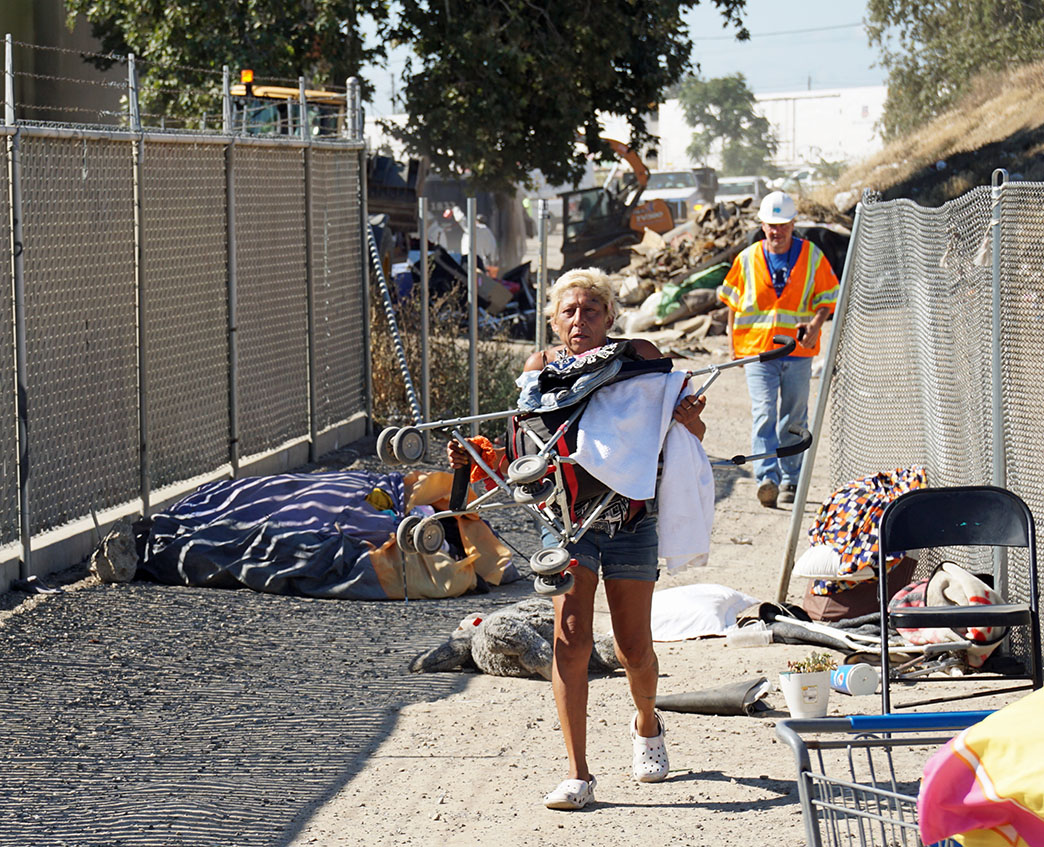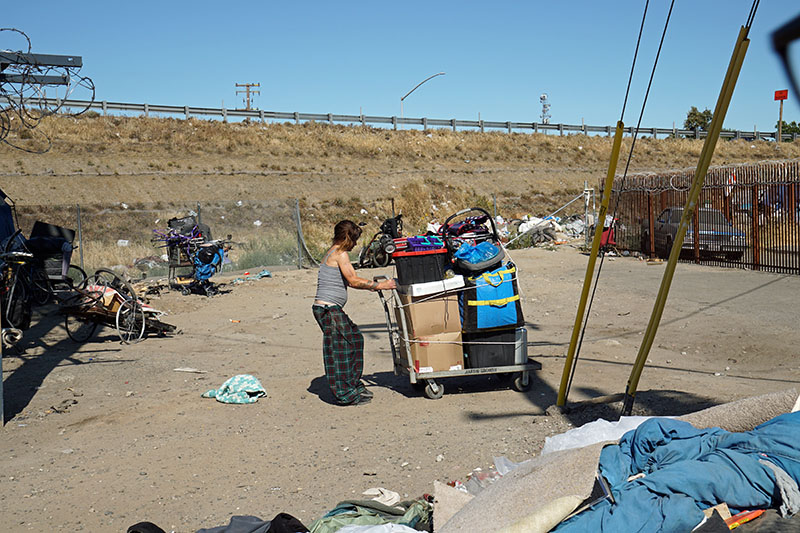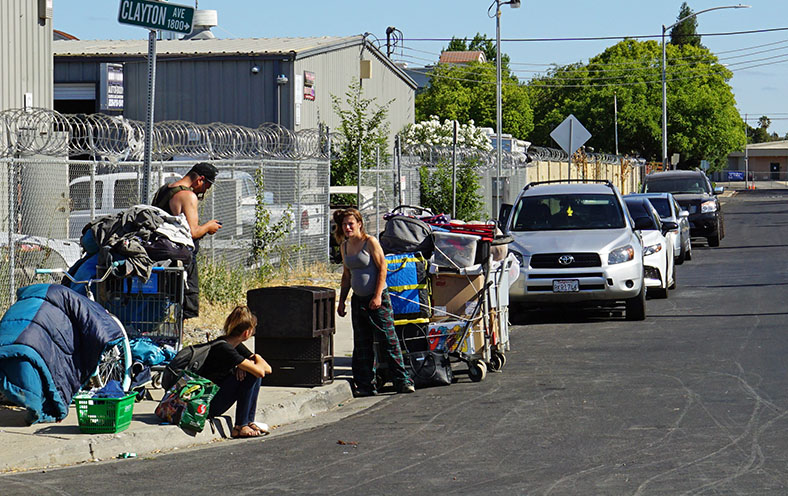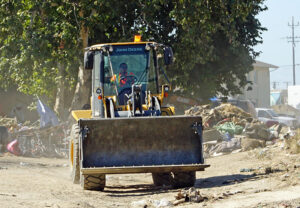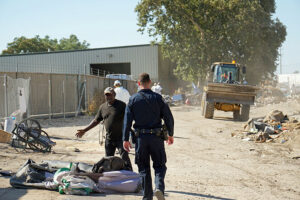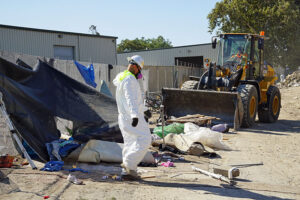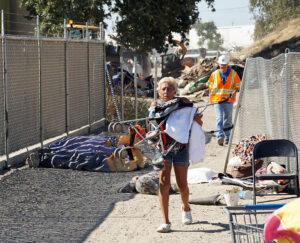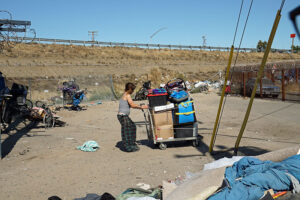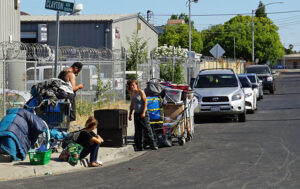 While many of the state's leaders have finally realized housing shortages are a major factor in rising homeless numbers, far too few understand that so-called "affordable housing" is not the answer to chronic homelessness.
In Modesto, city leaders boasted about approving a project that would provide 14 units of permanent housing for at-risk youth at a cost of $3.8 million, or $271,000 an apartment. In nearby Riverbank,  a "tiny house" project has been advertised at a cost of $350,000 per unit. Costly units like these take too long and accomplish too little; homelessness is a crisis of humanity that needs to be addressed with emergency measures now.
Though there have been attempts to blame homelessness on the homeless, there's more than enough factual information to discredit such theories. In May of this year, the Stanford Institute for Economic Research released "Homelessness in California: Causes and Policy Considerations."
The Stanford study emphasizes "high housing costs, inadequate shelter spaces, deinstitutionalization, and changes in the criminal justice system" as major factors in homelessness. Among other things, it recommends, "more shelter capacity and increased investment in cost-effective housing."
The quickest and most effective way to increase shelter capacity is to implement safe ground policies for permitted camping. Modesto and Stanislaus County did this in 2018 when they opened Beard Brook Park for camping. When campers in the park were relocated to a site near Modesto's 9th Street Bridge, the on site population burgeoned to almost 500. Costs in maintaining the camp were estimated at $13 per person per day.
Most people think of congregate shelters when they hear the words "shelter capacity," but permitted camping showed shelter can be provided far more quickly and inexpensively than traditional shelter options. Moreover, the majority of homeless people who have lived in congregate shelters don't want to stay for numerous reasons, but especially because there is so little privacy and the chances of moving on are so slight.
Shelter options in addition to  permitted camping are also available. When compared to the costs of sweeps, congregate shelters, lost property values, environmental damage and adverse effects on human health, alternative shelter options provide by far the best method for getting people off the streets, out of the dirt, and into humane and cost-effective living conditions.
One such option, Pallet Shelters, cost $6,995 each and can be set up in a day. Fifty such units could be put into service almost immediately for the approximate cost of one of Riverbank's $350,000 "affordable" housing units.
Important as they are, costs are not the most significant factor in our failure to mitigate the multiple harms of homelessness. The crucial factor — the element we continue to ignore at our own peril — is our failure to realize that homelessness is a humanitarian crisis during which we continue to treat people in distress with cruel disregard and callous indifference. That stain on our own humanity won't soon be swept away.