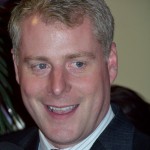 Bruce Frohman's insider's view of the Modesto City Council (below) offers a sobering look at local politics. Last Tuesday's Council meeting confirmed Frohman's claims—developers rule—but there were at least two episodes that shed even more light on the City's current and future political realities.
The first revealing moment came just after Councilmember John Gunderson moved to put Denny Jackman's Residential Urban Limit proposal on the November ballot. During the comment period, Councilmember Joe Muratore launched into an impassioned speech.
He began by saying, "Now that I'm a lame duck, I can do this." He then ripped Sierra Club Conservation Chair Brad Barker, a frequent critic of Council policy.
"I hate the tone," said Muratore. "You talk down to us."
Then, in an odd segue, Muratore said he hadn't yet made up his mind about putting Jackman's proposal on the ballot. The comment was odd because Barker had urged the Council to do the right thing and let the people decide on Modesto's urban boundary. After ripping Barker, one would have expected Muratore to oppose Jackman's proposal. Instead, he said the following:
"I haven't made up my mind about the proposal. I've been here all of my life," said Muratore. "I plan to stay here. I want a vibrant local economy. I want a vibrant downtown. I don't think we're going to see significant business development here for a long time—at least not in this cycle. If they were coming here they'd have shown interest by now. Instead, they've been investing in the Tracy Triangle and along Highway 5."
Listeners who followed Muratore's comments couldn't help but conclude that he believed the only near-future prospects for building beyond Jackman's proposed limit were for houses. Jackman's proposal clearly allowed for commercial development, but Muratore said commercial development is unlikely very soon. Since Muratore deals in commercial real estate, he ought to know.
Farmland protection advocates have long maintained that the, "jobs, jobs, jobs" mantra has been code for "houses, houses, houses." Muratore seemed to agree when he downplayed the prospect for significant business investment "this cycle."
When the time came to vote to put Denny Jackman's proposal before the people, Joe Muratore voted with John Gunderson and Mayor Garrad Marsh. The rest of the Council voted to "vet" the proposal, which as Bruce Frohman notes, means bury it or alter it beyond recognition.
The other revealing moment came when Bill Zoslocki spoke. Claiming he too had not made up his mind about the proposition, Zoslocki suggested that future actions by state government might make it very difficult to build eastward in the direction of less productive farmland. He implied it might be very unwise to limit our options with urban boundaries. Though he was trying very hard to appear moderate, anyone who followed Zoslocki's recent campaign for mayor remembered his strong opposition to urban limits of any kind.
Not long after Zoslocki's comments, Mayor Marsh explained Jackman's proposal as an attempt to prevent the kind of "bait and switch" tactics that had prevailed in the now notorious Village I saga. Zoslocki, who is expected to run for City Council and then again for mayor, was a major player in the Village I story, a chapter in Modesto's history when many think the City began its long decline from visions of smart growth to the current boom and bust cycle of growth binges followed by painful hangovers.
The brief cameos by Zoslocki and Marsh offered an intriguing preview of what are likely to be the star performers in our next Mayor's race. Zoslocki will find new ways to package the "jobs" refrain and Marsh will continue to remind voters of the consequences of betting our City's future on housing tracts and strip malls.
Opponents of Denny Jackman's urban limits proposal have tried to make it look new and radical. The fact is, we've known for a long time where our best farmland is, and long known that it is disappearing at an unsustainable rate. Last Tuesday's City Council meeting may one day be best remembered for Joe Muratore's starkly realistic assessment of Modesto's prospects for commercial investment. Modesto voters will especially want to recall Muratore's forecast when the "jobs" mantra is chanted during upcoming election cycles.