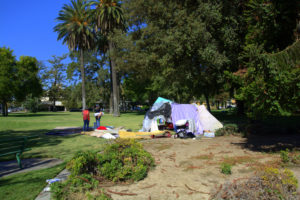 After the tents popped up in Modesto's Graceada Park last Tuesday, the news traveled like lightning through neighborhood group email lists: "They're allowing camping in the parks." Whether, "they," meaning the City of Modesto, are really allowing camping in all the city's parks remains to be seen.
The confusion is the result of a ruling by the Court of Appeals for the Ninth Circuit. The court wrote, "a municipality cannot criminalize such behavior consistently with the Eighth Amendment when no sleeping space is practically available in any shelter."
But "such behavior" in this case referred to sleeping, not camping. While it would seem there's a clear difference between the two, online rumors included a purported conversation with a Modesto Police Officer, who said of the camping, "After the court ruling, there's nothing we can do about it."
Neighbors in the vicinity of Graceada and Enslen Parks were irate. They already generate a constant stream of complaints about homeless people in the two parks. The prospect of homeless camps suddenly springing up clearly had them rattled.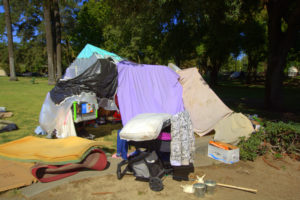 Following close upon a controversy over placing a temporary homeless shelter on Scenic Drive, about a mile east of the two parks, this latest flare up illustrates just how unprepared local authorities are to deal with an escalating homeless population that simply has nowhere to go other than popular public spaces, especially including libraries and parks.
The sudden appearance of the tents also suggests at least some homeless people are tuned in to current news events. It also reveals just how complex homeless issues really are.
The court ruling was based on the Eighth Amendment of the Bill of Rights. The Eighth Amendment reads simply,
Excessive bail shall not be required, nor excessive fines imposed, nor cruel and unusual punishments inflicted.
Most courts have ruled consistently that homelessness is not a crime. It would seem to follow that sleeping while homeless wouldn't be criminalized either.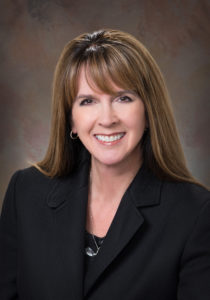 Camping is a stickier issue. Most of the crude necessities of living—food, water, toiletries, clothing—necessitate at the very least a place to keep them. For most homeless people, that "place" is a backpack, shopping cart, bicycle cart or homemade contrivance.
Modesto's two largest homeless shelters, the Modesto Gospel Mission and the Salvation Army's Berberian Shelter, offer little to no storage for belongings. They also require guests to leave their premises during daylight hours. That means that every day there's an outflow of people from the shelters who have nowhere to go other than public spaces.
By Wednesday, someone at Modesto's City Hall had made a remarkable decision to allow camping in Beard Brook Park, a long-favored location for homeless people that has no nearby residences, though it is bordered by the Gallo headquarters on one side and Stanislaus Foods on the other.
Because it is out-of-the-way and popular with homeless people, Modesto City Councilmember Kristi Ah You proposed allowing people to camp in Beard Brook as early as 2016. She's brought the proposal up again and again since then, and always been rebuffed by a litany of excuses ranging from, "Why enable them?," to "We won't be able to control the crime."
It took the catalytic effect of the court decision to force local authorities into action. But as the turmoil begins to settle before the next inevitable flare up, one thing's becoming increasingly clear: They should have been listening to Kristi Ah You long before a court ruling brought about this general panic.