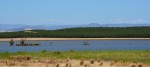 Last week, City of Modesto water users received notice that, "water allocation deliveries from MID will be decreased from an average of 30 million gallons to 17 million gallons." City residents will receive groundwater "to supplement the reduction."
"Customers may notice that the water at their taps contains more minerals than usual," said the city. What the city didn't say is that we've now joined the mad rush to drain one of the Valley's last great aquifers.
The city also didn't mention that water levels at Modesto Reservoir, which stores water for city residents, have very likely been reduced by heavy pumping for orchards near and around the reservoir.
While entities like the Stanislaus Water Advisory Committee (SWAC) have done their best to cloak east side groundwater use in mystery, there's nothing mysterious about it.
Some 30,000 acres of pasture land on Stanislaus County's east side have been converted to permanent crops, mostly almonds. Almonds require three feet of water a year, give or take a few inches. So 30,000 acres require 90,000 acre feet, year after year after year.
Need a mental image? Think of it this way: When full, the capacity of Modesto Reservoir is 29,000 acre feet, about one-third the annual demand for 30,000 acres of almond trees.
In states where groundwater use is regulated, many families use only a quarter of an acre foot of water a year. In northern California, a family of four may use as much as an entire acre foot in a year. So 90,000 acre feet would serve 90,000 families of extravagant water users.
Keep in mind that Modesto Reservoir is unlined. That means there's seepage. Exactly how much seepage isn't known, but a good hydrologist could make an estimate based on studies elsewhere. One such study is here.
A good hydrologist could also figure how much seepage is accelerated when thousands of acre feet of water are pulled from under a water source.
Seepage is important if you're around or near a reservoir and using lots of groundwater. That's because seepage is most likely your primary source for groundwater recharge. When an orchard sucks three feet of water a year, it doesn't take long to empty the bucket; after that, refills come from surface water.
The almond orchards on the county's east side all use drip irrigation; it's very efficient, but none of the water pulled up from the ground is replaced. It's a classic case of deficit spending—unless you can count on a constant recharge from other people's water.
In most cases, even heavy rainfall doesn't add that much groundwater, at least not directly. During heavy rainstorms, water runs off into rivers, streams, canals, lakes and reservoirs. Some flows directly into the aquifer, but there are only a few places in the San Joaquin Valley where direct recharge from rainfall is highly efficient.
That's as true for Modesto's aquifer as anywhere else. While there are some highly efficient recharge areas north of the city, which are the major source of local groundwater recharge, much of the water underneath all that asphalt and concrete very likely comes from the Tuolumne River's lateral flow through. That means as the aquifer under Modesto is drawn down, there will probably be reduced flows on the Tuolumne.
In effect, much of the water for orchards upstream of Modesto is being diverted from surface sources that would normally flow south. The real question is how much.
Maybe next time the City of Modesto sends a letter to its water users it should not only tell them where their drinking water is coming from, but where it's going—and to whom. And maybe the city should consider sending those other users a bill, just to be fair.