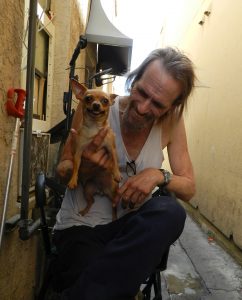 The stories told by residents of 624 Ninth Street in Modesto sound like a dystopian nightmare. "I was in the bathroom when the ceiling caved in," says one. "Once the ceiling came down there was a rush of water and when it stopped I looked up and saw rats looking down."
Bruce Curtis, who's been a resident of the condemned building  for three years, said the owner and manager were always very nice, but the owner's promises to repair serious problems never happened. "He said he'd bring in licensed contractors to fix things, but he never did," said Curtis.
Curtis said that when the floor went out in the bathroom, he put down a plywood plank and some boards so he could go in without falling through the floor.
"If you turn on the overhead light, the bulb blows out," he said, "the bathroom and kitchen sinks are most always backed up, and the hole in the front security screen has never been fixed. Anyone can reach through, open the screen, and then open the door with a card. Because of flooding from the floors above, there's a lot of times when I have one or two inches of water on the floor."
Curtis said his income from disability makes him a target for the predators who are a constant neighborhood presence. He's been beaten and robbed by gang members and said shootings and stabbings are routine.
Following the condemnation order, rumors were the only thing renters had to guide them. Many residents, including Curtis, believe they'll have to vacate the building by July 28, just two days away. Others think they have until August 14, and still others believe they have sixty days to find another home. Some residents believe they're owed first and last month's rent and their cleaning deposits.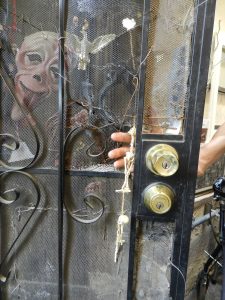 Much of the confusion stems from the absence of controlling authority. No one trusts the landlord, and the city and county lack a policy or plan for such eventualities. In fact, no city or county official seems to know anything at all about residents' or owners' legal rights.
Jeanette Fabela, the county's new director of the Focus on Prevention program for the homeless couldn't say when people had to leave, but she did know there wasn't enough affordable housing available for all the people displaced by the condemnation order. "We would not be able to serve all the tenants," she said Tuesday.
The Focus on Prevention  program has already been criticized as a, "too little, too late," effort, and this latest catastrophe shows just how unprepared authorities are to deal with our burgeoning homeless problem. Despite excellent staff and outreach people, the county simply isn't able to deal with the severe lack of shelter that is the fundamental factor in homelessness.
Steve Arakelian, who owns the condemned building, blames residents for much of the damage, but that only raises the question of why he hasn't evicted his bad tenants. And one wonders just how easy it is for a resident to maintain a studio plagued by routine flooding, infestations of vermin, and crumbling walls, ceilings, and floors. The basement, presumably unoccupied, recently had six feet of standing water.
Drug use is rampant in the neighborhood, and residents say the police know who the heroin and other drug dealers are and make frequent busts and visits to the building. Fire fighters are supposed to do routine building inspections, but despite repeated exposure to authorities, the building was condemned only just recently. Again, why did it take so long for condemnation, and why was the landlord not subjected to heavier pressure to repair the building?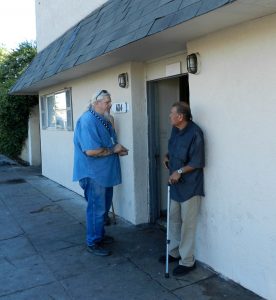 And while it's easy to put the blame on drug-using residents, it's clear than many renters at 624 Ninth Street are there simply because they're poor. That's certainly the case with Bruce Curtis, disabled by back injuries incurred on the job, and head injuries from an auto accident.
Another disabled resident, Israel Gonzales, says he's worked most his life, much of the time, "in the fields." Well-groomed and wearing spanking clean clothes, Gonzales wouldn't look out of place in a downtown restaurant. He says he doesn't use drugs; his eyes are clear, his demeanor calm and dignified .
Back in 2013, members of Modesto's Peace and Life Center recorded  a documentary video on living conditions at 1205 Rouse Avenue in Modesto. Residents complained of cockroaches, backed-up plumbing, hazardous wiring, and other building code violations. The owner happened to be the same Steve Arakelian who owns 624 Ninth Street.
Regarding renters' complaints, Arakelian made the same arguments then as he's making today—he blamed residents for the problems. Despite fines and orders to clean up the property, Arakelian has prevailed in some of the lawsuits involving the Rouse property. He'll soon be facing more lawsuits about the Ninth Street building, these brought by a pro bono law firm from the Bay Area.
Despite the prospect of even more people on the streets, city and county authorities remain resistant to emergency options in the form of low-barrier shelters such as tents or modified garden sheds. Given the likelihood many more properties have problems similar to those of the Ninth Street building, we could be looking at dozens more displaced renters with nowhere to go.
How long before authorities respond to the crisis?