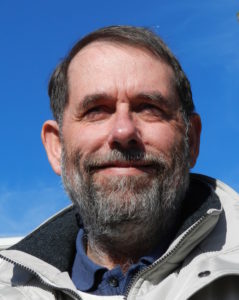 The City of Modesto has a large plume of toxic chemicals below ground. As time goes by, the plume is spreading via groundwater migration. Multiple sources of contamination are making wells around the community unusable.
Though serious, groundwater depletion is only one of our problems. Every year, more wells are taken out of service. In the long run, unless a way is found to clean out the chemicals, very few wells will remain in service, even if we find ways to recharge diminishing groundwater supplies. Technology to clean contaminated groundwater is very limited and takes decades to accomplish.
The sale of surface water by local water agencies to outside water districts and the shipment of water south will come back to haunt us, guaranteeing future shortage that will hurt the local economy.
Sources of Groundwater Contamination in the Central Valley
Modesto is a microcosm of development in the Central Valley. The sources of contamination in Modesto are repeated throughout the Valley.  The historical primary source of groundwater chemical contamination has been businesses that have dumped chemicals in dumps on their own properties.
In Modesto, the businesses responsible for groundwater contamination have been numerous industrial companies like defense contractor FMC, gasoline stations with leaking tanks, dry cleaning companies that dumped chemicals outside their premises, and even homeowners who have dumped old oil and chemicals in their backyards or in street drains.
Surrounding Modesto, agricultural enterprises have contributed to groundwater contamination. Septic sewage systems contaminate groundwater. Many agricultural enterprises and farms do not properly dispose of toxic waste, creating small onsite dumps. Pesticides leech into the ground through irrigation.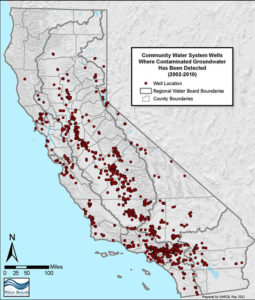 All of these contaminating activities are commonplace in the Central Valley. Toxic waste contributors of unknown quantity exist all over the Valley, and include sources as seemingly innocuous as septic tanks. Inhabitants have felt that the Valley is so large that the environment's ability to recover is limitless. As the ongoing drought has brought home the realization that the water supply is limited, groundwater contamination suddenly looms as a large problem.
The Damage is Cumulative
Contamination has accumulated ever since widespread Central Valley settlement started in the 1850's. The contaminants continuously leech into the ground over time and spread with the help of groundwater pumping. As water is pumped out of working wells, contaminated water in toxic chemical plumes is drawn towards those wells. When the plume arrives, the well has to be shut down.
Even if all dumping stopped today, existing toxic chemicals already underground will continue to move until aquifers have spread the contaminants throughout the region.  Finding uncontaminated groundwater will become more difficult to find.  Surface supplies will be the most reliable sources of clean water.
Civilization relies on clean water to thrive. Without it, living things can't exist. Past chemical disposal practices have been shortsighted. Not much local leadership has been displayed to date that indicate any recognition of the problem's magnitude. A crisis is building that may result in a catastrophic fresh water shortage. With the decision to send more of our water south, we have already reached a tipping point beyond which we will be unable to recover.