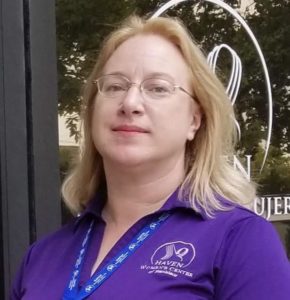 While many of us are making often radical adjustments to our lives during this tragic time, those people living in an abusive environment at home can find themselves even more isolated than ever. May Rico, the Executive Director at the Haven Women's Center of Stanislaus, shared her thoughts on that issue in a telephone interview the other day:
"If someone is living in a violent relationship, they have few safe places in their lives, and they have child care issues, and other people around them may not know of what's going on in their lives," Ms. Rico explained.

"Sometimes they'll share with others that they're in a violent relationship, but often they don't.  Now that we have all been told to stay at home, the victims of domestic abuse suddenly see that many of the safer parts of their lives are getting smaller and smaller, and their access to those safe places is drastically reduced and that adds to their sense of isolation, which can become quite overwhelming. We now find ourselves in a situation where isolation is a necessity for safety from this disease, but for people who are in an abusive situation, isolation will make that home all the more dangerous." 
As Ms. Rico points out, the services offered by the Haven's emergency shelter program are particularly crucial at this time.
"We have six families in the shelter, which puts us at full capacity. But we're trying to help everyone in need, and we can temporarily house some of our clients in hotels during times of overflow at the shelter."  
The Haven Emergency Shelter has long provided a vigorous level of support to "survivors seeking safety and healing." Services offered include provision of food and clothing; peer counseling; case management services; parenting and support groups for adults; youth programs; and restraining order assistance.
The onset of the Coronavirus pandemic sent Ms. Rico and the staff at the shelter scrambling for masks last week. Given that the shelter is located in a relatively small building for the number of people living in close quarters, she realized that Haven needed to act quickly to protect the safety of clients and shelter staff alike
"We knew we had to do something as a precaution to stop the spread of droplets from one person to another at the shelter. But we didn't have anything at the shelter," said Ms. Rico.

"Then, I heard the Rachael Maddow show when they were talking about this, and how hospitals and the health care community we're putting out a call urging people who knew how to sew to make masks, so I went online and found the link to some instructions, and posted that on our Facebook page, and people have been responding. I had one person whose wife works in a nail salon, and she donated a box of masks. I've already received one packet of ten homemade masks, and there are other people who have contacted me who want to help – so people are definitely responding. We have about 35 people (staff and clients together) who would need 5 – 10 masks a person (assuming regular weekly laundry) in various sizes. If we get more than we need I will contact other shelter providers in our community to see if they can use them."
The Haven's main office is located at 618 13th Street, Modesto, California, 95354, but is closed due to the virus.  To hear of ways to support the shelter program, please call the 24 Hour Crisis Line at 209.577.5980, and ask for Venesa.