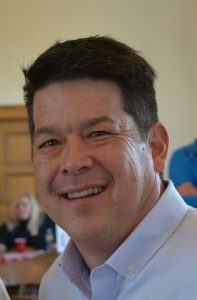 In a stunning move dictated by political realities in the San Joaquin Valley, TJ Cox has switched his campaign from California's Congressional District 10 (CA-10) to Congressional District 21 (CA-21). Cox's move was almost certainly prompted by  upheavals in both districts: (1) Michael Eggman's late entry into the race for CA-10 and (2) Emilio Huerta's withdrawal from the race for CA-21.
Democrats in CA-21 have grown increasingly frustrated by losses to Republican David Valadao, especially since Huerta lost to Valadao in 2016, when Hillary Clinton won the district by almost 16 points over Donald Trump. Given his history of work in the region added to the ability to raise money, Cox is widely seen as offering a strong prospect for a win. Huerta has promised to help any Democrat who runs against Valadao.
The CA-10 race has been complicated from the beginning, with several excellent candidates and no clear favorite. However, Cox was an early front runner and most insiders saw him and Josh Harder as favorites until Eggman entered the primary in January.
The question now is which of the remaining CA-10 candidates benefits most from Cox's move. Most likely every candidate thinks he or she will garner more votes, but the most likely early beneficiaries are Virginia Madueno and Eggman himself. Madueno has been a favorite of Latino and young voters all along, and Eggman benefits from the removal of a major rival.
Josh Harder still leads the Democratic field in money raised, but it's unlikely he'll benefit much from Cox's exit. Most Cox supporters were anti-Harder and remain unlikely to prefer him to a viable alternative.
Sue Zwahlen is also unlikely to attract very many of Cox's progressive voters. A few may migrate to Dottie Nygard, but Nygard has lost traction since announcing. As the June primary gets closer and closer, Democratic voters are looking for someone who can raise enough money to win and bring together both progressive and establishment Democrats.
Perennial candidate Michael Barkley, who has lost to Michael Eggman twice, almost certainly gains little or nothing from Cox's move, but Eggman gains just from the perception of having helped knock a strong contender out of the race.
What CA-10 Democrats need most is a consolidation of candidates into the top two or three who are most likely to beat Jeff Denham. TJ Cox had an excellent chance of both winning the primary and beating Jeff Denham. Now the number of candidates capable of both those wins has been reduced by one.