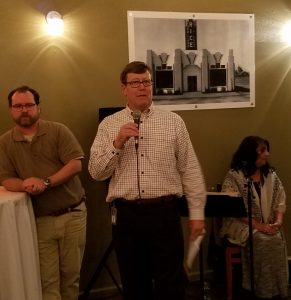 On a night when Doug Jones upended history in Alabama, Modesto's Frank Damrell kicked off a campaign for Stanislaus County Supervisor that could reverse our own long trend of ultra-right conservatives occupying the county's highest offices. Like Doug Jones, Damrell is a moderate but firm Democrat, comfortable with values that include a belief in helping the less fortunate while emphasizing family, community, and work.
Damrell is running for Dick Monteith's District 4 office against veteran politician Tom Berryhill. Like Monteith, Berryhill is a far-right Republican. During the last presidential campaign and election, Monteith was one of several local leaders who voiced loud and unequivocal support for Donald Trump.
Thus far, Damrell supporters seem less interested in talking about Trump and Trump Republicans than talking about the need to shape Modesto's future with vigorous new leadership.
Modesto businessman Jeremiah Williams emphasized that he likes Tom Berryhill and knows him well.
"I like and respect Tom Berryhill," said Williams Tuesday night, "but we need a younger man. We need to be looking at the future twelve or sixteen years from now. Frank's young enough to get in there and work on making things better in the future, and it's going to take years to do the things we need to get done."
Chris Murphy, another Modesto businessman known for his love of community, spoke passionately about electing Damrell, and urged people to talk to friends and neighbors about the deep roots Damrell has in Modesto and the region.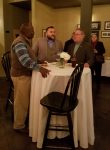 Like Monteith, Berryhill is something of an itinerant politician. His term in the state senate will end next year, where he's represented voters in Fresno County. Prior to that, he served in the state assembly. Berryhill has said he's excited to return to the area where he grew up, but some of his detractors say he's simply looking to retire on the seat Monteith kept warm after his own long years in state offices.
Tuesday night, none of Damrell's supporters had anything negative to say about Berryhill. Instead, they cited Damrell's long history of quiet but committed community service and his work for Senator Cathleen Galgiani. Many believe Damrell will offer far better approaches to dealing with the region's growing homeless population than Berryhill.
Damrell's potential to finally address problems associated with homelessness may have motivated the support of Modesto City Councilperson Kristi Ah You. Ah You has often been frustrated with the glacial pace of responses to the city's and region's omnipresent homeless people. She's said Damrell has the most specific knowledge of how to deal at the state and local levels with the issues most associated with homelessness, including mental illness and drug use.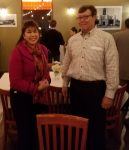 Another factor in Damrell's favor is his long history of quiet community service. He's obviously had plenty of opportunities to pack his bags and go elsewhere, but he's chosen to stay in the region and work quietly to make things better. For many of his supporters, that's the all the evidence they need to believe he will put community over politics and bring people together who want to restore luster to a region that has been slower than most to emerge from the Great Recession.
Politicians are famous for promises, but people who know Frank Damrell also know that he already has a long history of actions that speak far louder than words. Those deeds in the service of community and people may prove to be his greatest strength during the campaign ahead.