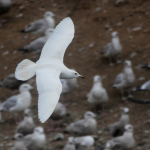 Local birders ran for their cars when Central Valley birding legend David Yee reported an Iceland Gull in northwest Stanislaus County Saturday. It took Modesto residents Jim Gain and Sal Salerno just over thirty minutes to rush to the bird's location. Oakdale's John Harris wasn't too far behind them.
All three were treated to excellent looks at a bright white, medium-sized sea gull that had many of the characteristics of the ultra-rare "Glaucoides" form of the Iceland Gull. Since they breed in northeast Canada and seldom venture to the American west, Iceland Gulls are among the most sought after species by birders hoping to add another checkmark to their state and local lists.
Gulls are also notoriously difficult to identify. Their plumages differ distinctly by age and season, they can take three to four years to mature, and they hybridize extensively. Their plumages can also be affected by weather, contact with staining agents, and genetic factors.
Thanks to digital photography and the Internet, expert commentary is almost instantly available whenever birders report rarities and difficult identification challenges. Not long after Jim Gain posted five excellent digital photographs of the stunning white bird, the experts began chiming in on the finer points of Iceland Gull identification.
By late evening, opinion was running about three to one against the likelihood the white gull was indeed an Iceland Gull. Instead, many thought the bird's immaculate white plumage was due to leucism, a genetic condition resulting in a lack of pigmentation. Some of the gull experts thought the bird might be a leucistic Thayer's Gull, a species known to hybridize with Iceland Gull.
Birding identification controversies are sometimes endless, and sometimes even the top experts admit they can't be certain of a bird's identity. But after viewing Jim Gain's excellent photographs, everyone agreed on one thing: Whatever it may be, our white visitor is a very pretty bird.