Bernie Sanders, who understood underfunding of social services in America long before most other people, was incredulous when talk started about defunding police departments. Like most close observers, Sanders understands how law enforcement has changed over the years.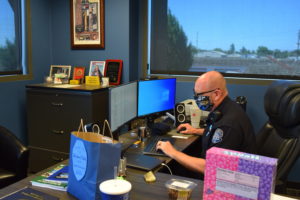 "I think we want to redefine what police departments do, [and] give them the support they need to make their jobs better defined. So I do believe that we need well-trained, well-educated, and well-paid professionals in police departments," said Sanders recently.
He added that we need, "understanding that many police departments and cops deal every day with issues of mental illness, deal with issues of addiction, and all kinds of issues which should be dealt with by mental-health professionals or others, and not just by police officers."
Sanders is undoubtedly aware that in many cities, police departments are already underfunded. That's been the case in the City of Modesto since 2008, when the police department went from a total of 280 officers to 240 within the short space of a year.
"By 2013 or 2014," said Modesto Police Chief Galen Carroll last Wednesday, "we were down to 209 or 210 officers. I remember during my job interview, a lot of the questions were about the budget. We're still dealing with the budget; it's no different than with your household budget. Maybe you would like a Cadillac, but all you can afford is a Volkswagen, so you drive a Volkswagen."
Since then, Carroll said the department has been authorized to hire 22 more officers, but hasn't had the money.
"And if I did have as much money as we need, I'm not sure all of it would go to more officers," said Carroll, "but I'd certainly hire a lot more civilians.
Carroll agrees with Sanders that today's cops deal with many problems better suited for social workers. And when he's asked whether he thinks we have enough social workers, the answer is a flat, "No."
Despite the drastic cuts in numbers, Carroll has been able to keep local crime numbers down through a combination of data analysis and technology. He places his officers where and when most likely needed based on predictive studies of where and when crime occurs.
"It doesn't make sense to send a highly-trained and expensive officer out on a nuisance call," said Carroll. "It's like calling in a brain surgeon when you have a cold."
Using three large screens mounted on a wall in his office, Carroll can see in real time all the calls for service throughout the city. Each screen displays calls according to the degree of urgency.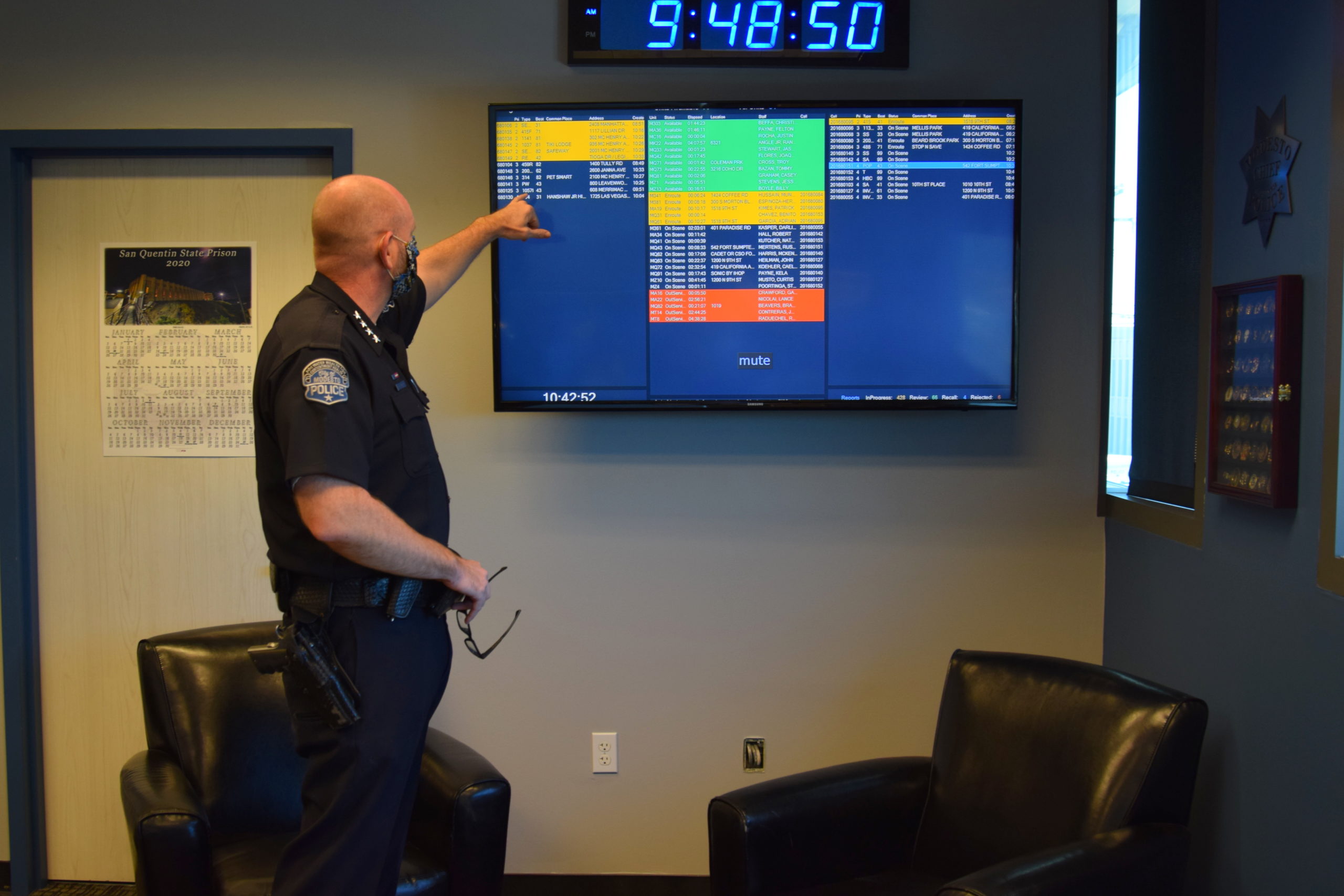 "Here's one for a 370 in Enslen Park," said Carroll. "That's a homeless person in the park. There's no real need for an officer to answer that call unless a crime is involved. Homelessness shouldn't really be a police problem anyway."
Modesto's cop in charge of the homeless detail agrees. "We can use Community Service Officers and cadets for public nuisance calls," said Sargent Mike Hammond Wednesday afternoon, after a long morning supervising 15 homeless outreach workers.
Hammond, who has won community awards from residents of Modesto's high-crime west side, also supervises crimes associated with homelessness. He knows dozens of homeless people by name, and is widely respected for his tough but fair enforcement of the law.
"Hammond's busted me before," said one homeless man, "but I've always had it coming and he's always treated me with respect."
"I tell them it's not personal, that I've got a job to do, and they understand that," said Hammond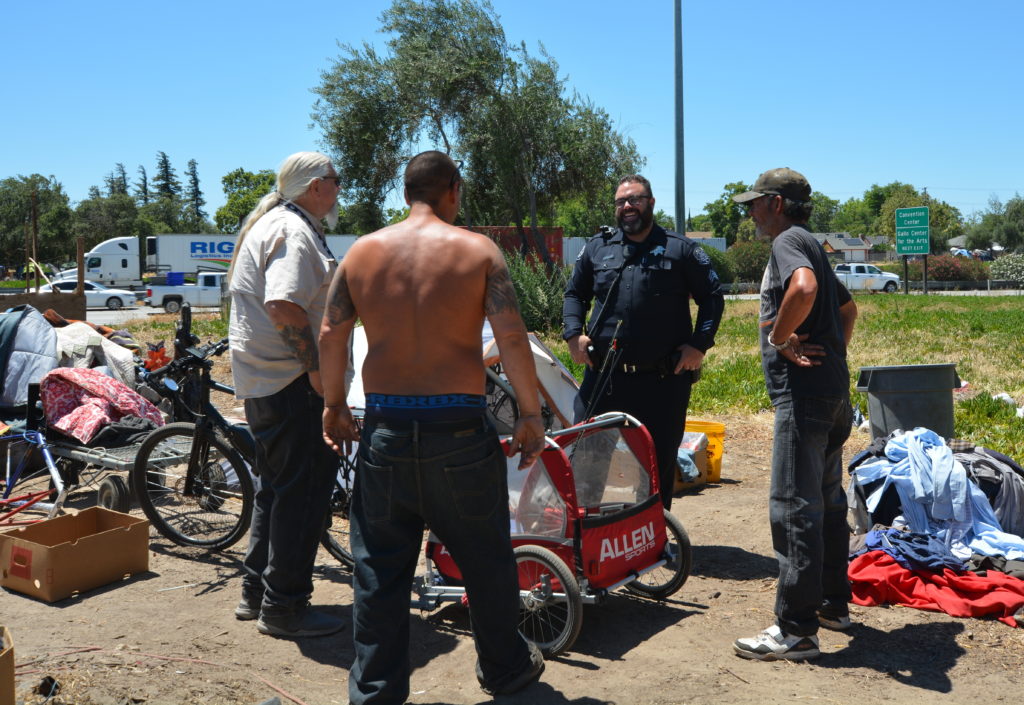 "One cop with a gun and several outreach workers is a good way to approach homelessness," he added. "It makes a lot more sense to meet homeless people where they are and let them know what services are available and how to ask for help than to expect them to figure out where to go and when, especially when they don't have transportation."
It may be partly because he looks ready to suit up and play nose tackle for his beloved Chicago Bears that Hammond seldom has to deal with dangerous violence, but it's also because he's dedicated to proactive prevention rather than provoked punishment. Nonetheless, the severe shortage of officers still adds to each cop's workload and stress, including his — factors that can diminish effectiveness on the job.
Carroll, who said he sometimes thinks, "I'm swimming in data," has the numbers to prove a Modesto cop's workload is well above average. Carroll's charts show that even in 2008, when the city had many more cops, Modesto was in the top three for cases per full-time officer. But by 2013, among the 25 most populous cities in the state, Modesto led in crimes per officer even over high-crime cities like Oakland, Stockton, and Bakersfield.
What the data reveal, among other things, is that local cops are working harder and smarter than ever. The data also show that in many cities, defunding isn't anything new, and it's happened despite the promises and posturing of politicians looking to capitalize on hot button issues.
In some cities, though violent crime rates may have declined, violent crime clearance rates — concerning the crimes that get solved and cleared — have also declined. That means that even though there are fewer murders, there also fewer murderers getting caught and prosecuted.
There's also been a widespread belief, long promoted by proponents of less government and lower taxes, that local governments are guilty of wasteful spending, including on law enforcement. In fact, countries in the European Union spend 33% more of gross domestic product on law enforcement than we do — but far less on prisons, suggesting the presence of more officers aids in the reduction of crime.
Chief Carroll agrees that the greater the police presence, the less crime, and he says that  many calls for police officers could be more appropriately handled by other personnel, freeing police officers to deal with actual crimes and prevention by public presence.
"Why should the police be called when there's a fist fight at school?" he said.
He also pointed out that on the East Coast, many cities average two to three cops per thousand residents, while on the West Coast the ratio is closer to one or one and a half officers per thousand. With fewer calls for the less-urgent cases, there could be an even greater police presence overall.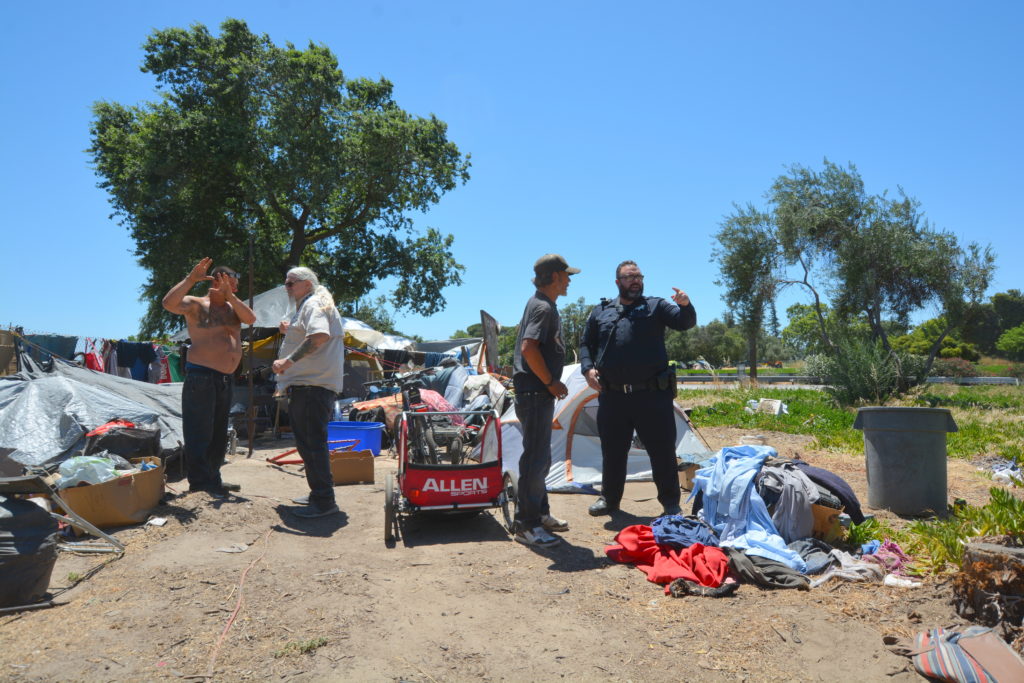 Part of the reason California can have a lower ratio of cops per citizen without far higher crime rates is extensive training that results in better policing. It can cost as much as $100,000 to properly train a local police officer, said Carroll, and then many seek work in the Bay Area, where the pay is higher.
"We prefer our officers to live here," he said, "then they're more invested in the community. But it's hard to keep them; in 2015-16 we were bleeding officers to other cities like crazy."
Sargent Hammond agrees that extensive training is a major factor in crime reduction. "We're trained and retrained all the time," he said. "We have to learn ethics, procedural justice, and de-escalation, among other things."
For Hammond, de-escalation has become a favored tactic, one he's well known for. Like most any cop, he sometimes has to deal with screaming people uttering gruesome threats while menacing with clenched fists, waving arms, and ready-to-hand objects.
"You've got to be able to tell whether you're dealing with mental illness, drugs, a deep disturbance, or a truly dangerous person," he said Wednesday, "Just because you can put your hands on a person doesn't mean you have to. There's usually a better way to deal with the situation."
For Sargent Mike Hammond, finding, "a better way to deal with the situation," has become a fundamental requirement in today's art of enforcement — a necessary tool in the service of the law. It's an essential tactic for any cop wishing to eradicate the stains of needless violence and wanton brutality that have too often made "justice for all" a cruel lie. Today's cops have to be better. The best of them already are.