All across this nation, GOP-led states are carving up and contorting congressional districts to dilute and suppress the votes of "socialist" Democrats, and, more specifically, people of color. Officially known as "redistricting," their aim is clear — to take back control of the House of Representatives in 2022 by any means possible, even if illegal, immoral, or unethical.
That's no surprise to those following politics; the surprise is that our very own California Congressional District 10 (CA-10) may meet a similar fate, even if the result is due to  pressure from delays in the process, not blatant partisanship. That's right, California redistricting may replace currently purple CA-10 with a gargantuan, dead-red district.
And since candidates need not live in their district, the Fresno Bee sees this potential new district, now represented by Democrat Josh Harder of Turlock, as a magnet for the most Trumpy conservatives, with Devin Nunes suggested as one of the most likely. Harder's ability to compete in the new district is labeled uncertain, but he would be running in a district that voted for Trump by 10 points.
In place of the current geographical area that includes all of Stanislaus and part of southern San Joaquin counties — a typical Central Valley constituency — the new district will reach from the north shore of Lake Tahoe to the southeastern corner of Inyo County and include parts of 13 counties, many scattered along both slopes of the Sierra Nevada Range dotted with small mountain towns and remote desert communities.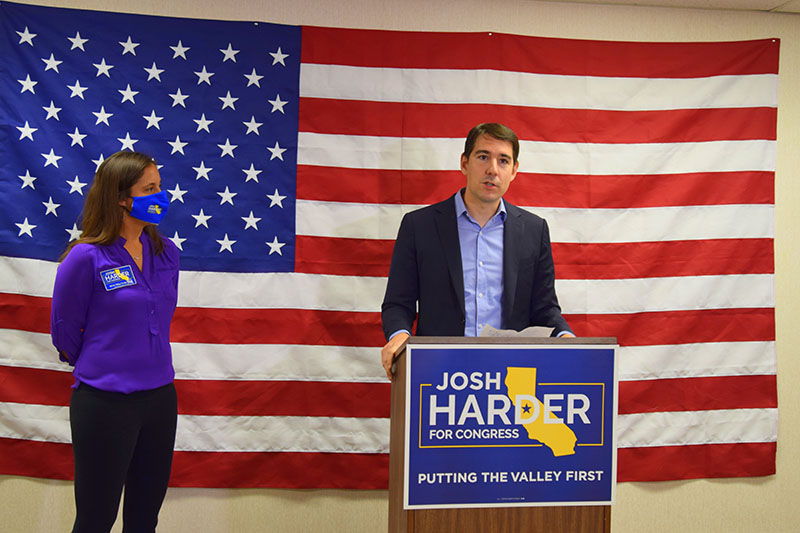 Obviously finding too few people to meet the required 700,000 or so needed, the commission's Sharpie carved out a mangled rectangle that splits Stanislaus County and includes Modesto and Turlock but also regions south of Lake Tahoe and as far away as Lone Pine and Bishop, over and east of the Sierra Nevada range.
This new district, if approved largely as is, will dilute if not eliminate the voices of Stanislaus County residents, and those from south San Joaquin County, who since the 2012 redistricting have voted in a district of about 10,000 more Democrats than Republicans, and about 70,000 No Party Preference voters. Those nonaffiliated voters can make or break candidates, pushing them to appeal to a broader constituency than a candidate supported by a large party majority.
Consider that since 2012, we have had six years of Republican representation from Jeff Denham and three from current Congressman Josh Harder. Also, note that this district went for John Cox in 2018, and a majority supported the failed Gavin Newsome recall effort in September. These days, that's about as purple as it gets.
It's easy to see that, even if inadvertent, the redistricting commission will have failed to meet its mission to create districts of relatively equal population that will provide fair representation for all Californians. This is evidenced by a letter to the commission, reported in a Modesto Bee editorial of 11/17/21, from leaders of local Black, Latino, Chinese, Jewish, Cambodian, Buddhist, Muslim and Sikh communities. The editorial reports,
"They are 'incredibly alarmed' at the prospect of dividing our Valley's disadvantaged communities from each other by thrusting Modesto into a far less diverse district that would be 90% white, the letter says."
That's cause for concern, as is the possible loss of representation from Congressman Josh Harder. While his opponents incessantly claim him an outsider and a Pelosi puppet, Harder, who was raised in Turlock (where he now lives) and attended high school in Modesto, has a clear record of reaching out to all of his constituents. He makes near constant appearances at local events promoting food security and access to healthcare throughout the pandemic; he has worked across the aisle to secure more water for western Stanislaus County, and is striving to increase the number of physicians practicing in our region.
Contrast that with former Rep. Jeff Denham, who won three elections in CA-10, but after becoming a Trump faithful, attracted national media attention for his reluctance to face his constituents unless under tightly controlled circumstances. He lost to Harder in part due to backlash for his support and defense of Trump.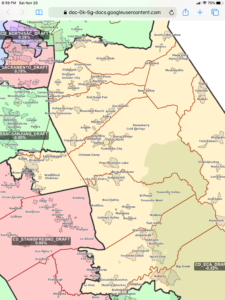 The proposed congressional district map shows a (very rough and bulging) rectangle that includes Modesto and Turlock but also encompasses cities and towns east of the Sierra Nevada. To get some sense of the scale involved, imagine a congressional district stretching from Modesto to Los Angeles. Sound absurd? Drive time from Modesto to Bishop, one of the cities in the proposed new district, is 4 hours and 23 minutes. Drive time from Modesto to Los Angeles is 4 hours and 39 minutes.
That's what makes this potential redistricting so disheartening. With a healthy mix of party and no-party affiliations, we are able to weigh and support candidates we believe in, knowing full well that voter turnout hinges largely on voters' faith that their vote makes a difference. If suddenly thrust into a huge, more-partisan district, the ever-increasing voter participation seen here in recent years may well wane if voters perceive their votes won't matter.
That's where you come in, because this is not a done deal. The commission is mandated to seek and heed public input before finalizing the new or revised districts, so it is critical that all voters concerned about these changes weigh in.
You can schedule a call with the commission, or, as I did, submit comments on line at this link wedrawthelinesca.org.
Comments on this draft will be taken through December 3, 2021. Exercise your rights, if you want to keep them.