"Rep. Denham may have found a new low in despicable campaign tactics."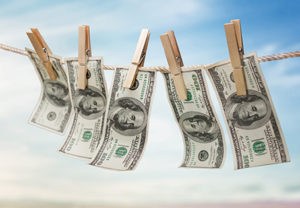 Headlines about the latest Trump scandal—this time about a phony charitable foundation used to launder money—have become ho-hum moments. It's pretty hard to top payoffs to porn stars and Russian bagmen.
But dirty money in politics isn't anything new; in fact, it's now a political norm. Maybe because it happened three years ago, recent news that former Oakdale Irrigation District Boardmember Al Bairos violated campaign finance regulations in 2015 barely caused a yawn, even though state authorities have ordered Bairos to pay a $16,000 fine.
After all, we've got candidates running for office right here and now with histories of laundering money and there's barely a murmur of protest from anyone. After a long career in state government, former state Senator Tom Berryhill is running for supervisor in Stanislaus County's District 4.
Berryhill's brother Bill, also a professional politician, was given a campaign boost back in 2008, when Tom shunted him $20,000 to help run ads during a close campaign. Though Tom Berryhill has never admitted guilt, the chief authority at California's Fair Political Practices Commission said the case was, "cheating on the election, plain and simple."
And Congressman Jeff Denham, who's been trying to deflect criticism for his attacks on health care in a Twitter war with Josh Harder, has his own history of dirty money.
Back in 2010, when he was trying to extend his career as professional politician with a run for congress, Denham "donated" and "loaned" almost $200,000 to the "Remember the Brave" foundation. "Remember the Brave" is a charity for families who've lost loved ones in battle.
But instead of using Jeff Denham's "contributions" for families of veterans, "Remember the Brave" used them for television ads featuring Jeff Denham promoting a charity concert at Madera County's Chuckchansi Casino. Investigations revealed the dodge involved moving corporate money from his state campaign funds via "Remember the Brave" to benefit his campaign for congress.
"Rep. Denham used the pretense of soliciting contributions for a veterans' charity to use corporate funds to run television ads that showed him surrounded by veterans shortly before the Republican primary," said Melanie Sloan, Executive Director for Citizens for Responsibility and Ethics in Washington. "Rep. Denham may have found a new low in despicable campaign tactics."
Donald Trump campaigned for president on promises to "Drain the Swamp" in Washington D.C. All he's done so far is raise the level of pollution. And here in California's Congressional District 10 and Stanislaus County, we're looking at candidates whose rise in politics corresponded with their willingness to launder money whenever it suited them.
Professional politicians Jeff Denham and Tom Berryhill, like Donald Trump, may have been able to clean their dirty money, but there's no soap on earth that can clean their dirty hands. If Valley citizens truly want to clean up politics, they're going to have to do it themselves by electing honest politicians. Expecting a corrupt president to clean up government is like expecting an alligator to leave his home; residents of swamps can't survive anywhere else.