When Derek Castle and his wife moved across the street from Modesto's Graceada Park four years ago, the prime attraction was their two granddaughters. Their son and his family lived nearby. Along with the Gallo Theatre for the Arts, Graceada Park has long been considered one of Modesto's crown jewels.
As Castle got to know his new neighbors, he heard story after story about the problems they were having with homeless people in the park. The eye of the storm was the park's gazebo, where homeless people set up during the day and often spent the night.
"It had become a day camp for the unsheltered, with regular late night disturbances," said Castle recently. "One neighbor had a child that was so scared from the fights and screaming that the child could no longer sleep in their bedroom. An elderly couple were so disturbed that they had to move out of the master bedroom at the front of the house to the back."
Anecdotal reports from neighbors, especially those who lived closest to the gazebo, suggested there had been an increase in problems when the Modesto Outdoor Emergency Shelter (MOES) had been shut down early in 2020. MOES was a permitted campsite about a mile south of Graceada Park. When it closed, it had been home to over 450 people for almost a year. Prior to MOES, there had been permitted camping at a site nearby.
"I felt I had a moral obligation to help these neighbors," said Castle. Some had  considered selling their homes, despite the prime location near the park and in Modesto's coveted College District.
"I felt I may have something to offer since I knew I would be sympathetic to the neighbors and also to the unsheltered folk in the park. I thought maybe I could work toward a win-win."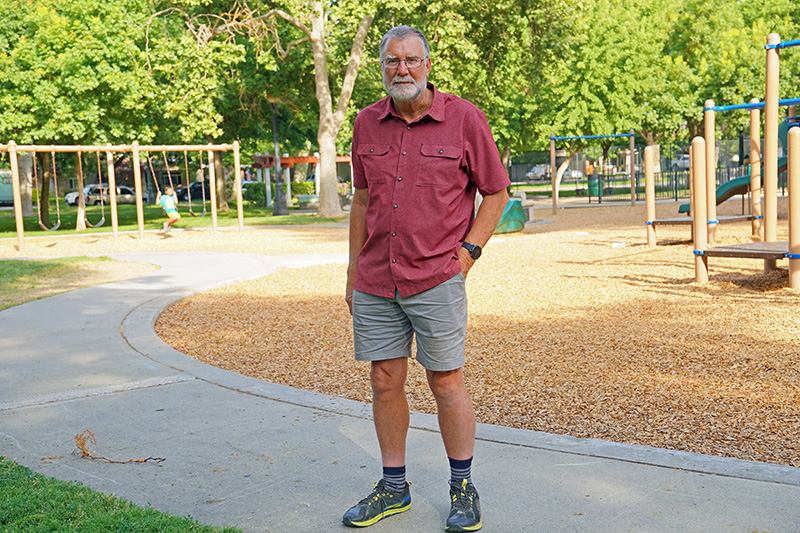 A native of Australia who had moved to Modesto twenty-five years earlier, Castle had worked with homeless youth before coming to America.
He also has a close family member who struggles with mental health issues and has had periods of homelessness due to the illness, "So I'm sympathetic to the struggles of the unhoused."
After listening to his neighbors and getting to know some of the homeless people who frequented Graceada Park, Castle decided to take on the challenge of making the park better for everyone.
"I felt I had two tasks," he said, "to make Graceada much better for neighbors and park users and to try and find better solutions for unsheltered folk than just hanging around doped-up in Graceada all day."
Working with city officials, Castle was able to help get nighttime closure of the park, which has limited some of the nocturnal disturbance so troubling to his neighbors. He's also helped bring in pickle ball courts and set up a newsletter and email chain to keep nearby residents up to date.
"Lately I have been putting in most time trying to find better solutions for the unsheltered. I have tried to build some relationships. We store art supplies for one person and sporting equipment for another. But the City of Modesto seemed reluctant to do much for the unsheltered until November, when it became more likely that options such as safe camping might be possible. So I have seized the window of opportunity to try and promote better options for the unsheltered."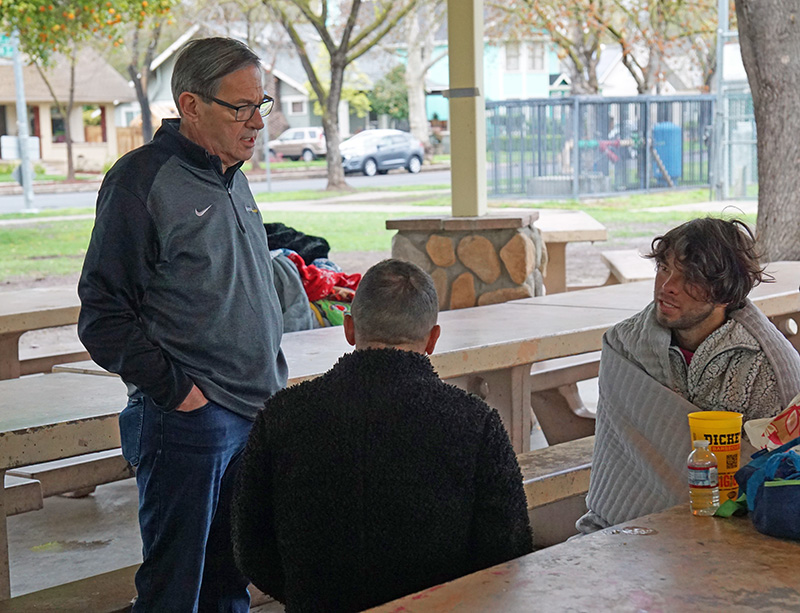 After over 120 emails to and from his city councilmember, Castle has learned that council members, "are very limited in what they can do alone…they are not allowed to lobby other members — at least not more than two — and they are not allowed to lobby staff."
On the other hand, Castle also learned that,
"Citizens can lobby all council members and lobby every staff member. I realized that council members needed citizens to be actively lobbying if things were to change.  So now, instead of just contacting my own council member,  I have begun to actively lobby all council members and appropriate city staff. I have been speaking at council meetings and sending them information and speaking in person at times."
Some of the most compelling information Derek Castle has found includes reports that quality-of-life crimes associated with homelessness dropped significantly when the city permitted safe sleeping at MOES. He's also been encouraged by the support of at least four councilmembers for safe sleeping sites for people experiencing homelessness. Three expressed their support for safe camping in a Modesto Bee OP/ED earlier this year.
Though homelessness has proven an intractable problem throughout California for years, citizen engagement as practiced by Derek Castle may yet provide a path toward solutions.
"Council members need activist citizens and vice versa," he said last Saturday, "it takes both working together to achieve change and to overcome the intransigence of bureaucracy."