Last October, we received a report from an anonymous whistle blower that wastewater from the ConAgra food-processing plant in Oakdale was being dumped into the Stanislaus River. The anonymous tipster provided water samples taken from a drain channel that flows indirectly to the river that showed high levels of pollutants.
The report was persuasive enough that we sent a letter of inquiry to ConAgra asking for details about claims their wastewater might be polluting the Stanislaus River. To date, we have not received a reply.
As months passed, the lack of reply suggested the claims about polluting could be true. If they weren't true, why wouldn't ConAgra say so?
Just recently, we learned that complaints about the pollution had reached representatives for the State Water Resources Control Board and the Modesto Irrigation District (MID). After a public records request to MID, we received a copy of the letter of complaint.
The letter of complaint alleges that,
"unauthorized discharges to the Cavill Drain are commingled from two different sources (1) …comes from the Vierra fish pond that accepts process wastewater from Sconza Candy Co. facility…and (2)…'ConAgra Discharges' which come directly from…the 925 acre Brichetto Ranch and 291 acre Amaral Ranch…that accepts ConAgra Grocery Products Company process wastewater from its year-round tomato and bean processing facility at 554 South Yosemite Avenue in Oakdale, CA."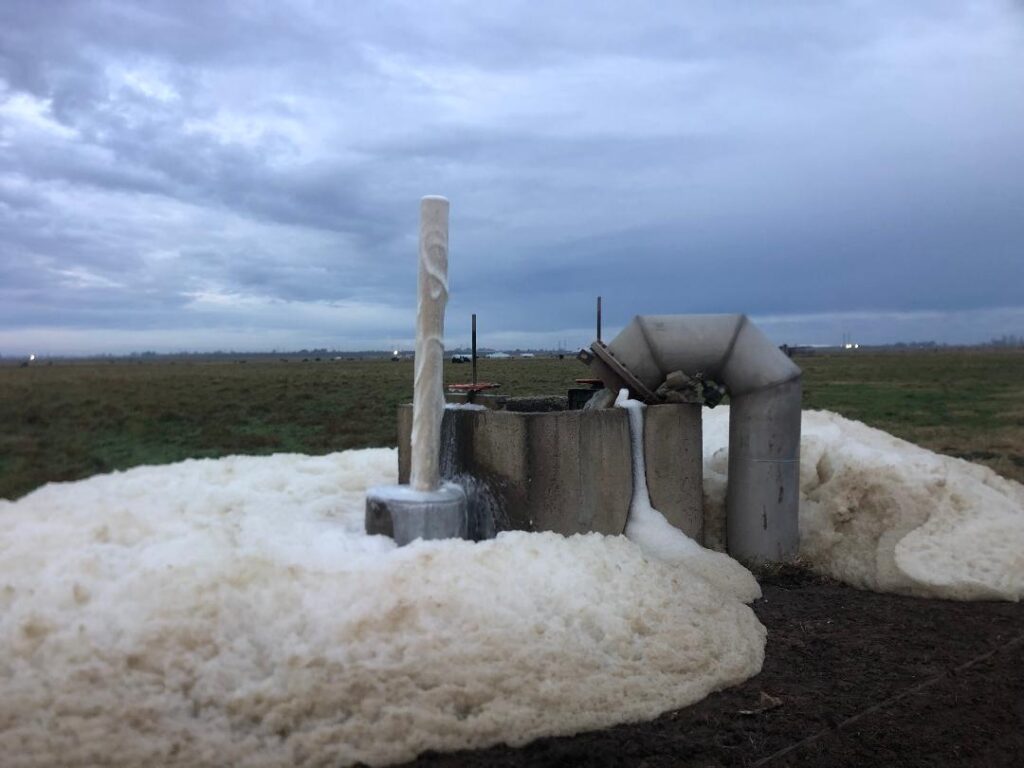 The letter, from Peter Ton of Ton Law, a Bay Area law firm, includes claims that water samples from the Sconza discharges showed high levels of "electrical conductivity, iron and calcium." Ton adds that water samples collected near the Cavill Drain/Brichetto Ranch source, "show elevated pollutants (e.g., nitrogen and salt) in the ConAgra Discharges." The Cavill Drain carries water across the Brichetto property between Langworth and Bentley Roads, near the city of Oakdale.
MID was notified because the purported route from the Cavill Drain to the Stanislaus River includes the MID Main Canal.
ConAgra has a long history of compliance difficulties with the Clean Water Act and other governing authorities, including a 2015 complaint about wastewater in the Cavill Drain. According to Peter Ton, a 2021 study by Blackwater Consulting Engineers reported a "feasible" alternative to routing wastewater through the Cavill Drain would send the water to the City of Oakdale's Wastewater Treatment Facility.
Early in February, multiple sources reported that E & J Gallo Winery had been ordered to pay over $375,000 for dumping almost 100,000 gallons of wastewater into the Merced River. At least one state official said that the Gallo violation "appeared to be unintentional."
Superficially, the Gallo violation appears similar to alleged violations by ConAgra. However, despite the severity of claims made in the Ton letter, dated February 28, we still don't know ConAgra's response to the pollution charges. Our own letter of  inquiry was over five months ago. Given the lapse of time with no response, it's not looking good for ConAgra.