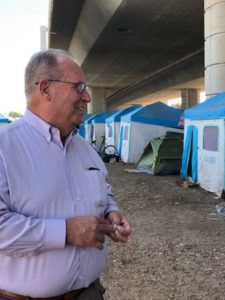 First term City Councilmember Doug Ridenour has announced that he is running for Mayor of Modesto in 2020, when his present term on the council expires. The city was required by a new law to delay elections for one year to make its Election Day match other elections; if he prevails in the next election, Mr. Ridenour will have served on the council five full years when he takes office as Mayor.
Councilmember Ridenour doesn't receive prominent press coverage. He's not divisive, doesn't make inflammatory statements, and shuns personal attacks.  When it comes to taking credit for council accomplishments, Mr. Ridenour's philosophy comes from President Ronald Reagan: If you don't care who gets the credit, amazing things can happen in the community.
A Common Sense Platform
Candidate Ridenour has a simple campaign platform: build a better community through citizen involvement. Utilize government resources in a manner that empowers citizens. Aggressively tackle problems—don't ignore them. Don't raise taxes when alternatives exist. When asked why he's running for mayor, he offered the following statement:
"The people of Modesto are the foundation of our community, rising up in good times and bad. Over these 46 years of my service, they have inspired me with their compassion and perseverance. They want an experienced leader that has a shared vision, knows how to listen, communicate and build coalitions to get things done. I have done this my whole life and I am ready to do this as Mayor of this great city."
As a leader, a mayor should communicate, build consensus and teams before acting, lead the city forward with a shared vision, and empower the citizenry to build a better community through involvement. Citizens should know that they can and do make a difference. As mayor, Mr. Ridenour said he will devote about 35 percent of his time to citizen outreach and direct involvement, working with city staff to assist citizens in resolving neighborhood problems.
As a retired city employee, the Councilmember highly values the work of staff to solve problems, deliver quality services, and introduce innovative operational techniques. Mr. Ridenour is very proud of the city's wastewater system, one of the few in the country that sells recycled water to local agriculture.  He's very enthusiastic about creating innovative ways to serve citizens.
Tuolumne River Corridor Volunteers
Mr. Ridenour cited the volunteers who cleaned up the Tuolumne River corridor, built and maintain a trail, and schedule monthly work parties, as an example of the power of citizen volunteers. He said that families are starting to use the river parks again and that the river is an underutilized recreational attraction with great potential.
The Councilman noted that various neighborhoods organize volunteers for community improvement and his planned outreach will add momentum to improvements in quality of life. He noted that a community with desirable qualities of life can more easily attract jobs and professionals such as doctors, essential to the health of citizens. More jobs reduce economic hardship, reduce social problems, and result in greater prosperity.
Homeless People Are Citizens Too
Doug Ridenour has a deep understanding of the homeless population and a common sense approach to alleviating misery and suffering. With experience gained working for the Modesto Police Department from 1972 to 2013 with a wide variety of duties, Mr. Ridenour noted that Modesto has always had homeless people living in and around the city. He was able to discuss at length the history of the local problem and to explain how the occurrence has increased rapidly in the past decade.
What is important about Mr. Ridenour's perspective is that he sees homeless people as citizens of our community who deserve help when they become free of drug and alcohol use. He said that homelessness can be abated in number, but never totally eliminated as long as drug and alcohol use are social problems.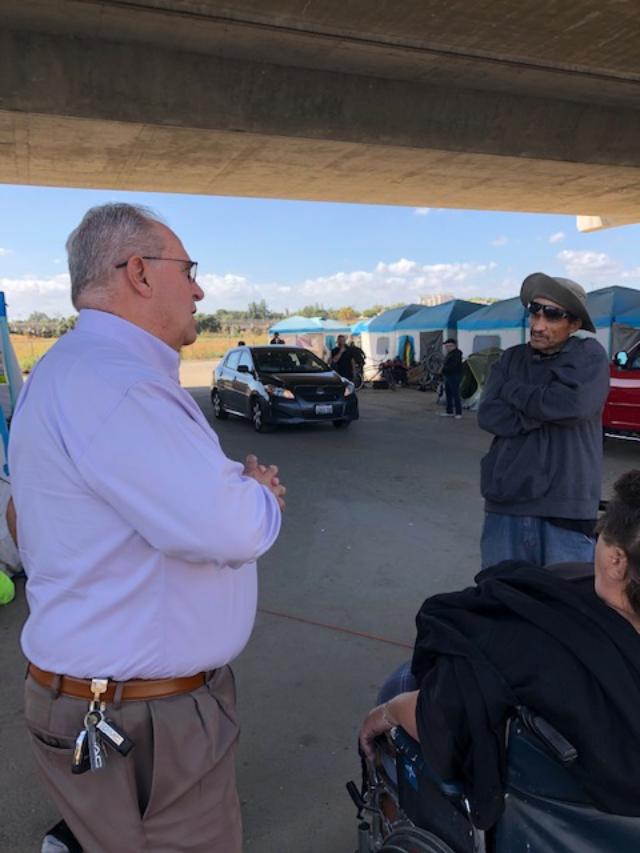 But homelessness can be minimized if it receives consistent attention, government agencies work together to provide a continuum of service, efforts are made to prevent new cases, and more jobs are created to reduce economic hardship. He strongly emphasized the city-county joint effort.
The candidate sees what needs to be done and is active in promoting positive outcomes. When asked what good would come of acquiring a motel to house the homeless, he explained that it would be an intermediate step between the tent camp at the river and permanent housing in privately owned accommodations. He said that Modesto's Housing Authority will keep drugs and alcohol out of a renovated motel while caseworkers will insist that their charges continually make progress towards self-sufficiency.
Mr. Ridenour sees the entire effort as an ongoing work in progress that he will continue to support. He acknowledged that some homeless citizens may never cooperate and will need to be dealt with using other innovative solutions. He is proud of the progress being made and noted that other jurisdictions such as Sacramento are looking at our community as a model for how to address the problem.
A Native Son
Councilmember Ridenour has spent all but a few of his sixty-eight years living in Modesto. Raised with a sister and four brothers, including former Mayor Jim Ridenour, Doug Ridenour loves his home town as passionately as anyone.
When asked how his administration would be different from his brother's, he replied that Jim Ridenour had to downsize city government to preserve fiscal integrity. He expects to run city government during a period of relative prosperity and will have more money to promote quality of life improvements.
Having more money does not mean it will be squandered. Doug Ridenour proudly points to public safety mutual aid and cooperation agreements between Stanislaus County and other nearby cities that have resulted in cost effective service delivery. He has no intention of abandoning what works well for taxpayers.
Growing up, Mr. Ridenour attended Lincoln Elementary School, La Loma Junior High, and Downey High School. He has an AA degree in Criminal Justice from Modesto Junior College and a BA in Management from St. Mary's College of California. He served Modesto as a police officer his entire career. He knows the community well and intends to focus on addressing ongoing problems and in promoting the city as a destination.
Economic priorities include building homes downtown, adding a hotel on the east side of the convention center so that larger conventions can be held here, strengthening the downtown general plan, and figuring out what to do with the old courthouse building once the state builds the new courthouse.
As a Modesto native son, Candidate Doug Ridenour says he knows what Modesto needs and can deliver.