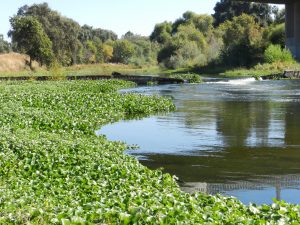 It's perfectly understandable that anyone taking a stand in favor of increased river flows in the northern San Joaquin Valley is likely to be compared to an assailant of motherhood, apple pie and Fourth of July fireworks. After all, the Valley will indeed take an economic hit from increased flows, and no one wants to take economic hits anywhere or anytime.
But that's the problem. The state has to decide how to distribute the economic hits and it has to rely on the neutrality of science as well as on the pleas of commercial and political interests to decide who to hit and how hard.
It also has to address the immediate and growing problem of sustainability. So when it considers economic consequences of river flows, it must consider the entire San Francisco Bay Area, both northern and southern California, and the entire Great Valley, not just the San Joaquin region.
The issue is clouded by the almond bubble. Soaring almond prices overseas resulted in planting hundreds of thousands of acres of almond orchards throughout the San Joaquin Valley, many of them solely dependent on groundwater.
The almond boom added mega dollars to the Valley economy, but the resultant drain on one of the world's greatest aquifers necessitated state intervention in the form of the Sustainable Groundwater Management Act (SGMA), which requires local authorities and agencies to develop plans to achieve groundwater sustainability within the next twenty years. The boom also tended to inflate the Valley economy to almost certainly unsustainable levels.
Needless to say, economic sustainability and water are inextricably linked. Losses to the Valley economy when the almond bubble bursts, and it almost certainly will, will be compounded by loss of production when groundwater reserves fail altogether, and in some places they already have.
Economies aside, the state's focus on groundwater has obscured the relationship between groundwater and surface water, a relationship that has long been understood by those who've taken advantage of their knowledge, too often at the expense of the Public Trust.
So it is that opponents of increased flows invariably claim that more water for fish and the San Joaquin Delta can only mean increased pumping of groundwater throughout the Valley. They're doubtless correct, but only to the extent that excess pumping will continue only as long as authorities fail to enforce sustainability requirements.
Everyone needs to learn and keep in mind that pumping groundwater near lakes, rivers, and reservoirs ultimately removes water from those sources and thus comes under the authority of Public Trust Doctrine (PTD). The science in these cases is solid, and so is the law.
In 2014, an important but too seldom cited court decision upheld the claim that pumping groundwater can negatively affect navigable waterways. The Scott River groundwater ruling relied on precedent established in a 1979 decision, "National Audubon vs Superior Court" that in part said, "diversions from tributaries connected to navigable waterways are subject to PTD considerations."
In ruling in favor of the Environmental Law Foundation in the Scott River case, Judge Allen Sumner wrote the following,
"National Audubon involved extraction of water from non-navigable surface streams. This case involves extraction of underground water. But the result is allegedly the same—decreasing the flow of navigable waters [and] harming public trust issues."
Public trust issues involve any number of water-related subjects, including but not limited to fisheries, drinking water, recreational use, wildlife, endangered species, and aesthetic values.
Recently the Stanislaus Audubon Society argued in a Modesto Bee OP/ED article that, "Those who argue increased flows will mean pumping more groundwater ignore the recharge effects of increased flows and healthy wetlands on groundwater reserves."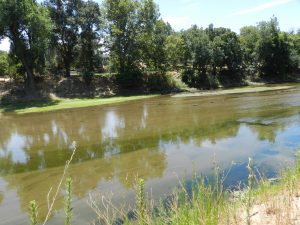 Mike Lynch, a paid political operative who has worked for Gary and Chad Condit, the Modesto Irrigation District, Adam Gray, and a host of other politicians and agencies, immediately attacked the claim. Lynch wrote, "You also state the east side orchards are not sustainable. Don't make that problem worse by taking away the single best source of recharge."
Lynch ignores the fact that east side orchards in Stanislaus County use drip irrigation. Any hydrologist will attest that recharge effects from drip irrigation are negligible. And any near-term recharge effects from rivers are near the rivers themselves or near reservoirs fed by those rivers. The recharge effects are entirely negated when pumping exceeds recharge.
And that's exactly what has happened with the Tuolumne River. The cone of depression northeast of Turlock is the largest in the region. In 2013, Turlock Municipal Services Director Michael Cooke noted that groundwater levels had dropped over a hundred feet since the 1970s.
As ag wells went deeper during the almond boom, homeowners in a cluster of small towns near the Tuolumne suddenly found their own wells going dry. The wells were located in places like Hughson, Denair and Ceres, all of which would benefit from a combination of reduced pumping and increased flows.
The City of Modesto, like the City of Ceres, is located adjacent to the Tuolumne River. Modesto receives surface water from Modesto Reservoir, which is surrounded on three sides by almond orchards. Modesto also pumps groundwater, more in dry years. Groundwater under both Modesto and Ceres would benefit from less pumping and increased flows.
In fact, given facts and law established by the Scott River case, both cities should consider asking for mitigation for the harm done their water supplies by pumping groundwater directly or indirectly from the Modesto Reservoir and the Tuolumne River. Especially in cases where pumping decreases the flow of navigable waters, the public has a right to redress and mitigation.
Mike Lynch is right about one thing: Increased flows aren't just about "a fish fix." They're about a host of issues, including eastward salt water intrusion in the San Joaquin Delta, the necessity of fresh water to the San Francisco Bay ecosystem, delta farming and recreation, and, most especially, sustainable economies throughout the region.
Next: Down and Dirty Water Wars, Part II