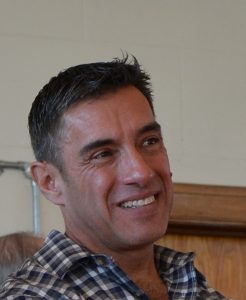 Even before he entered the room a little before 2:00 PM Sunday, Michael Eggman had cast a long shadow over the race for California's Congressional District 10 (CA-10). At that time, the noisy crowd in the Teamster's building in downtown Modesto was buzzing about several important votes still upcoming for the Democrats' Pre-Endorsement Conference for Region 4.
But talk among candidates and their supporters vying for the nomination in CA-10 had for days focused on rumors that Eggman would jump into the race. Looking fit and tanned, Eggman admitted he would be pulling papers to run on Monday, January 29. The news had to hit most every other candidate like a punch to the gut.
Though the race was still crowded with at least six candidates, it had tightened, with TJ Cox and Josh Harder pulling away from a pack that included Virginia Madueno, Dotty Nygard, Sue Zwahlen, and Mike Barkley. Sunday's vote tally confirmed that Harder and Cox were still favorites, with Harder picking up a tight one-vote victory over Cox. No one else was close.
But Eggman's entry changes everything. His name recognition from two previous elections and past fund-raising prowess means the ante goes way up to play in a game that was already getting too rich for candidates on the margins.
He's also managed to shift the focus. Until Eggman's entry, all candidates agreed the primary mission was to beat Jeff Denham. Now, whether they will admit it or not, most will have to focus on beating Michael Eggman.
It was only last June that Eggman formed a Political Action Committee (PAC) he said was dedicated to, "taking what I learned on the campaign trail to make sure others succeed where we fell short." A spokesman said one goal of the PAC was to spend a million dollars on each of seven congressional races in California.
Sunday, some were wondering where that money went. Most likely, campaign regulations prevent Eggman from using the money for himself, but his about-face on running raises legitimate questions.
At first glance, Eggman would seem to have further congested an already crowded field, but that may soon prove untrue. After a strong start, Dotty Nygard has faded; the increased requirements for big bucks almost certainly spell the end for her.
Mike Barkley has already endorsed Nygard; he himself may hang on until the end, but if he does, he will pull votes from any potential nominee. That's something he may not wish to have to live with, given the enabling factor for Jeff Denham, and—by extension—Donald Trump.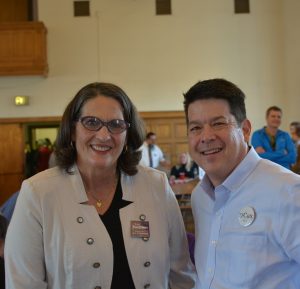 Sue Zwahlen's strength is among establishment Modesto Democrats and she has shown no signs of moving beyond those boundaries. She said Sunday that she's still in the race, but she received no votes in the pre-endorsement tally, and has to seriously consider the net value of keeping on. Like Dotty Nygard, she's one of those wonder women who have somehow managed to balance the demands of work, family, and civic duty while building a life based on selflessness and service to others. She's going to be needed whether in or out of the race for CA-10.
Virginia Madueno delivered by far the most passionate and powerful speech of all CA-10 candidates who spoke Sunday. She's long been underestimated, especially given her courage and persistence in overcoming obstacles while achieving success in business and public service. She now joins other candidates who've struggled to raise big money. Whatever she decides going forward, she's shown she's a major player with a bright future in local politics.
On paper, TJ Cox is by far the most qualified candidate for congress. During the tenure of Jeff Denham, most valley citizens have forgotten that their congressional representative is elected to serve them, not just the wealthy few. Cox has already mastered the aspects of public service most crucial for a successful congressman by leveraging public money to create jobs and much-needed services for the region's citizens. He's been endorsed by Congressman Jerry McNerney, most likely because McNerney recognizes Cox's potential to be even more effective when in congress.
Cox is also idealistic. Sunday, he said that no matter who becomes the nominee, the important thing is defeating Jeff Denham and returning government to the people.
Josh Harder may be the only candidate who benefits from Michael Eggman's candidacy. Harder has already shown he can stack up the chips, and is unlikely to be bluffed out of a high stakes game by Eggman's big antes. From Harder's viewpoint, Eggman's entry just limits the field to major players. It's also likely that Eggman has underestimated Harder.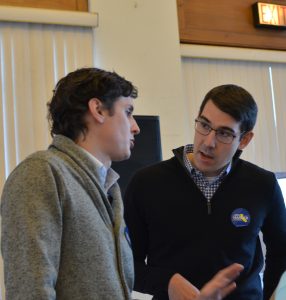 Though he looks like a preppy stripling, Harder shows many of the qualities of a phenom. His win Sunday was one more sign that he not only has money, but also a hard core of local support; he's shown remarkable acumen in moving to the top of the list in a race crowded with superb contestants.
It's looking more and more like Harder may be one of those rare savants who sees politics in terms of angles, vectors, and nodes of power. Throughout the campaign, he's remained cool, analytical, and almost mechanically methodical as he checks off the list of chores needed to keep moving onward and upward.
With a significant head start based on name recognition, Michael Eggman likely thinks he's entered a race he can win easily, but if TJ Cox and Josh Harder force him to run on his accomplishments, he's going to need more than, "local farmer and beekeeper" to maintain a lead. And both Cox and Harder will very likely find ways to remind everyone of Eggman's past history in contests against Jeff Denham.
As one young Cox supporter said Sunday, "After he lost twice, I figured that was it." Michael Eggman may hear more and more such sentiment in weeks and months ahead.