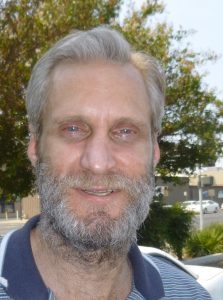 "We were ready for them to come in and start pushing people around, but it didn't happen. People here would have gone to jail if they had come in and tried to force us out, but they didn't. They just came in and tried to help."
There was genuine wonder in Jeremy Buchelew's voice and eyes as he described the evacuation of Modesto's now-notorious apartment building at 624 Ninth Street. About half the residents had already vacated when police and officials from both city and county showed up Thursday morning to enforce eviction notices and help empty the building.
The remaining residents hadn't left because most had no place to go and no way to get there. To their credit, officials from both the City of Modesto and Stanislaus County refused to turn their backs on these poor people in need. Instead, in a remarkable show of common humanity, local government stepped in and helped.
Somehow, even the presence of over half a dozen uniformed Modesto Police Officers never seemed threatening. That may be because Modesto Police had already spent over a week in and near the premises clearing away a remarkable congregation of pimps, prostitutes, predators, and perpetrators that had been attracted to the building as more rooms were left empty and more people became easy prey.
County outreach people had also spent hours learning names and forging relationships with tenants. By the time two dozen county staff and officials showed up in the hazy morning heat, even some of the county's upper management knew names and needs of the remaining residents in the condemned building.
"I couldn't believe Jeanette," said Jeremy Buchelew, "I'm a single white male. When's the last time anybody did anything for a single white male? Jeanette took me around herself and helped me look at places to live and even after we found a place, she said she wanted me to have something better and would help me find it."
Buchelew was talking about Jeanette Fabela, Stanislaus County's Manager of Housing and Supportive Services. Facing a situation where many more things could have gone very wrong than even half right, Fabela managed to remain composed and compassionate.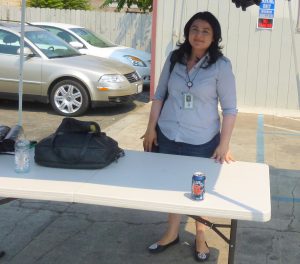 When the county's lead team of outreach workers went into the building, it featured formerly homeless men like Jimmy Yarnell and Randy Limburg, both of whom knew many of the residents already. Volunteers like David Lambert and Maryann Spikes had established online friendships with several of the tenants, and when they entered the building with black plastic sacks and offers to help move belongings, they fit comfortably into the roles of friends and neighbors.
Though 624 Ninth Street isn't in his district, Stanislaus County Supervisor Terry Withrow showed up in jeans and a t-shirt. Remarkably, he neither took on a commanding role nor seemed to be interested in anything other than helping out. He consulted frequently but quietly with Fabela and the outreach team, entered the building and climbed the stairs into the oppressively hot and heavy air of the second floor, and talked with frightened and angry tenants as though they were good friends in need.
As people began to learn the city and county had arranged temporary transitional housing and even managed to find care for their pets, the arduous task of packing and lugging things out took on the likeness of a neighborly project unfolding rather than an ordered eviction.
Like most residents, Jeremy Buchelew had expected a show of authority and an attempt at military precision. Poor people are especially sensitive to condescension and the gratuitous exercise of power, but those were remarkably absent. The police presence manifested as men in blue at ease but ready, and it's highly unlikely very many people figured out who Withrow really was, other than the tall, skinny, guy in the faded jeans.
Buchelew had been in the building for over nine years and said he was a bit sympathetic to owner Steve Arakelian, despite the horrible conditions. "I think Steve knew most people don't like to rent to people like us," said Buchelew. "I think he really wanted to help us, but he also didn't want to spend any money to fix things, even when we volunteered to fix them ourselves."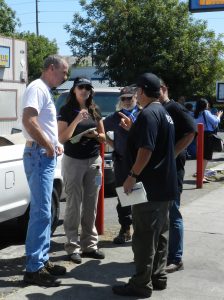 Buchelew said it was true most of the tenants lived in filthy conditions of their own making, but added, "It's not my fault that my ceiling caved in. It's not my fault I had raw sewage in my kitchen and bathroom. Steve just didn't want to make repairs. He thought he was doing us all a favor by just letting us live here, but he still took our money."
Friday morning, as the last few residents were learning where to go and how to get there, Jeanette Fabela was lugging cases of fresh fruit to a waiting truck and picking up litter. She seemed as composed and capable as she had the day before, when the wrenching experience of packing up and moving had seemed too much for every resident left in the building.
"We spent a lot of time here learning names and building relationships," said Fabela. "After a while, I think people knew all we wanted to do was help. We've found housing for about half the people, but we still have work to do with the others."
Jeremy Buchelew still doesn't know where he'll be living after his stay in a local motel, but from his point of view, Fabela and all the others who had turned an eviction into a meeting of friends and neighbors had done something even more remarkable than help.
"I think they saw an opportunity to actually do something good and they took it," he said. "I really do."