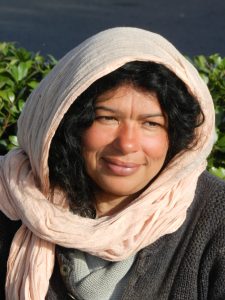 "I like being out in the open where everybody can see I'm not doing anything wrong," says Rosario Quintana. "I don't do drugs or alcohol and I don't leave a mess. I keep all my stuff packed up."
Despite her good intentions, Rosario's presence on public streets in Modesto and Turlock has gotten her arrested at least two or three times a year during the four years she's been homeless. She's been cited and arrested for such things as "possession of a shopping cart," violations of park curfews, violations of Modesto's anti-camping ordinances, battery on a police officer (dismissed), and battery on a medical technician (dismissed).
Her troubles seem to have begun during a period she describes as, "extremely hectic," around five years ago.
"I was having trouble sleeping and my family said I needed to get some help," she says. "I said ok, and they took me out to behavioral health. They thought I was doing drugs or something, but the nurse at behavioral health thought I was fine and said I should go home and rest."
It's easy to imagine Rosario enduring a "hectic" life for many years prior to hitting the streets. When she was three years old, her parents went to Mexico and never returned. Rosario and her siblings stayed with friends and began a series of moves in and around Modesto.
Rosario was thirteen years old and attending Modesto High School when she became pregnant with her first child. She went on to have three more children, attending school only sporadically.
Rosario says she was employed by JC Penney at Modesto's Vintage Faire Mall from 1989 through 1994, but found it too hard to balance work and family. "They said they couldn't keep adjusting my schedule, so I decided I had to put my kids first," she says.
Rosario is vague about exactly how and why she became homeless. She will say, "I'm okay, but I just have some things to work out."
She had her first brush with the law in 2013, when she was charged with harassment of an adult male. The case was dismissed for lack of prosecution. In January of 2014, she was charged with domestic violence involving a child. That case was apparently never adjudicated.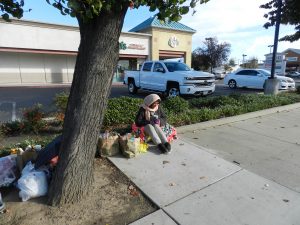 Since then, Rosario's "crimes" have been the typical homeless person's laundry list of shopping cart and camping violations. Her last stint in jail lasted two months and featured the usual mental health assessment. The judge decided she didn't need help.
Rosario is extremely articulate and well-spoken, and like the nurse at behavioral health, most judges deem her mentally fit. At least she seems that way in a courtroom. On the street, with boxes and belongings strewn around her, she looks much more like someone who's washed ashore in a strange land with no place to go.
The county's homeless outreach officers, who've interviewed her several times, think Rosario's is yet another case of anosgonosia, a clinical term used to describe mentally ill people who think they are okay. Though she sounds perfectly rational and remarkably well-adjusted to a future of living on the streets, her lack of concern raises a red flag.
When asked whether she'd like to live inside, she says she'd like a small studio if she could get one. "Last year a man said there was a waitress job," she says, "but I wasn't ready." For a moment, her eyes fill with tears. "I can still work," says Rosario. "I know I can still work."
Today's regulations against forced assistance for the mentally ill make it very difficult to assess and help homeless people like Rosario. And the widespread occurrence of anosognosia both impedes assistance and contributes to the myth that homeless people don't want help. That leaves jail as society's default treatment option.
"This will be my fourth winter," says Rosario when asked whether she's worried about the cold. "I move around a lot and walk most of the night. October was pretty warm."
Though her shoes and socks are wet from the recent rains, and she has red sores on her heels, Rosario seems remarkably composed and at ease. "I've got some food and blankets," she says. "I'll be ok."