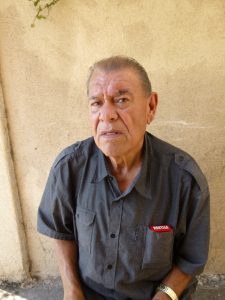 When Israel Gonzales first heard there would be help moving to a new location, he was hopeful. "I don't want to live in the park," he says, "it's not safe. There are too many bad people."
But two weeks after news of the condemned building at 624 9th Street in Modesto shocked city officials enough to allocate relocation money for tenants of the vermin-infested structure, Israel Gonzales still has nowhere to go.
"I need help," he said, pushing up his sleeves to show angry red marks on his arms. "La cucarachas come and they bite me, and there are other things too."
Wednesday, August 16, Gonzales was seated on a folding chair at one end of the narrow space between the 9th Street apartments and an adjacent building. At the other end, two Modesto Police Officers were searching a man and his cart. In between, wheelchairs, bike parts, and assorted jetsam from departing tenants littered the passageway.
Seventy years old, Israel says he receives $895 a month in SSI benefits. When asked what kind of work he did for most of his life, he says, "You name it. I worked in the fields, in the cannery, I drove the bus, you name it."
Gonzales says he's been at the Ninth Street location for about seven and a half months. He says his own apartment hasn't been padlocked yet, but he sometimes gets locked out of the building itself and has to pound on the door loudly to be let in.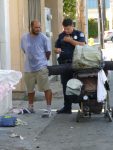 Two weeks ago, Gonzales, who takes medication for arthritis and heart problems, got around using a sturdy cane. Today, when asked about it, he says, "They stole my cane. I have more trouble now because they stole my cane."
Gonzales says he heard that some people had gotten money and assistance to move, but no one has contacted him. "I don't want to be homeless," he says. "I'm too old now and it is too hard to get around."
Gonzales says he has all his rent receipts and proudly offers identification proving he's a U.S. citizen. He pays $585 a month for a studio in a building experts in residential property have said is the worst they've ever seen.
Though he's obviously proud of his work history, and wants to be independent, Gonzales says his health problems get in the way. "I have to pay for my own medicine, "he says. "I don't like to take too much medicine, but sometimes I have to take it."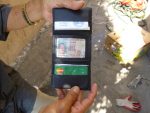 Gonzales adds that he's getting more forgetful lately, and hopes he can find a place to live where there are people who can help him from time to time. "I know I need help now," he says, "but I don't know where to go."
Like many people who end up homeless, Gonzales is faced with a low income, diminishing resources, and a tattered social safety net—not exactly the outcomes one would expect after a lifetime of hard work. "I would just like a safe place," he says. "Why did they take my cane?"