"There was no yellow tape, there was no yellow tape," said a family member of a homeless woman who was reported to have died Saturday, July 8 at Beard Brook Park in Modesto.
The speaker was the brother-in-law of Christy Chavez. He was with family members visiting the site of Christy's death on Wednesday, July 12, four days after she had last been seen near a hillside where a man was mowing dry grass along the west side of the park. The absence of yellow tape at the site was one of several puzzling aspects of yet another in the rising death toll of homeless people in Modesto.
The deceased woman's family and people who saw her shortly before she died claim she was sleeping in dry grass prior to being run over by a large tractor pulling a powerful mower. According to preliminary reports, a Modesto Police Officer informed the family of her death on Sunday, July 9.
"I saw that tractor and I wondered why it was going so fast," said a woman named Casey, who had been in the area and saw Christy Chavez just before she was run over.
"That tractor was ripping through the grass really hard," said a homeless man, who had also seen Christy just before the incident. "I went up that way when I saw cops there because I wanted to know what happened, but they just told me to go away."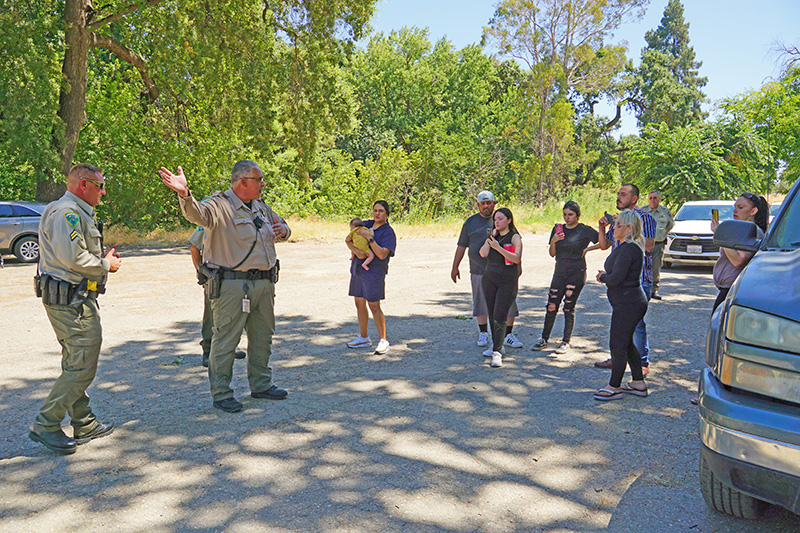 The former permitted campsite of what became known as "Beard Brook Village," Beard Brook Park has long been known as a stopover and camping area for homeless people. It is traversed regularly by homeless people and residents of the nearby Salvation Army Berberian Shelter, located on 9th and D Streets near downtown Modesto.
Formerly owned by the City of Modesto, the property was sought by Gallo Winery several years ago. Negotiations went on for years. According to the Modesto Bee, they were finalized only last Friday, July 7. Once they learned people were on the property Wednesday, Gallo Security Officers asked distraught family members to leave, even as they continued to pick up body parts and mourn their deceased relative. They had been visiting the site and picking up body parts for three days.
"I saw Christy just before it happened, and she looked like she wanted to be by herself," said the homeless man. The woman named Casey confirmed that she had known Christy and she often preferred to be by herself. According to staff, she had left the Berberian Shelter of her own volition a few days before her death.
Speaking in Spanish, Christy's father, Cristobal Chavez, reported the incident to the Modesto City Council via zoom during its July 11 meeting. Dez Martinez, a homeless advocate with "We are not Invisible," also spoke about the incident. The next day, family members were still collecting body parts at the scene of the tragedy. They reported the body had been dragged as many as thirty or forty yards from the point she had been run over.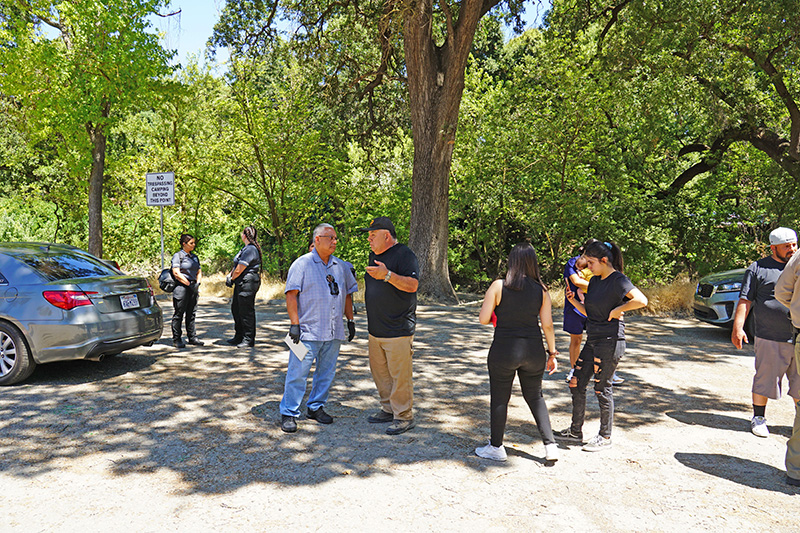 It was approximately 2:30pm when Detective David Ramirez of the Modesto Police Department arrived at the site where bereaved family members had gathered to mourn.
With Gallo Security patiently asking everyone to leave, the scene became highly emotional as Christy's mother and father demanded to know why there had to that point been no investigation of their daughter's death. Family members refused to leave as their grief turned to anger at what appeared to be a failure to investigate the death of a loved one in a timely manner.
Stunned and stoic, most likely from shock, Christy's bereaved father continued collecting body parts in a dutiful act of love for his lost daughter. He carried shattered pieces of bone in a small plastic bag and at times seemed unable to process how such a horrific thing could have happened with so little concern shown by local authorities.
Meanwhile, Detective Ramirez began organizing his investigation, four days after Christy had last been seen alive.