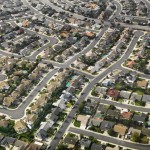 In 1995, Beyond Sprawl  sent shock waves through planners and developers throughout the entire state. The Bank of America sponsored study of the costs of sprawl immediately became a primary reference for those who favor smart growth.
Almost twenty years later, sprawl remains a major detriment to quality of life, especially in the San Joaquin Valley. Nonetheless, just as the foreclosure crisis is easing, Valley movers and shakers are ramping up for another sprawling growth splurge.
The Modesto Chamber of Commerce has presented a "plan for prosperity" that opens up some 7700 acres in the Beckwith Triangle west of Highway 99 near Modesto. This land would be folded into the Modesto General Plan, ostensibly for industrial and commercial use. The key element is a road tax. In essence, the Chamber is asking Valley citizens to once again subsidize growth. The cover story is that the Chamber's plan will bring much needed jobs. The reality is that there is very little likelihood of a local jobs boom anytime soon.
If the Chamber were serious about jobs, it would offer a cost/benefit analysis of the consequences of eliminating prime farmland in favor of speculative commercial and industrial prospects. Instead, the Chamber is trying to avoid discussion of the severe loss of farmland involved in its plan.
When farmland preservation becomes an issue, Chamber spokespersons cite figures showing net increases in irrigated farmland over the last decade. They leave out the fact that almost every acre of those increases is dependent on unsustainable ground water.
They also avoid any discussion of the distinctions between farmland statewide. In all, California comprises about 100 million acres. Of that total, around 27 million acres are cropland. About 9 million of those irrigated acres are considered prime farmland, and "unique or of statewide importance." Virtually all of the farmland surrounding Modesto and neighboring towns is this high quality farmland.
High quality farmland differs from the rest in several ways. One of the most important is in its ability to produce a wide range of crops. California's famed agricultural production is not just a matter of quantity. California produces 99% or more of the nation's almonds, artichokes, dates, figs, kiwifruit, olives, persimmons, pistachios, prunes, raisins, clovers, and walnuts. It also produces over 90% of the nation's wine grapes. The high quality farmland that produces these crops and many more is literally irreplaceable. There is nothing else like it in the entire nation.
Given the growing demand for food and water worldwide, and given California's unique capacity for food production, it's a virtual certainty that high quality farmland can only grow in value—most likely exponentially. Contrast the value of that farmland with the speculative value of the Chamber of Commerce's "plan for prosperity."
When the Modesto City Council proposed a sales tax for public safety and other pressing needs, the Chamber of Commerce and the Modesto Bee suggested it's foolish to trust our elected officials. Given what we know about Chamber's history of promoting developer subsidies, how wise is it to trust yet another speculative "plan for prosperity"?
When Valley citizens don't trust their elected leaders, they can vote them out. When they subsidize growth, all they can do is pay the bill. The Chamber and its members are always happy to collect.