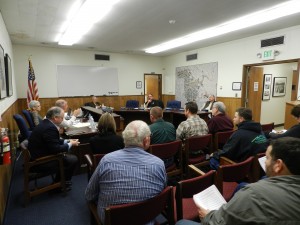 Despite little interest thus far in a fallowing program designed to make water available for sales next year, Oakdale Irrigation District (OID) will pursue plans to sell water to Westlands Water District.
Though OID General Manager Steve Knell has been under increasing pressure to keep OID water local, his Board of Directors continues to back his strategy of selling "surplus" water when available. Knell and OID attorney Tim O'Laughlin said Tuesday that the district needs to begin addressing requirements imposed by the California Environmental Quality Act at once if it should decide to sell water next year.
Westlands Water District has been a black hole for water deliveries for decades and the ongoing drought has highlighted the folly of sending water to places better suited for rangeland, wildlife, and recreation. Nonetheless, the political clout of corporate ag has made Westlands a major player in the water game. And when it can't get water through political machinations, the district has plenty of money to dominate the increasingly tight water market.
According to a Bloomberg report, water was $1100 an acre foot in Westlands Water District this year, for those who could get it. Even north of Sacramento, where it's usually plentiful, water was selling for $500 an acre foot.
Those figures make OID's proposal to sell water to Westlands for $400 an acre foot a bit puzzling. Why would OID announce the price before next year's market prices have been determined? And better yet, why would OID offer a rate so far under this year's average?
When Oakdale farmer Louis Brichetto tried to offer an alternate proposal to the OID fallowing plan, he was interrupted by OID Board Chairman Steve Webb and told his comments weren't relevant. But Brichetto is among a growing number of local citizens who believe OID should be devoting more effort to keeping local water local.
In a scathing rebuttal to OID Director Frank Clark's recent justification for outside water sales, Families Protecting the Valley offered the following comments:
"Frank Clark and other directors of other water districts are going to have to adapt to what we see as the new reality with the new sustainable groundwater rules. From now on there will be no more 'surplus water' to sell to generate revenue. From now on any surplus water will need to go directly into the underground to replace any water that has been pumped. The days of surplus surface water are over."
There may have been a time when the notion of "surplus water" offered at least the illusion of sense. That time is long past. And anyone who needs a reminder of the ongoing and escalating environmental problems in Westlands Water District has plenty of sources to choose from. The Los Angeles Times has a recent summary here.