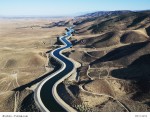 Insanity is often described as doing the same thing  again and again and expecting different results. It's an apt description of what happens when Californians keep expecting different results from their (mis)use of water.
Most Valley citizens were surprised to read that parts of Merced County are sinking as much as a foot a year. The cause is subsidence—the collapse of land that occurs when too much water is pumped from an underground aquifer.
Subsidence isn't a new problem in the San Joaquin Valley. As we've written here, a portion of Valley land including Los Banos and Kettleman City features the largest known area of subsidence in the world—some 1500 square miles. Subsidence is making news now because it has crept both north and west, is starting to have seismic effects on the Delta-Mendota Canal, and is even touching the California aqueduct.
It would appear from the news of the day that the Valley's problems with subsidence are a local phenomenon, but in fact they're symptomatic of a harsh reality Californians have tried to avoid for well over fifty years—the state's unreliable water supply.
When construction of the California Aqueduct started in 1963, it was touted as the engineering marvel that would solve California's manifold water problems. The aqueduct did indeed deliver water to thirsty populations south of the San Joaquin Delta and even helped slow subsidence in the Los Banos and Kettleman City regions, as famers began receiving surface water via the Delta Mendota Canal.
Farther south, the aqueduct and an intricate system of canals and pumping stations delivered pure northern California snowmelt to the Westlands Water District and Metropolitan Water District of Southern California. Over time, because of diversions south and westward, the San Joaquin River dried up for over sixty miles, salmon runs along the Tuolumne River diminished to almost nothing, and the Delta itself began suffering from intrusions of salt water that affected the entire ecosystem.
It was only when a decades old lawsuit finally reached settlement that the courts ordered water be restored to the San Joaquin. Not long afterwards, federal and state governments ordered increased flows along the overused Tuolumne River in hopes salmon would return.
Meanwhile, thousands of acres of almond orchards were planted in eastern Merced and Stanislaus Counties, towns like Los Banos, Merced, and Patterson continued to grow, and farmland continued to sprawl onto unirrigated property. The aquifer again became a water source, only this time at an even more demanding rate than in the past.
But even while environmental alarms bells are ringing louder than ever, there's no sign we're ready to avert another catastrophe. The proposed Delta tunnels plan, the California aqueduct on steroids, continues to be touted as a solution to problems caused by surface water diversions and deliveries.
More orchards and pumps continue to appear on the Valley's east side, even while nearby wells go dry at ever faster rates. So far, meetings to address the problem have only resulted in calls to keep groundwater law local, just as it's been in the past.
And during the proposed Modesto Irrigation District water sale, a constant theme was that water transfers are an acceptable way to address statewide water shortages. It all sounds good on paper, the tunnels, the local management, the water transfers, but all three methods represents failed strategies of the past.
In other words, we're about to repeat the same actions and expect different results. That's just crazy.