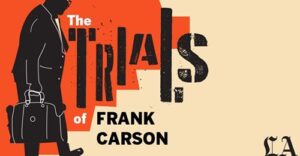 Christopher Goffard is a Pulitzer Prize-winning investigative journalist who works for the Los Angeles Times. Most famous for his book and podcast about,"Dirty John," a con man of bottomless moral depravity, Goffard's most recent work covers the investigation and subsequent trial of Modesto attorney Frank Carson, a larger-than-life character whose public contempt for local authorities was the apparent motive for a charge of murder based on the testimony of a convicted methamphetamine addict whose story changed almost as often as he told it.
Investigators in the Carson case cast a net that was almost as wide as it was full of holes. Ultimately, Carson's wife and stepdaughter, three California Highway Patrolmen, and the co-owners of a Turlock liquor store were charged and jailed during an investigation based on attempts to validate theories developed in a vacuum uncontaminated by evidence.
Based on an alleged murder that occurred in 2012, the Carson case featured an 18-month preliminary hearing — the longest in California history — and a 14-month trial during which the prosecution called 140 witnesses. In the end, Frank Carson was acquitted, but not until 2019, some seven years after the start of the investigation. The Stanislaus County District Attorney's Office dropped charges against the last defendant in the case, California Highway Patrolman Walter Wells, in December of that same year.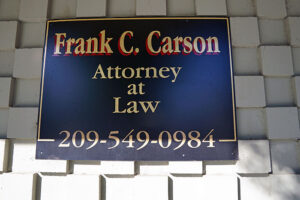 In part because the investigation and trial took so long, few Valley residents were able to follow the Carson case closely enough to realize just how egregious a perversion of justice it really was. Carson himself spent over a year in jail. While incarcerated, he suffered kidney failure and went on dialysis. Once acquitted, he, his family, and the other defendants filed lawsuits that will almost certainly result in millions upon millions of dollars of damages paid for violations of their civil rights. Carson, however, won't get any vindication from the judgments. He died last year at sixty-six years old.
Stanislaus County authorities were probably hoping the Carson case would have disappeared from local memories by now, but Goffard's podcast has resurrected it in stunning detail. Highlighted by taped interviews conducted during the investigation and featuring interviews with Carson and other defendants, including the Highway Patrolmen, the podcast presents a damning indictment of a justice system gone horribly wrong. Listen to the podcast here.