Modesto Mayor Sue Zwahlen recently advised a disgruntled citizen that the city's new three-can collection program for garbage waste is only a six-month "pilot program."
While most pilot programs are tested in small areas of town, the Modesto City Council implemented the garbage collection experiment throughout the city, formulating rules with minimal citizen input. Now, the consequences of their dubious decisions have affected the entire city.
At the end of the six months trial period, the city council will review complaints and determine whether any changes should be made. The council will also have another opportunity to raise rates for garbage collection.
What Do our Gardeners Know?
A couple of citizens who talked to area gardeners about biweekly collection of green waste discovered that they had not been briefed by their employers or the city. As winter turns to spring and more green waste piles up, gardeners will start wondering what to do with the excess clippings, especially those who tend big yards.
Gardeners Have Few Options
One homeowner told his gardener to dump all green waste in the alley or street for the city's monthly pickup one day before the scheduled pickup. If the next day is not a pickup day, better not let anyone see you dump it.
Bertolotti Garbage Company tells callers that extra green waste pickups are available at a cost of $10.
Green waste can also be stored on private property for composting. If you don't know how to compost or don't have needed equipment, seek advice.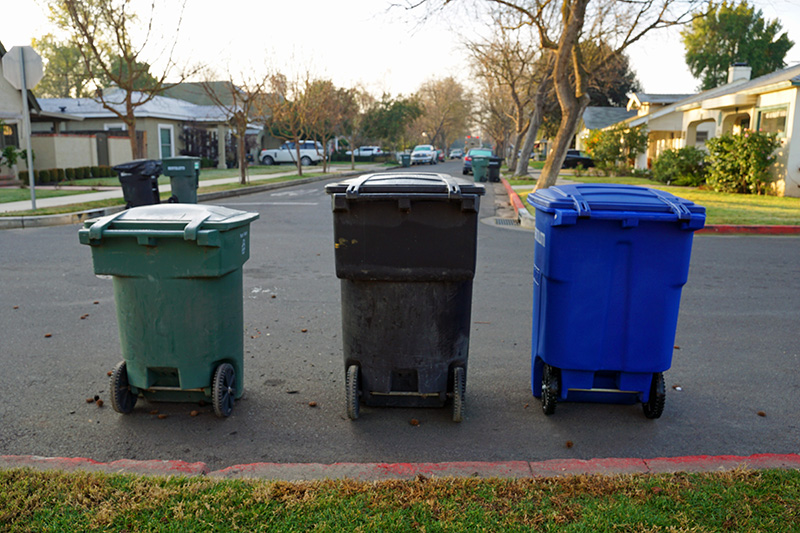 Burning green waste is illegal. Illegal burning can result in huge fines.
My First Month Using the 3 Can System
Because I divert more waste to my green and blue cans, I put out my black can every other week, despite the weekly collection fees I pay for.
I don't order much over the internet, so I don't have much cardboard waste. So far, I'm filling the blue recycle can once a month despite paying for two collections a month.
Because the numbers of green waste can collections have been cut in half while the amount of recyclable paper and soiled pizza cardboard intake has increased, I fill my green waste can within about 48 hours after pickup. Recent storms have generated more wood debris, resulting in even more green waste.
As a result, my green can is nearly full for twelve out of every fourteen days. I have to tamp the contents daily to make room for new paper waste. Due to the 100-pound waste limit, I also have to make sure not to overfill it.
I can't mow my lawn more than once every two weeks due to the collection schedule. One mowing fills the can. I don't want to dump into the street because the waste can clog storm drains. Even moderate winds can blow green waste everywhere before the city picks it up.
Rather than compost, I will probably opt to pay for the extra collection of the green waste can. When I mulched my grass, the soil built up higher than my walkways, so I discontinued the practice.
For those who think the new system is no big deal, it isn't if you aren't inconvenienced. But for those who didn't previously need to worry about the new rules, it is a pain to figure out and implement.
Garbage collection should provide a convenient way to maintain clean communities and neighborhoods. The current "pilot program" seems a failure on both counts; it's neither convenient nor effective.
No need to wait six months to make changes. Fix it now.