The arrows I knew when I was eight
Were made by my father from leftover flooring,
Extra tongue-and-groove scantlings, dense planks
Of oak and maple, and as he sawed them thin
And whittled them round and smooth, I breathed in
The redolence of the grains and his labor…
Thus with tenderness and love does Turlock poet Gary Thomas portray his late father at work in the opening lines of "Ox Bow Education" – one of seventy-four poems that comprise Mr. Thomas' superb new collection, All the Connecting Lights  (available through Finishing Line Press).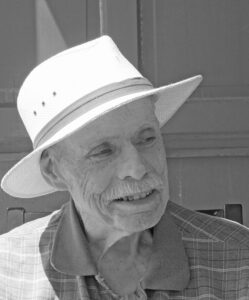 Mr. Thomas admits later in the poem that he learned about "craft and responsibility" as he watched his father, and the "next lesson of a father's love –/ the creation of the useful/followed by the letting go." As with so much of Mr. Thomas' work, this beautiful poem encourages the reader to read closely and consider what's been said thoughtfully. Poetry – as with all art – does that when it's done well and true.
Published in July, All the Connecting Lights offers a rich sampling of Mr. Thomas' sharp poetic observations about a wide range of subjects, particularly about growing up on a peach farm outside the small town of Empire, and of life in the Central Valley and beyond. Although the focus of much of the book is centered in the Valley, there is a universality to the themes and concerns Mr. Thomas addresses throughout the book, and a deep appreciation for life.
"I was born in City Hospital, in Modesto, which obviously no longer exists," Mr. Thomas recalled recently.   "I was originally scheduled to be born on October 24th, but my mom was older when she had me, and in those days "women of a certain age" were routinely expected to have a Caesarean, and October 24th was my mom's birthday, and she didn't want me to have to share a birthday with her, so she had me delivered on October 22nd. In other words, I got born two days early, which may account for a lot!"
"I grew up on a 23-acre peach farm. Before it was a peach farm, it was a dairy that my dad had run, and it turns out that peaches paid better than cows. He started switching over from grasslands to peach trees before I was born."
"When I was very little, before my dad started getting the peaches in full time, I would help cut the wires to unbale the hay, and put the hay in the trough.  My dad also had three English walnut trees, so it was my job to go where the walnuts that had fallen, pick them up, and later take them to market. And, yes, I knew how to pick peaches, even though I'm afraid of going up high on the ladder – but there's the irony; that's what you do." 
But Mr. Thomas' childhood and youth were marked by an early tragic loss. His beloved father, born in 1893, died when young Gary was only ten years old. This was something of a turning point for him.
"It was very difficult losing my dad," he remembers.  "First, I was ten, and my mom – bless her heart – was a much stricter person than my dad had been. So the laws at home seemed to get tighter and stricter at the very moment I was in the middle of loss. Then, when puberty hit, so did my first experiences with epilepsy and my mom not being really sure how to handle that.  Of course, any single parent having to deal with an adolescent male – I gotta give her a lot of credit. It was a tough time for both of us."
Mr. Thomas writes movingly of his experiences with epilepsy in one poem, and in another, imagines with wry but warm humor his Baptist mother meeting Pablo Neruda on a cruise in 1924——and the relationship that might have flowered if that had actually happened.
Sadly, Mr. Thomas' mother also died when he was relatively young, during his first year at college. But his parents' quiet work ethic and deep love of reading would take root in their son in the years ahead as he became a teacher and a poet.
"My parents were both readers, so there were always books in the house to read, and I took to that pretty early. I read pretty much anything I could get my hands on. As far as poetry——the poetry they had, and the poetry that was taught in school——was at least a hundred years old."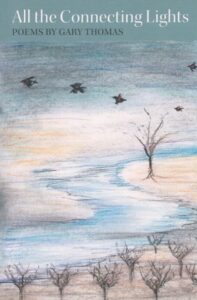 While Mr. Thomas readily admits that he sometimes wrote "really bad love poems" while attending Thomas Downey High School in the 1960s, it was when he took a course at Modesto Junior College that he awakened to the idea that he could be a poet.
"I didn't really take to the possibility that I could write poetry seriously until I had Lee Nicholson as my poetry professor at MJC," he explains. "That was about the time I bought Ferlinghetti's A Coney Island of the Mind, and my mind began to be blown into new fresh fragments and inspired in me a very strong desire to read and write more poems."
Attending Modesto Junior College proved to be a fortuitous decision, for Mr. Thomas not only began the journey of finding his poetic voice there, but he found his future wife Susan there as well. Following graduation, they continued their education together at the University of California, Santa Barbara——Susan majoring in music, while Gary majored in English Literature.
After graduation, Mr. Thomas and his wife were back in the Valley, where Gary secured a teaching position at Roosevelt Junior High School in Modesto. Unfortunately that position was eliminated because of "a little thing called Proposition 13," but he met other teachers there who would inspire him to take up acting in community theatre——a passion he has pursued through numerous local productions ever since.
In the meantime, he was hired to be a teacher at Turlock Junior High School, where he taught English for the next three decades, always finding time in each day to share a poem with his students. "I loved teaching," Mr. Thomas exclaims, while acknowledging that he was often frustrated by the grinding rote learning required of the standardized testing system.
While teaching at Turlock Junior High, he participated in another "life-changing event": the California Literature Project.  "I got taught how to teach in a totally different way which was not to be the 'Sage on the Stage, but the Guide on the Side.' "
"In other words, help a student bring out his or her creativity. So, I always had plenty of different options to help students along in the learning process. And I've used that approach ever since, because one assignment is not going to be everybody's cup of tea and they deserve to show what they can do within the parameters of the lesson."  
Since launching All the Connecting Lights (which has been highly praised by poets across the Valley and the Bay Area) three months ago, Mr. Thomas has been busy with readings throughout the Valley. Reflecting on the role of poetry in his life, and on his writing process, he says,
"I first wrote poetry because I thought I might have something worth saying. Poetry was the way I could make some sense, some meaning of the world I was in. I would say that still holds true today. I read a lot of poetry. It would be an unusual week when I didn't have three or four poetry books that I'm reading kind of simultaneously.'  
"I'm more open to inspiration for reading poetry and writing it in the early morning. That's usually when I get an idea. I get in my "daily pages"——90% of that is going to be junk, but I might get in one idea or one phrase to put in a poem later on."  
In reading All the Connecting Lights, the reader senses a strong underpinning of faith in many of the poems. "And to the Young Ravens When They Cry" was inspired by Psalm 147:1-9. Mr. Thomas speaks eloquently of the faith that he holds close to him: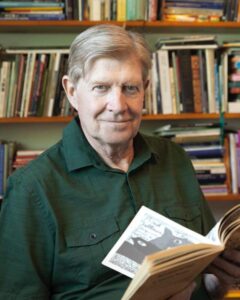 "I was raised a Christian, but I was away from any kind of faith other than the spiritual for many years until a difficult time in my life about twenty years ago. I'm still questioning, because doubt is an essential part of faith. I have a faith in the human spirit and abhorrence when that spirit is not being exercised."
All the Connecting Lights challenges the reader with many difficult truths – about racism, war, and the limitations on the mind and spirit we can impose upon ourselves. Enclosed within its pages are descriptions of the Valley that only someone who has spent nearly an entire life here could write. That alone makes it an invaluable testament of a life well lived. But, at its heart, I think this is a book of hope.
In "life as peaches" Mr. Thomas exhorts us to, 
take life
as you would
peaches 
seize it juicily
down your throat…
…plunge your teeth
In like fingernails
To grab and shred
And outline the sweetness 
Let it run down your chin
The mark will be a stain of full high summer… 
There is much to savor in this fine book, which I highly recommend.