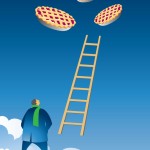 The good news for West Park supporters is that Gerry Kamilos hired the best for his Environmental Impact Review. The bad news is he owes them over a quarter-million dollars.
Kamilos' attorneys, Remy, Thomas, Moose and Manley are the platinum standard of California land-use law firms. They literally write the book on the California Environmental Quality Act (CEQA) and update it often. They've already guided Kamilos through a victorious lawsuit against the city of Patterson, and it's unlikely they'll lose if they have to defend him again.
But Kamilos hasn't paid his attorneys, let alone met the stringent guidelines they must have set down as conditions for success with West Park. In fact, West Park is starting to resemble  Diablo Grande, another West Side project that turned out to be an overhyped, "pie in the sky," proposal.
There are two big differences between West Park and Diablo Grande. One, Diablo Grande had enthusiastic support from Stanislaus County Supervisors and local media to the extent they were willing to overlook serious problems with the project from beginning to end. Two, in part because of the lessons from projects like Diablo Grande, it is now much more difficult to begin a project and solve problems after breaking ground and beginning construction than it was even ten years ago.
West Park has faced serious opposition not only from the local citizenry but also from West Side County Supervisor Jim DeMartini. Kamilos has had no choice but to dot every "i" and cross every "t" for a project facing such intense scrutiny. The result is a lack of funds enough even to pay his attorneys, let alone address the costs associated with his grandiose project.
There's no question that Kamilos' project is appealing. Thousands of jobs and a train are powerful incentives for a region plagued with double digit employment, clogged traffic, and a thick haze of smog. At this point, however, West Park supporters need to be asking themselves whether they've been guilty of wishful thinking. Time has been running out for Gerry Kamilos for a long time. Those who think the series of delays for West Park will eventually be overcome need to remember the lessons from Diablo Grande, a clear and daily reminder of what happens to those who buy pie in the sky schemes.