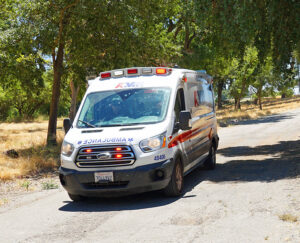 Even though she was at a public meeting, Lynelle Solomon couldn't hold back tears. Solomon was listening to public comments at a meeting of the Modesto City Council on July 11 when she heard a homeless advocate describe a grisly death by mowing machine at a park near Modesto's Airport District, where Solomon has done homeless outreach for almost four years. The deceased woman's name was Christy Chavez.
"All I could think of was, 'What if that was one of my people?'" said Solomon.
Solomon calls the people she brings homemade food, clothing and hygiene products "my people" because of her belief that anyone in her community is a cherished member of that community, no matter how poor or needy. She has served as a volunteer outreach worker for years and is an associate member of Stanislaus Homeless Advocacy and Resource Enterprise (SHARE).
Recently, Solomon has been worried because it has become increasingly difficult to locate the people she regularly cares for.
"They are being chased out of their usual locations and now the city, county, and Caltrans are fencing off places where homeless people used to stay," she said. "My people are being driven deeper and deeper into the shadows."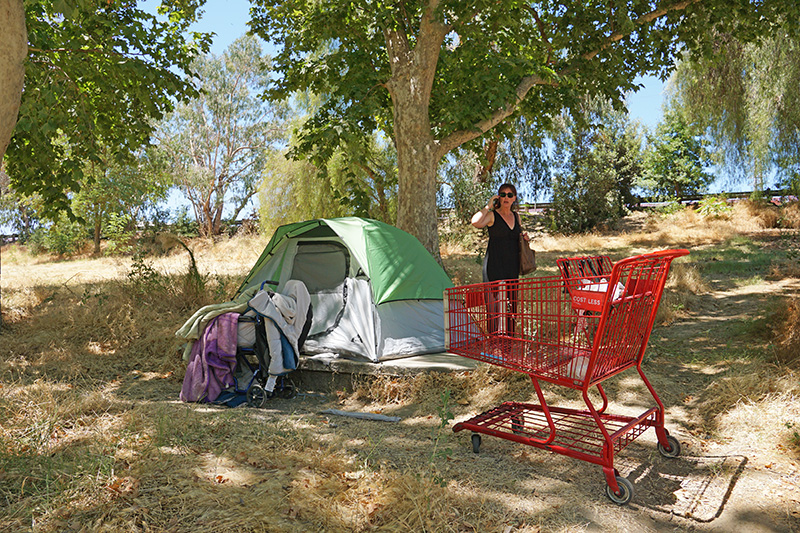 Solomon was so disturbed by the death of a person so close to her usual routes of care that she vowed to visit the site. The next day, as she searched Beard Brook Park in an attempt to discover where Christy Chavez had lost her life, she saw a tent on a cement slab under sycamore trees near recently mowed grass.
Solomon approached the tent and hollered, "Anybody home?" At first, there was no answer. After a couple more tries, she heard a faint, "Yes."
When Solomon asked the person in the tent if she knew anything about a recent death nearby, the woman answered, "No, I've only been here since yesterday."
After further inquiry, Solomon learned that the sixty-year old woman had been dropped off in the park Tuesday, July 11. Weak, disoriented, and without water in temperatures approaching 100 degrees, the woman kept asking whether her wheelchair was still in front of the tent. A sit-down walker piled with blankets was near the tent's entrance, but no wheelchair.
As Solomon grew more concerned, the woman told her she was suffering from Parkinson's disease.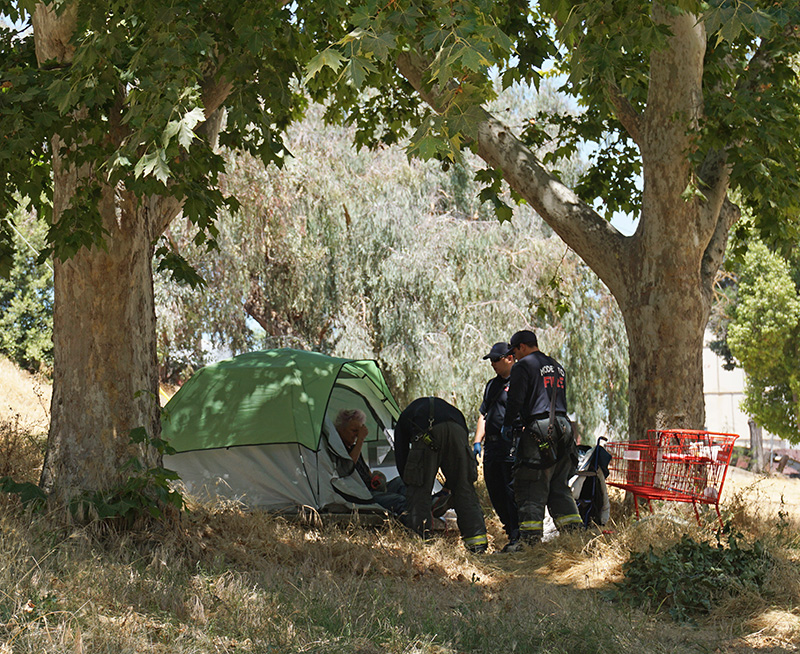 "What can I do for you?" asked Solomon. The woman replied that she needed an ambulance. Solomon immediately called 911. A fire truck and ambulance arrived a short time later.
While Solomon was grateful that fate and her concern for homeless people had put her in the right place at the right time and might even have saved a life, she couldn't help reflecting on the increasing plight and peril of homeless people in Modesto. In addition to the closure of Beard Brook Park, which has now become private property, at least three other parks have been closed recently in the Airport District alone. Homeless people have been pushed  deeper into the shadows and onto private property, where they are often arrested for trespassing.
"Where are they supposed to go? I'm having more and more trouble locating them and worry more about them every day."
Lynelle Solomon's fears came true the next day, Thursday, July 13, when she checked on homeless friends who had been living next to a dumpster behind a fenced enclosure. After asking frantically about their whereabouts, Solomon learned they had been arrested for trespassing. It was one more example of Modesto's escalating campaign of cruelty to the most vulnerable members of the community, people with nowhere to go and nowhere to lay their heads.