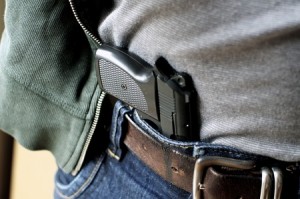 On Saturday mornings, the parking lot of the Sierra Arms Company on North Carpenter Road in Modesto fills up beyond capacity. The gun shop conducts classes in concealed weapons carry and the classes are full of people who think they will be safe if they carry "protection."
Imagine the small concealed weapons that the students are learning to use. Put them up against an assault rifle like the ones used in the December 2nd shootings in San Bernardino, with the assailants wearing a protective vest and body armor.  The holders of the concealed weapons wouldn't stand a chance.
But many citizens feel threatened, so they want self- protection. As the size of the local police force dwindles and response times grow, insecurity increases. People think that the police are no longer able to protect them; therefore, they must arm themselves.
Syrian refugees have recently begun entering the Valley. Though the refugees pose a minimal threat, fear is reaching ever higher levels; people believe the government can no longer be trusted to provide protection. The anti-refugee sentiment persists even though nearly all terrorists who have acted within the country in the last 20 years were U.S. born.
Many people see concealed weapons as a better chance for survival than doing nothing. Opposition to gun control is growing as fear and hysteria override common sense.
Fear
The unifying factor for those wanting concealed weapons is fear. Everyone fears for his or her life and thinks that carrying a concealed weapon will alleviate the fear.
Sadly, even after arming oneself, the fear never goes away. The kind of fear one has before buying the gun is replaced by new fears. The new fears are worse than the old ones. The feeling of insecurity actually grows. Some gun owners go out and buy more guns, thinking that the acquisitions will make them more secure and eliminate the fear. But the fear never goes away.
Only a gun owner worries about his gun being stolen, about not being able to pull his gun in time during an ambush, about having a child accidentally shot using his gun, about having his gun malfunction when he most needs it, about running out of ammunition in a siege, about the government confiscating his gun, about accidental discharge, and about the fear of all the evildoers out there waiting to gun him down.
As time goes by, the fear manifests itself in anger. The fight or flight instinct takes over. The gun owner sometimes becomes angry and combative. He wants to destroy the source of his fear so that he no longer needs to feel afraid.
Politicians Stoke Fear and Anger
Pollsters have noted the anger of the electorate. Fellow citizens have noted the anger, too; many no longer can talk politics in a civil manner. Politicians have been stoking the fear for political gain; the citizens feel increasingly insecure and fearful. Citizens rush out to buy more guns in a vicious cycle.
As guns proliferate, more guns become get stolen. As more guns are taken, they fall more easily into the hands of felons. When felons have guns, citizens are more insecure. Crimes become more heinous.
The cycle is unending. Politicians are unwilling to impose gun controls because a minority of vocal, angry, fearful people will have none of it. Perversely, those same politicians stoke fears by falsely proclaiming that the government wants to take away everyone's gun and leave people unprotected.
Valley Hysteria
The Valley attitude about guns is a microcosm of the entire country. Shootings and murders dominate the headlines of the daily newspapers. Every felon arrested reportedly was carrying a gun. How did the felon get the gun? He did not get it legally; he obtained it from someone who did get it legally.
The attendance at the concealed weapons classes reflects the level of hysteria. When he took office, Stanislaus County Sheriff Adam Christianson had a very restrictive policy about granting concealed weapons permits. Now, the permits are granted generously, enough to fill classes in concealed carry to capacity. Weapons sales are robust. Sporting goods stores and gun shops have proliferated, supported by the growing fear and insecurity of citizens.
 Other States
California businesses and citizens seeking greater security talk about moving to states like Texas, which has less gun control than virtually any other state. Nonetheless, despite the ability of nearly everyone in Texas to own a gun, gun violence there is statistically similar to California, which has more gun control.
A better measure of whether or not increased control reduces gun violence occurs when we compare before and after figures. When Australia increased control after a mass shooting, gun violence decreased; the same thing happened in Connecticut. When Missouri deregulated, gun violence increased. These are empirically verified effects.
The enduring lesson is that fear is a powerful motivator and often leads to ill-considered action, especially when manipulated by politicians. And as long as fear is allowed to dominate politics to the extent that virtually anyone has access to firearms, no one is safe anywhere in the United States, not even in a well-armed Valley.