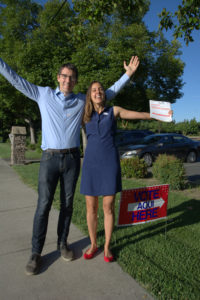 Only days before the November 6 General Election, Jeff Denham was telling journalists he didn't think his contest against challenger Josh Harder would be close. "They've brought in people before…," said Denham, before trailing off.
The implication was that Harder was just another outsider brought in by the Democratic Party to offer a token challenge for an incumbent most political insiders thought invincible—and for good reason. In 2016, when Hillary Clinton won his district by over three points, Jeff Denham defeated challenger Michael Eggman by the same margin.
Denham was likely certain his portrayal of Harder as a Bay Area liberal would be more than enough to stave off the challenge of a candidate he perceived as amateurish and naïve. Denham also had video of Harder appearing to favor abortion into the ninth month of pregnancy. It was damning, and in the eyes of Denham's supporters, a death blow to Harder's chances for a win.
Despite Harder's status as a native son of the Valley, Jeff Denham was also confident he could position himself as more authentic. His campaign signs read, "Local Farmer," and he wore jeans and western boots. He was tall, easy going, and had a broad and confident smile. He hadn't had a loss in years, both at the state and national level, and he couldn't imagine losing to a nerdy-looking kid who wore glasses.
But Josh Harder didn't come into a campaign against a powerful incumbent in a bright red district with stars in his eyes. To people watching closely, it was clear from the beginning Harder had calculated carefully the odds of toppling the tall incumbent and he knew how hard it would be.
But Harder knew also he had some advantages in addition to his Stanford and Harvard-honed smarts. For Josh Harder, the campaign against Jeff Denham was personal.
When Harder learned that Denham had lied to people at a town hall meeting about his support for Obamacare, he could only think of his brother and the 126 page bill his parents received after his brother's long hospital stay as an infant.
He knew that without good health insurance, the bill would have jeopardized his parents' financial security and his brother's future. He also knew that tens of thousands of people in Jeff Denham's district faced similar perils, and millions upon millions around the nation.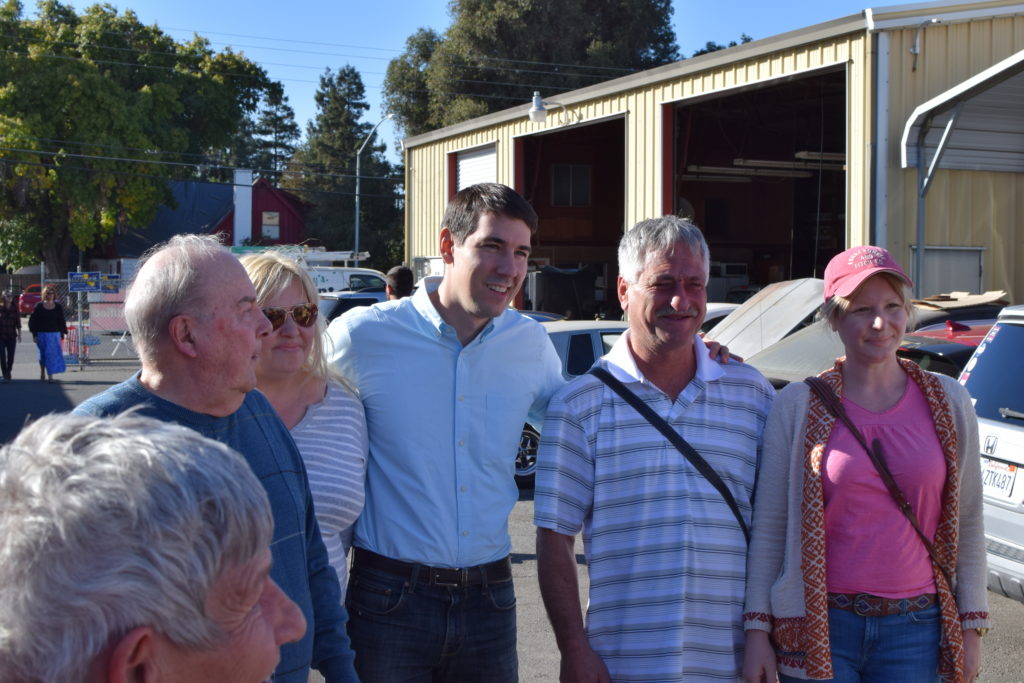 The other thing Josh Harder knew that only those close to him also knew was he had a gift that went far beyond anything Jeff Denham could have expected. Harder's gift—the ability to run at top speed hour after hour and day after day—enabled him to plan a truly grassroots campaign. He knew that the only real antidote to the poison of campaign distortions and lies was the human element.
It may be that Harder's strategy went so far as to calculate just how many people he would need to meet face-to-face to overcome Jeff Denham's incumbent advantages. Given today's data-focused business world, Harder may even have been executing an algorithm.
Whatever the case, Josh Harder's ground game consisted of hardscrabble digging for votes anywhere he could find them, hour after hour and day after day. He campaigned in people's living rooms and back yards. He campaigned in Denny's Restaurants and local churches. He went to events that featured fewer than twenty prospective voters and fundraisers that brought in only a few dollars. He set a pace few people could imagine let alone maintain.
But he kept going. By the end of his long journey, Josh Harder had met face-to-face with literally thousands upon thousands of Valley voters and inspired many thousands more. Up close and in person, people discovered that Josh Harder listened. He cared.
He was willing to pay a personal price in time, effort, and money to help others. And he would get the job done. They could see it. As one staunch Republican farmer said of Harder after a short meeting, "He don't back up."
And it's true. When Josh Harder decided to pick up the torch for his younger brother and for all the people who would be hurt by the Trump administration's cruel policies, not just on health care but on immigration and labor and a host of other issues, he had one motion only and it was forward. And even if Jeff Denham were to somehow come from behind in an election that now looks like a Harder win, no one thinks Josh Harder will ever back up. He's on a mission for the general welfare and, as of November 6, he's got an army behind him.