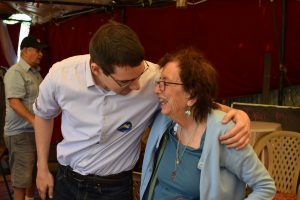 Congressional candidate Josh Harder impressed an audience of mostly senior citizens at an informal town hall in Modesto yesterday. He fielded tough questions about everything from bombing Syria to California's proposed bullet train and twin tunnels for water. Probably the most remarkable aspect of his appearance was the lack of equivocation and vague response typical of too many politicians.
When asked whether he supported bombing Syria, Harder replied that, "Without a broader strategy, it doesn't make any sense." He pointed out that Syria is a target of both Iran and Russian, and until we look at the Middle East through a broader lens of diplomacy and global involvement, we'll never make progress.
Harder said when he decided to run for office, "I never thought I would have to condemn white supremacy," and that he was deeply disturbed by President Trump's remarks after events in Charlottesville. He said that America's leaders must make it clear to every citizen that white supremacy won't be tolerated in our diverse nation and follow that firm tone with policies that discourage racism and intimidation, including extending California's strict gun laws nationwide.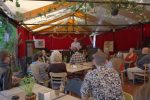 When asked about the role of federal funding in public education, Harder said that at present, around ten percent of public education is supported by federal funding. He said the funding is supposed to insure that all school children have equal educational opportunities, but that is clearly not the case. He said public schools should be investing much more in training that provides good jobs for people as well as equal opportunity, and repeated his campaign refrain of, "We can do better."
He said veterans shouldn't have to travel great distances to get health care and that no one should have to be sick because they lack medical coverage. He stressed that he would work hard in Washington DC to roll back recent cuts to the Affordable Care Act. In previous appearances and on his web site, Harder has taken a strong stand in favor of Medicare for all.
Harder was especially critical of Jeff Denham for promising to work on immigration reform and failing to follow through on his promises. He said Congressman Denham routinely puts party over people and fails to listen to his constituents. Harder promised that once in Washington DC, he would hold town halls once a month and listen to the people in his district.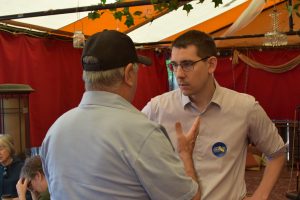 In response to questions about the twin tunnels and bullet train, Harder said that Governor Jerry Brown's proposal for twin tunnels to deliver water south "is a terrible idea. We need to make sure we have water for agriculture in the valley not just now but for the next 150 years." He said he supports rail transportation but the bullet train is already too far behind schedule and over budget. He said that for the near future, we should be working on rail solutions for commuters to and from the Bay Area because, "the jobs are over there and the housing is over here."
Harder told audience members that after the question-and-answer session, he'd be around as long as anyone wanted to talk. He was still chatting with people one-on-one long after the end of the session.